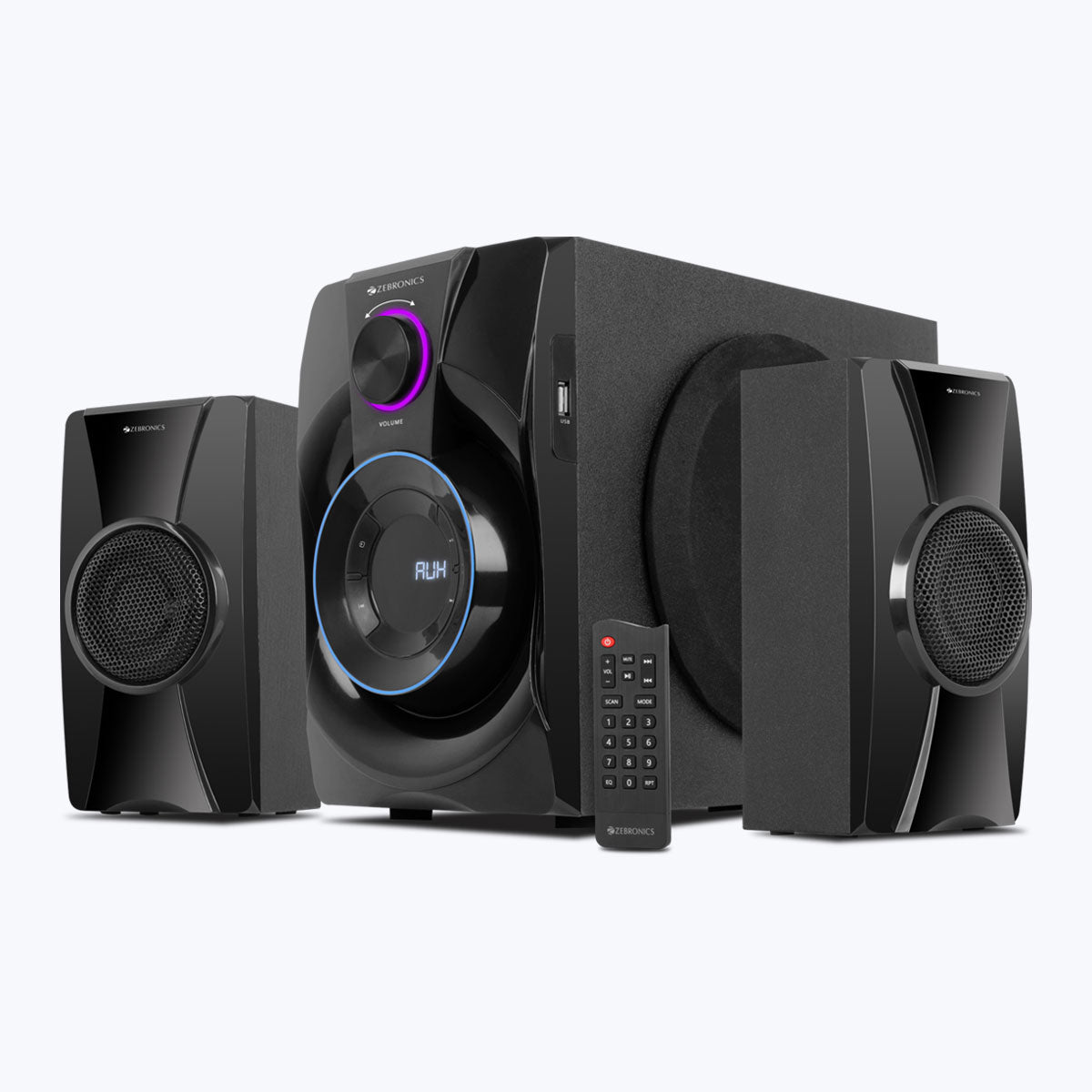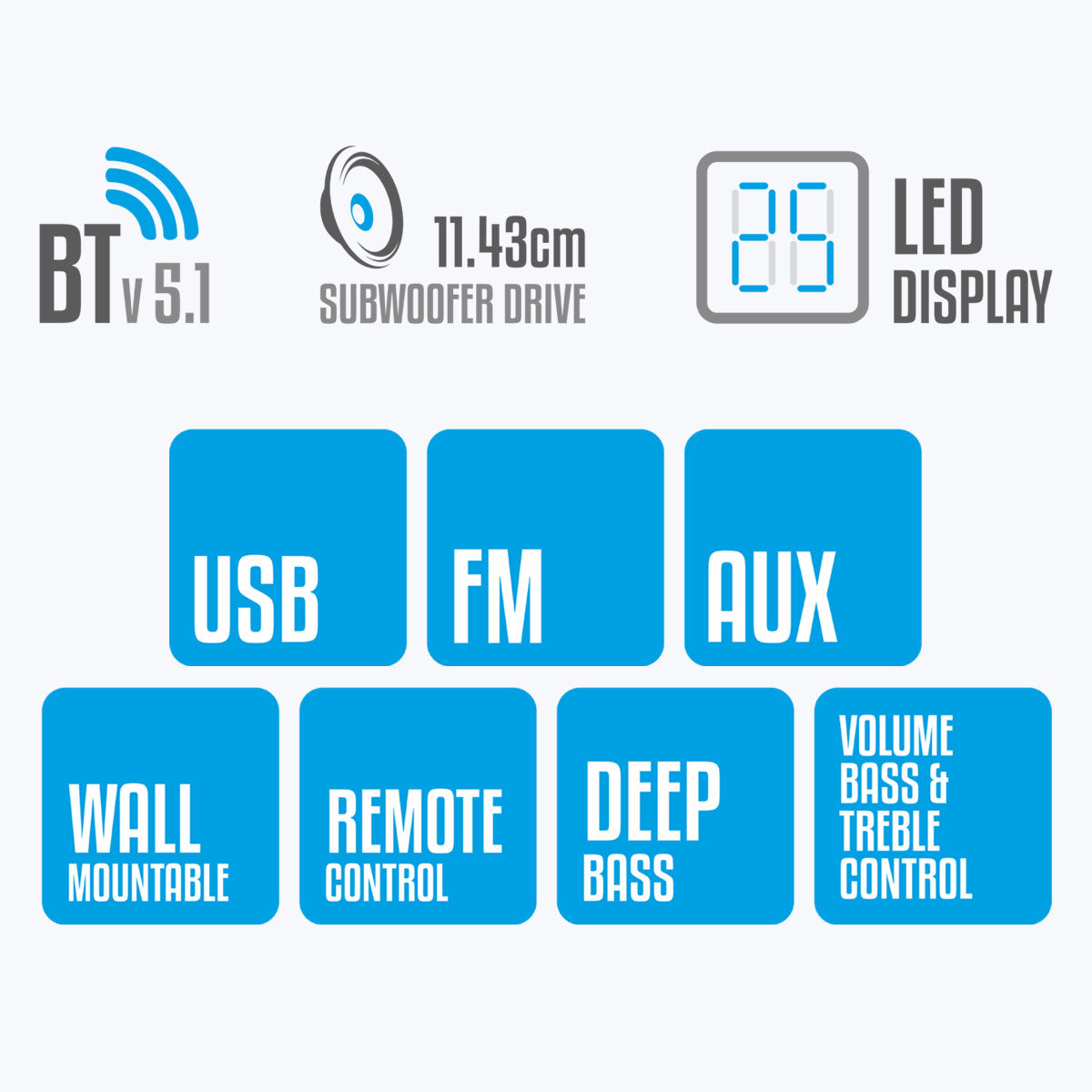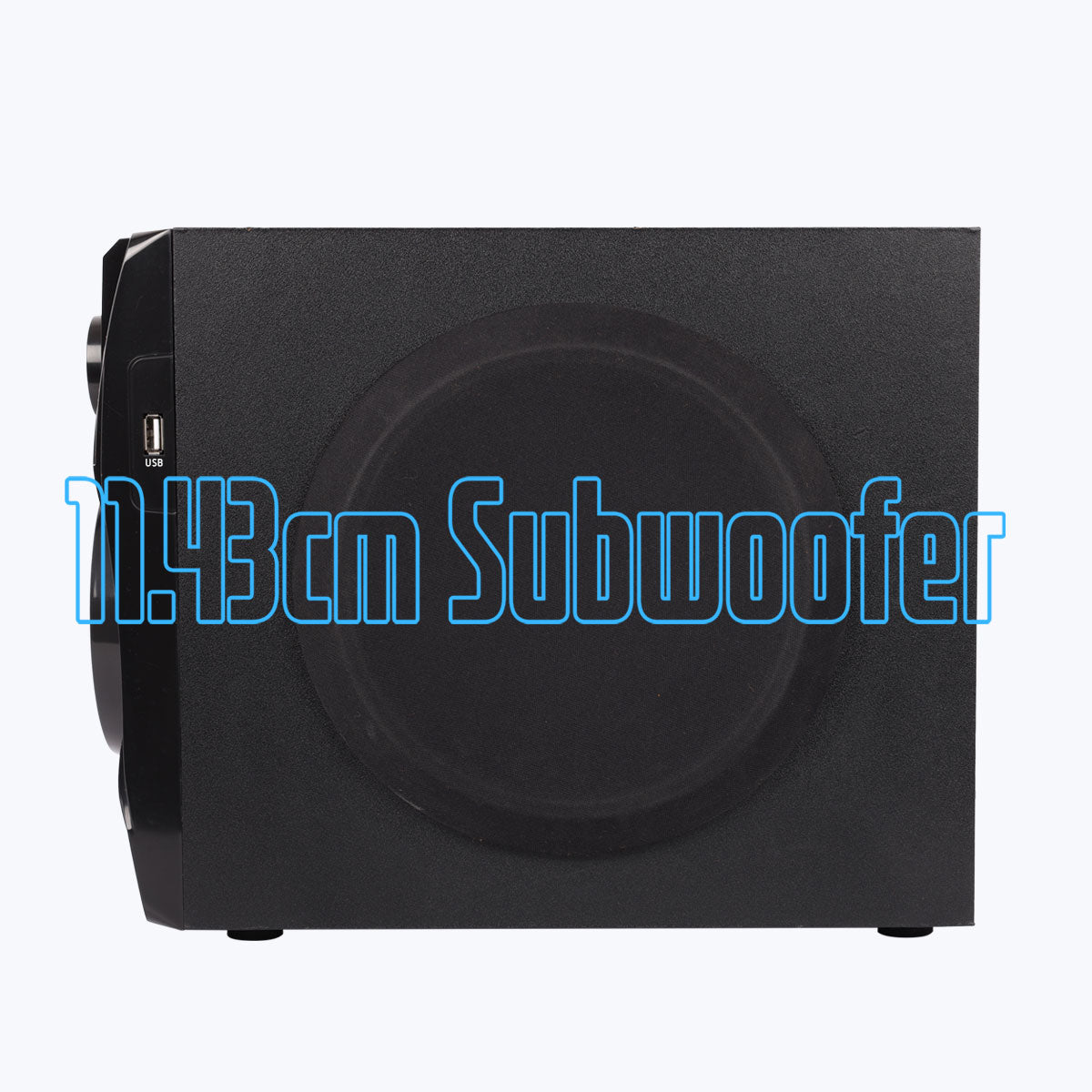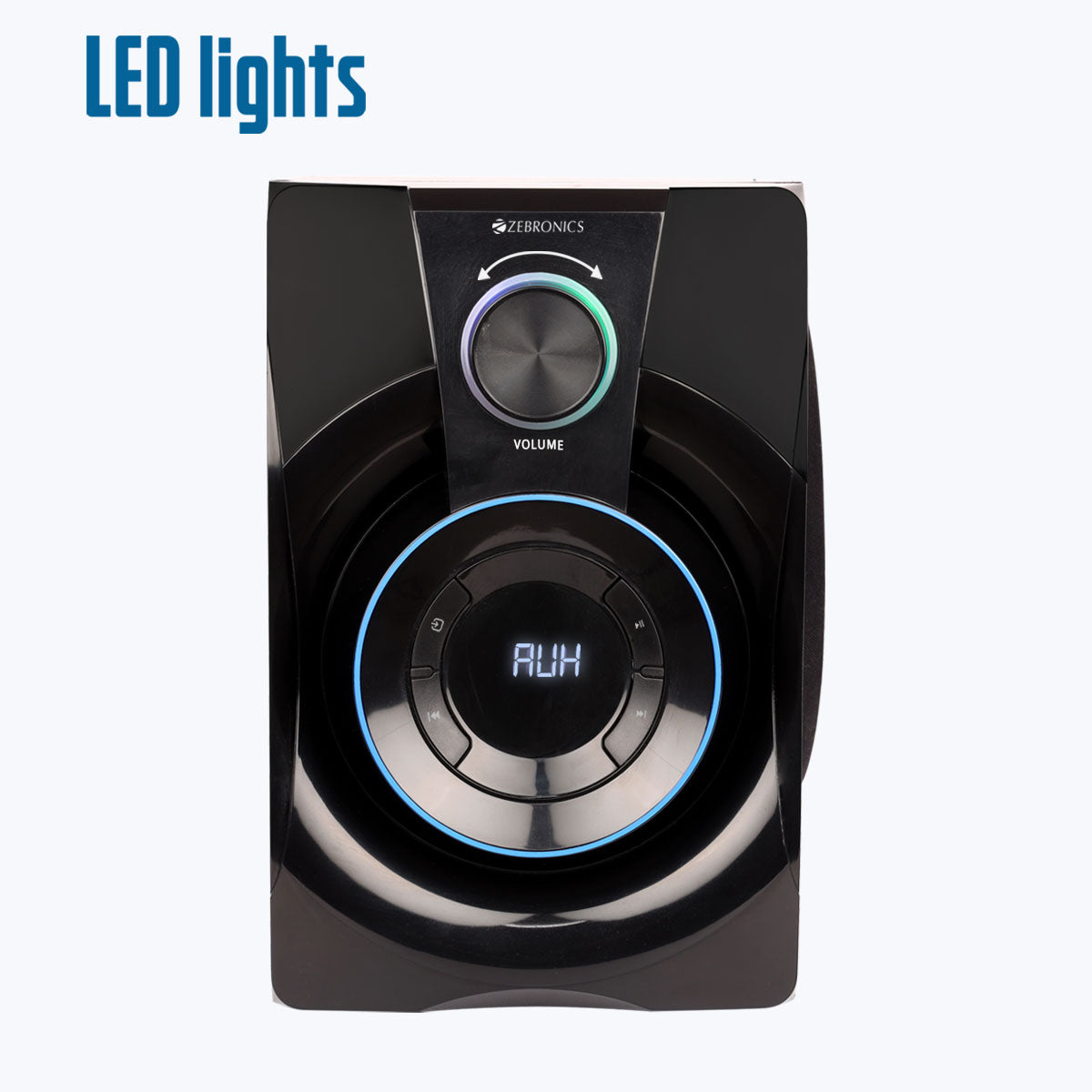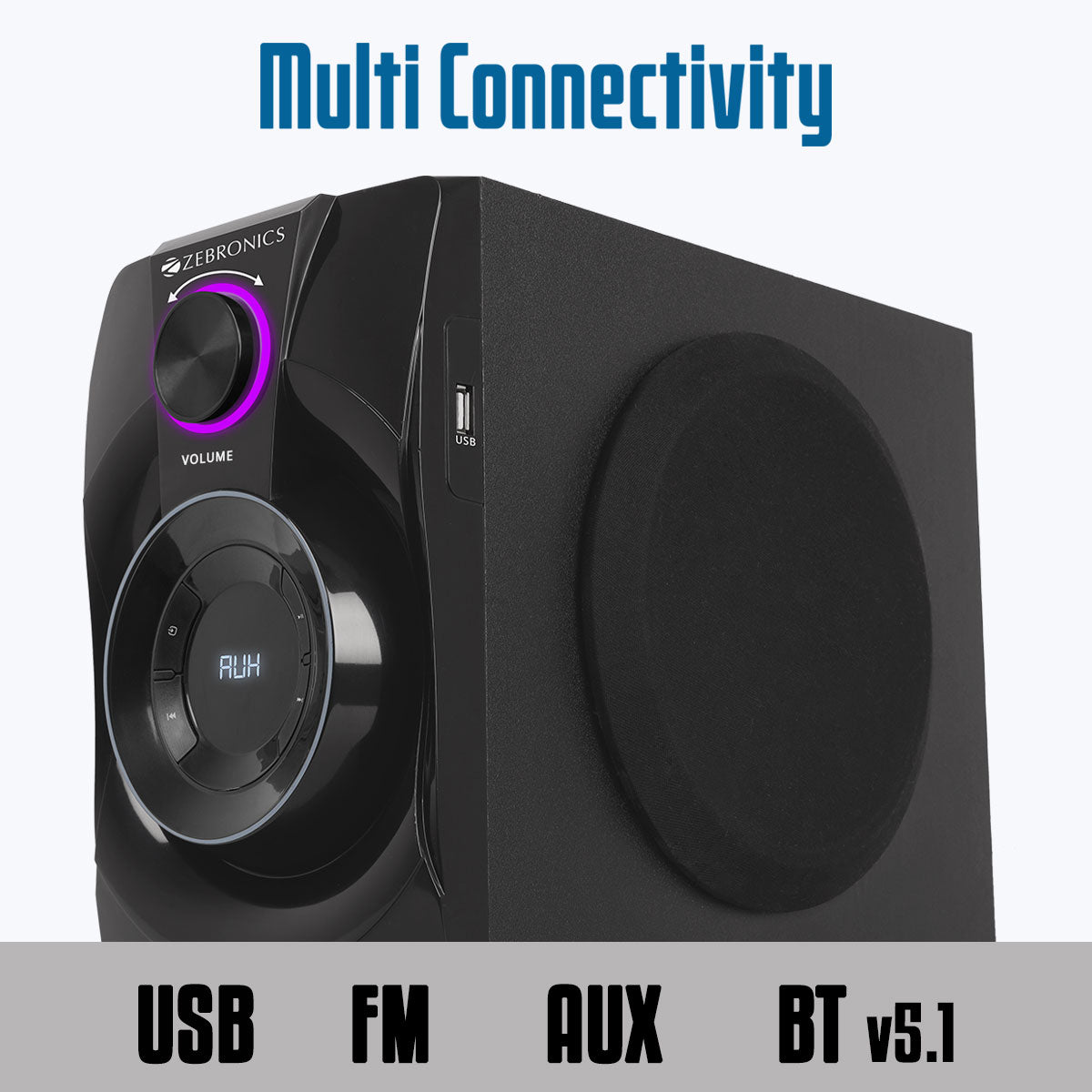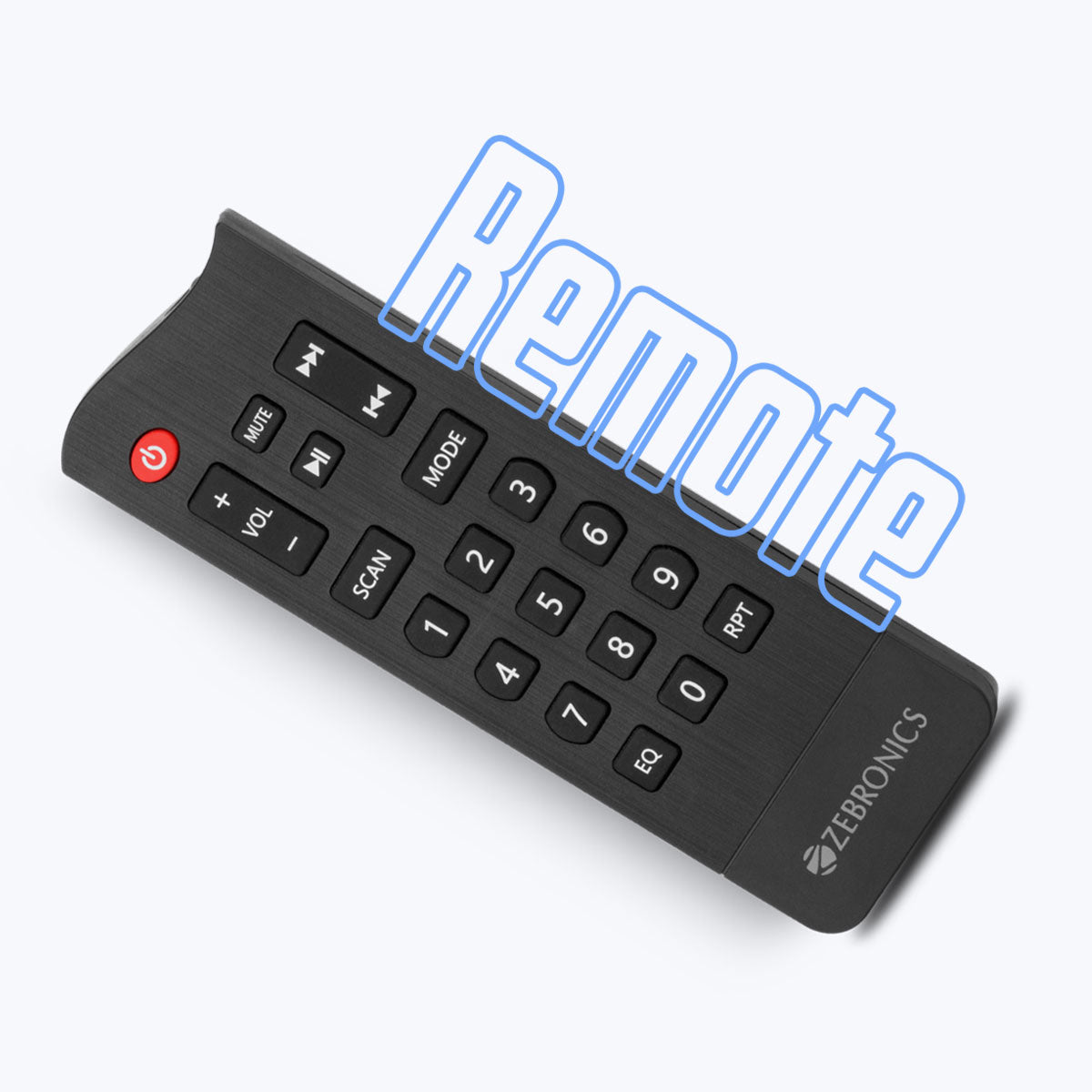 Zeb-Basso 100
---
2.1 channel speaker
BT v5.1 / USB / AUX / FM
LED display
Remote control
Wall mountable
Volume, Bass & Treble Control
Product Type: 2.1 Speakers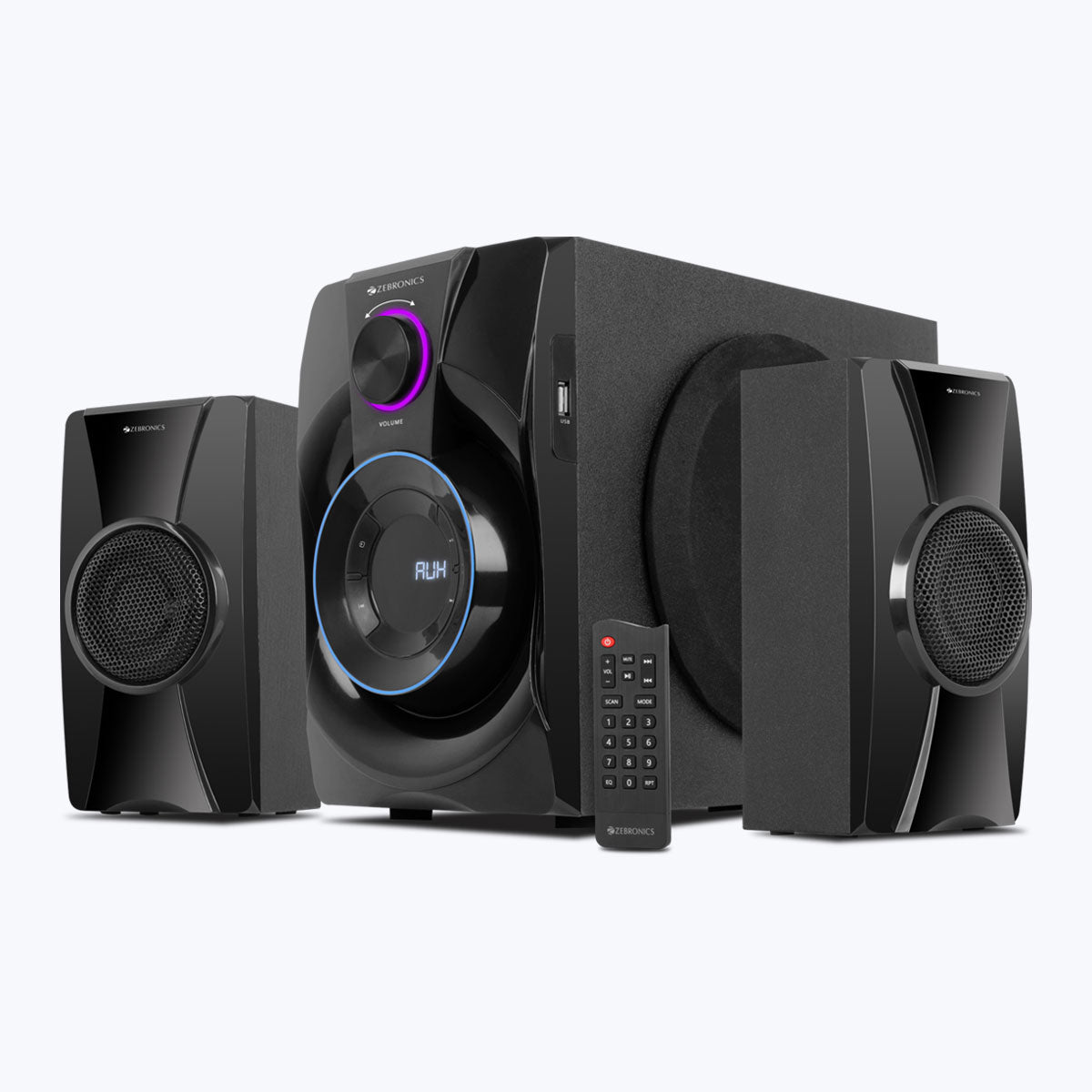 Sit back and enjoy phenomenal sound with ZEB-Basso 100, 2.1 speaker. It has a modern design and delivers powerful sound to create an amazing experience while watching a movie or listening to music. The speaker also comes with a wide variety of connectivity options.
Get a room thumping bass experience as the speaker has a large 11.43cm subwoofer to deliver heavy bass.
Bring a touch of elegance to your room as the speaker comes with RGB lights that add an element of style to your room.
The speaker comes loaded with connectivity options. You can wirelessly connect and stream music with BT. The USB port can be used to play songs from pendrive. It also has AUX input and a built-in FM radio function as well.
Sit back, relax and enjoy your entertainment at the touch of a button on the remote that tags along with the speaker.
Features
| | | |
| --- | --- | --- |
|   | 2.1 channel speaker |   |
|   | BT v5.1 / USB / AUX / FM |   |
|   | LED display |   |
|   | Remote control |   |
|   | Wall mountable |   |
|   | Volume, Bass & Treble Control |   |
Specifications
| | | |
| --- | --- | --- |
|   | Output Power (RMS) | |
|   | Subwoofer | 30 watts |
|   | Satellite | 15 watts x 2 |
| | Total |  60 watts |
| | Driver Size | |
| | Subwoofer | 11.43 cm |
|   | Satellite | 7.62 cm x 2 |
|   | Impedance | |
| | Subwoofer | 4Ω |
|   | Satellite | 4Ω |
|   | Frequency Response | 20Hz - 20kHz |
|   | S/N Ratio | ≥ 55dB |
|   | Separation | ≥35dB |
|   | File Format Support (USB) | MP3 |
|   | Line Input | 2ch RCA |
|   | Max Supported Memory Size (USB) | 32GB |
|   | FM Frequency Range | 87.8 MHz - 108 MHz |
|   | BT Name | ZEB-BASSO 100 2.1 |
| | BT Range | 10 Meters (without obstacles) |
|   | BT version | 5.1 |
|   | Product Dimension (W x D x H) | |
|   | Subwoofer | 175 x 295 x 260 mm |
|   | Satellite | 105 x 90 x 200 mm |
|   | Package Dimension (W x D x H) | 348 x 254 x 391 mm |
|   | Net.Weight | |
|   | Subwoofer | 3.4 kg |
|   | Satellites | 603 g x 2 |
| | Total | 4.6 kg |
| | Country of Origin | India |
|   | Package Contents     | |
|   | Subwoofer | 1 U |
|   | Satellite | 2 U |
|   | Remote | 1 U |
| | QR Code Guide | 1 U |
| | Input cable | 1 U |