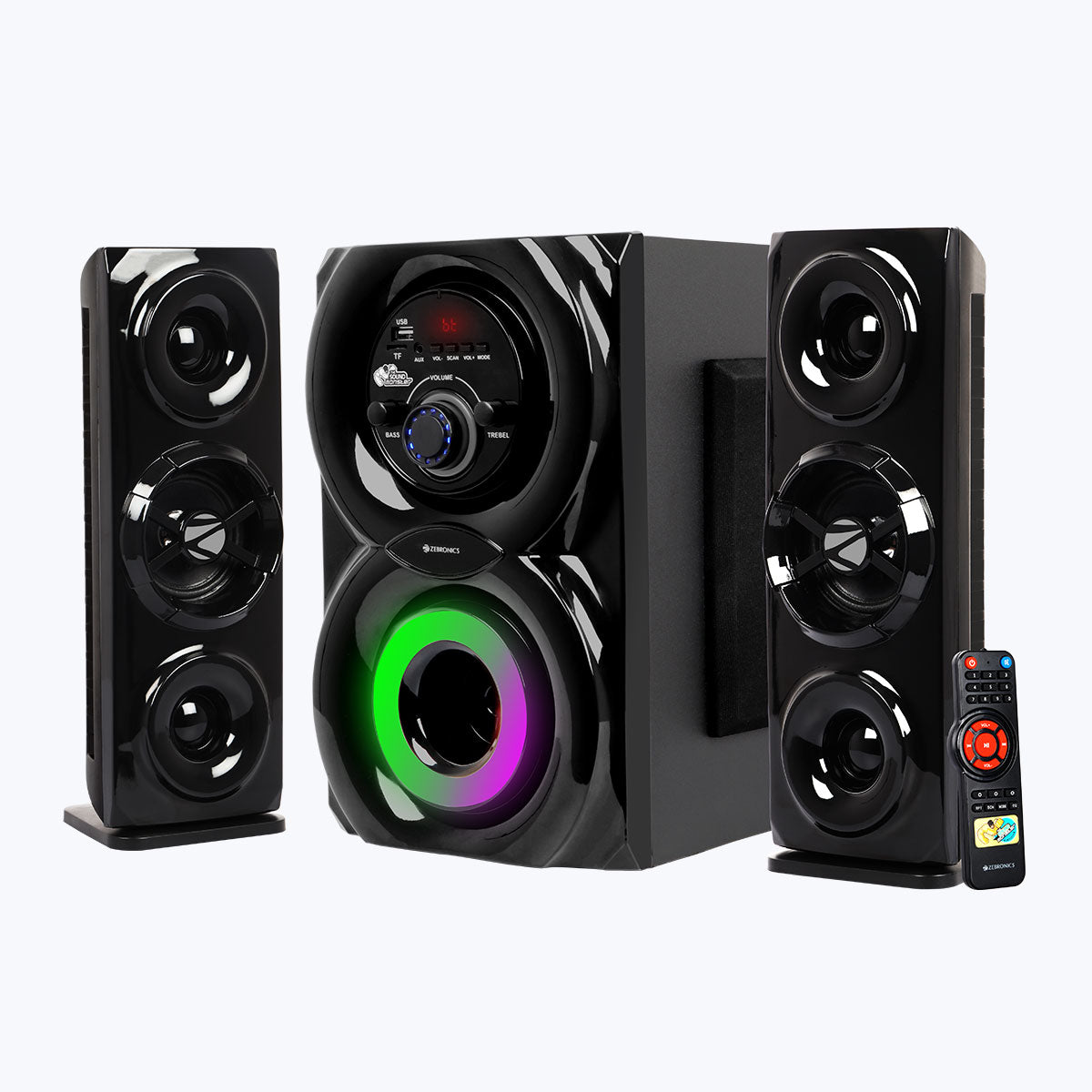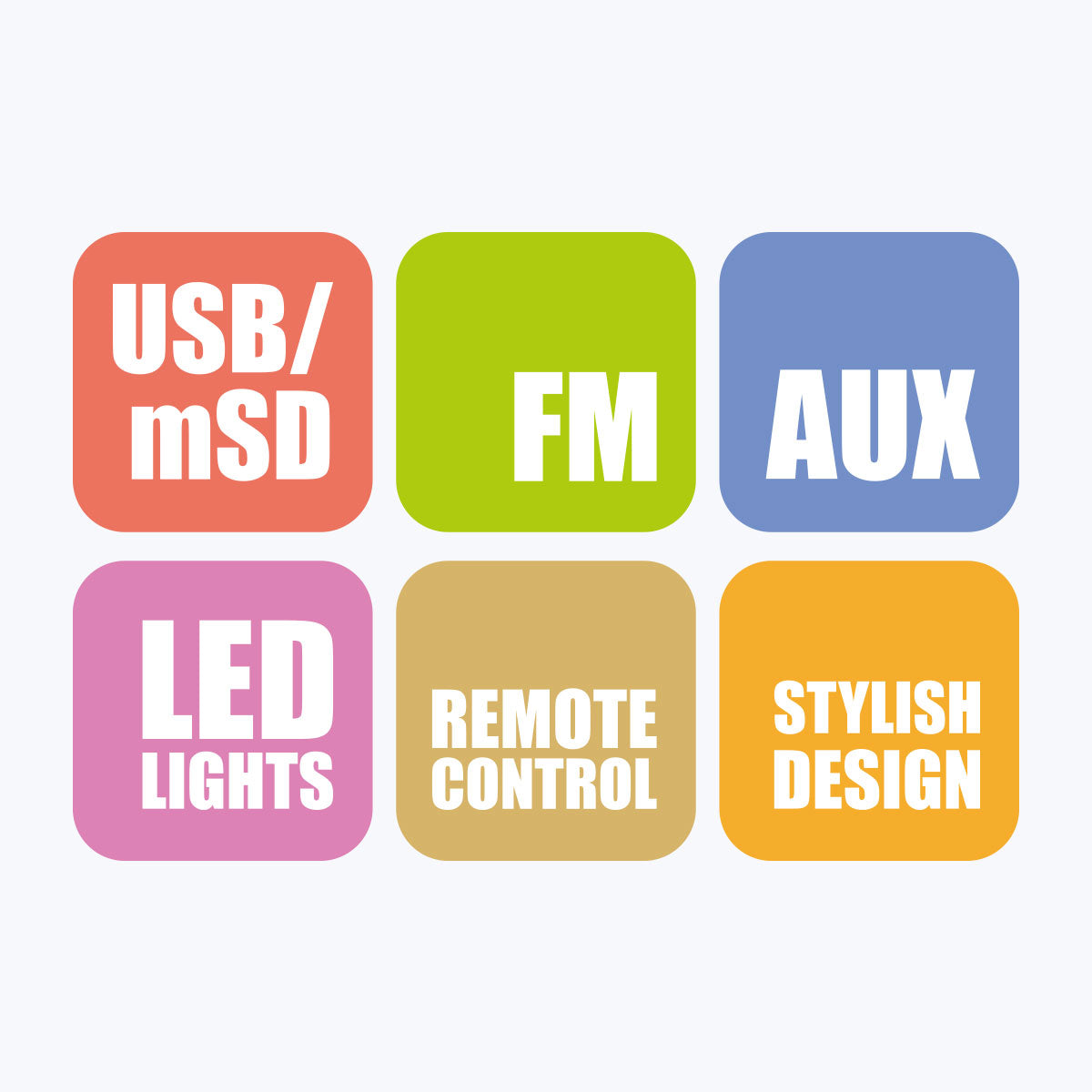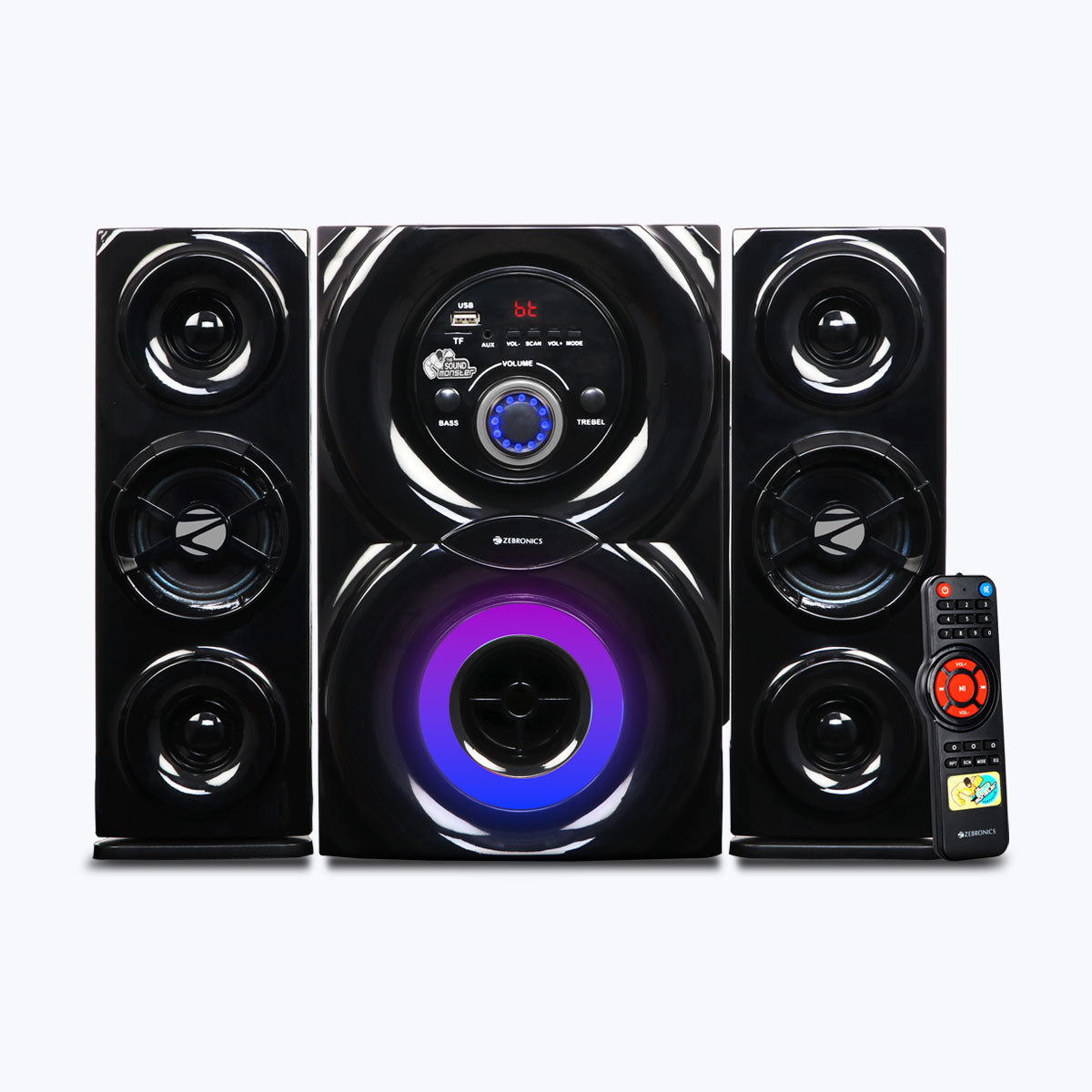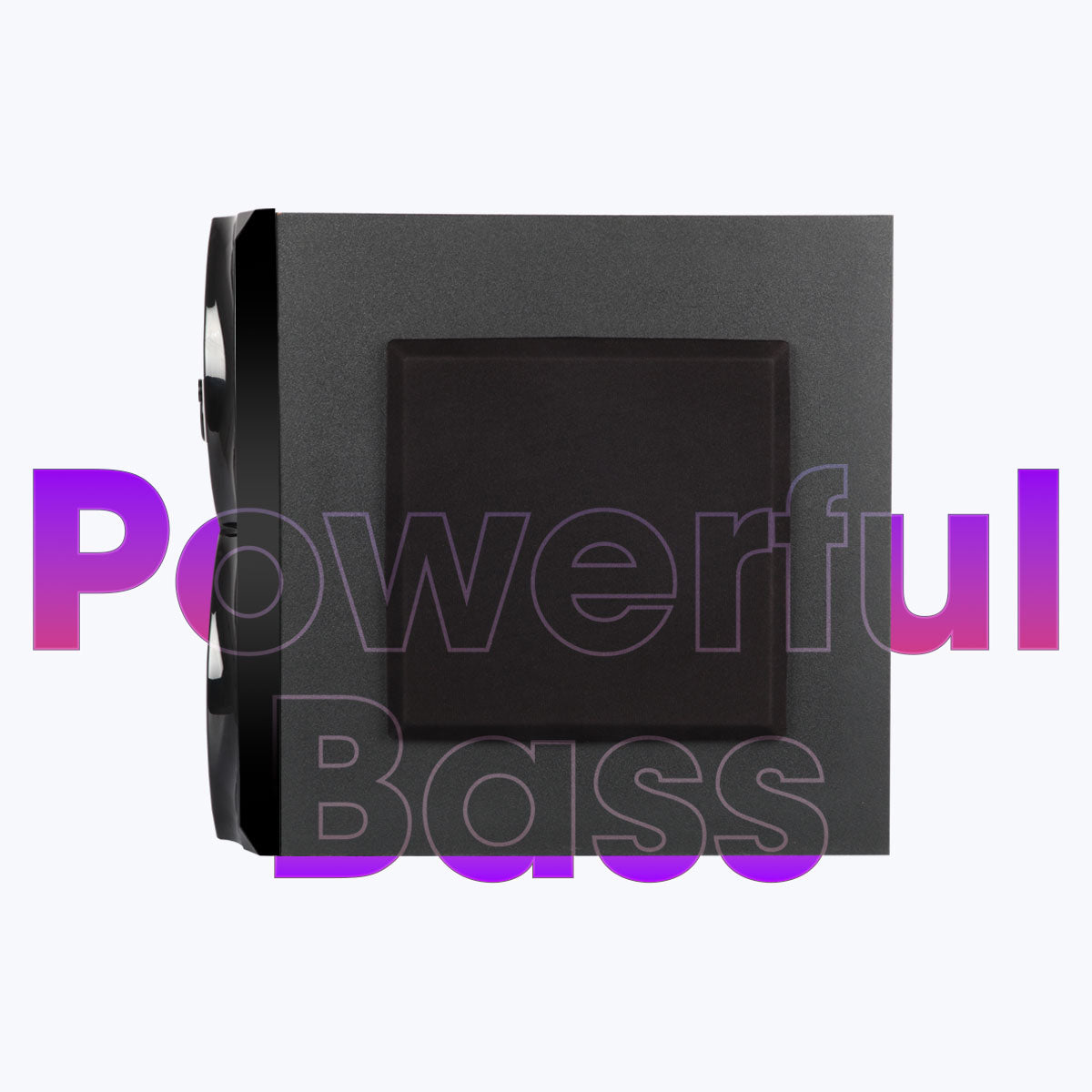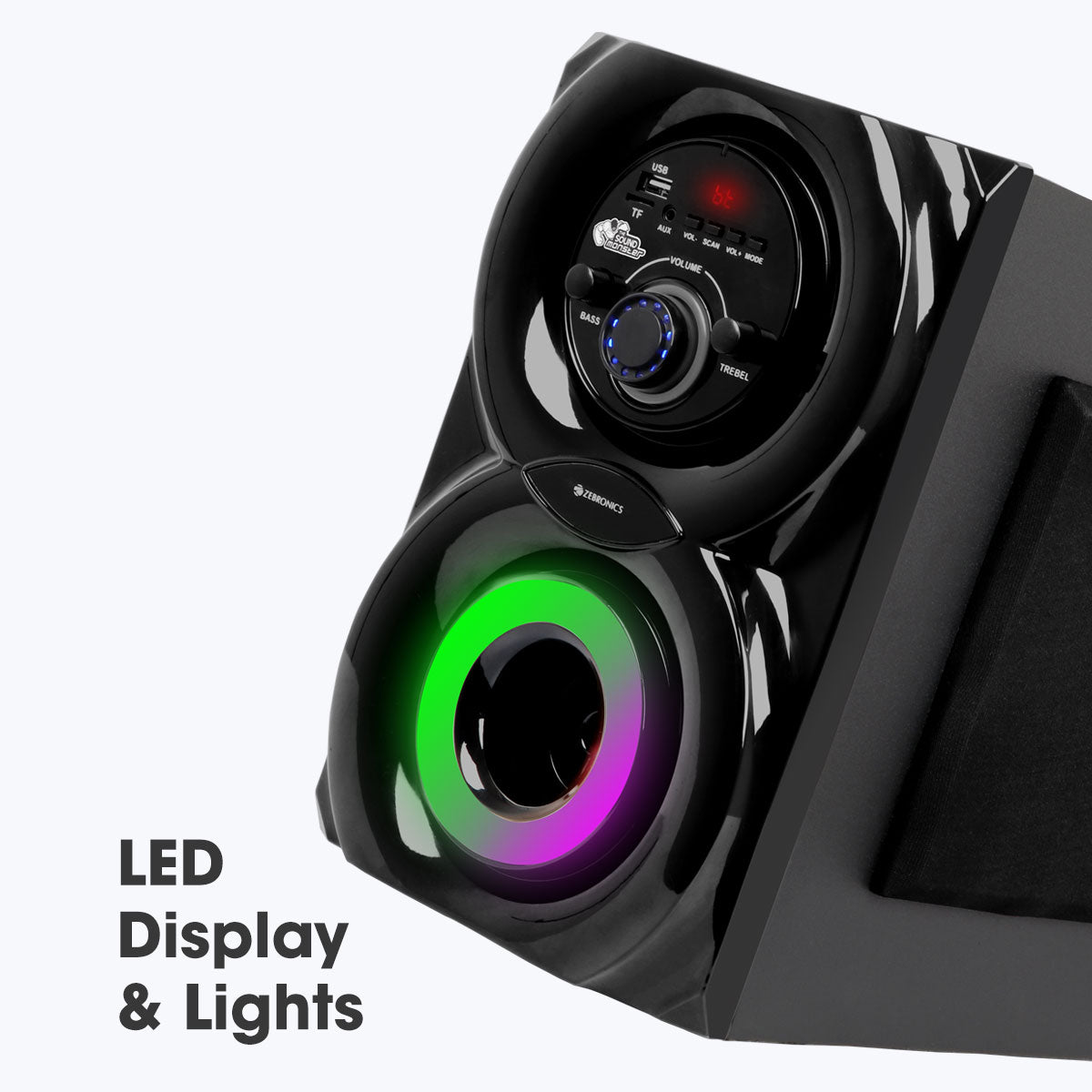 Zeb-Samba 5
---
2.1 channel speaker
Wireless BT/USB/mSD/FM/AUX
LED Display
15.25 cm subwoofer
Remote control
Volume, Bass and Treble adjustment
LED Lights
Stylish Design
Product Type: 2.1 Speakers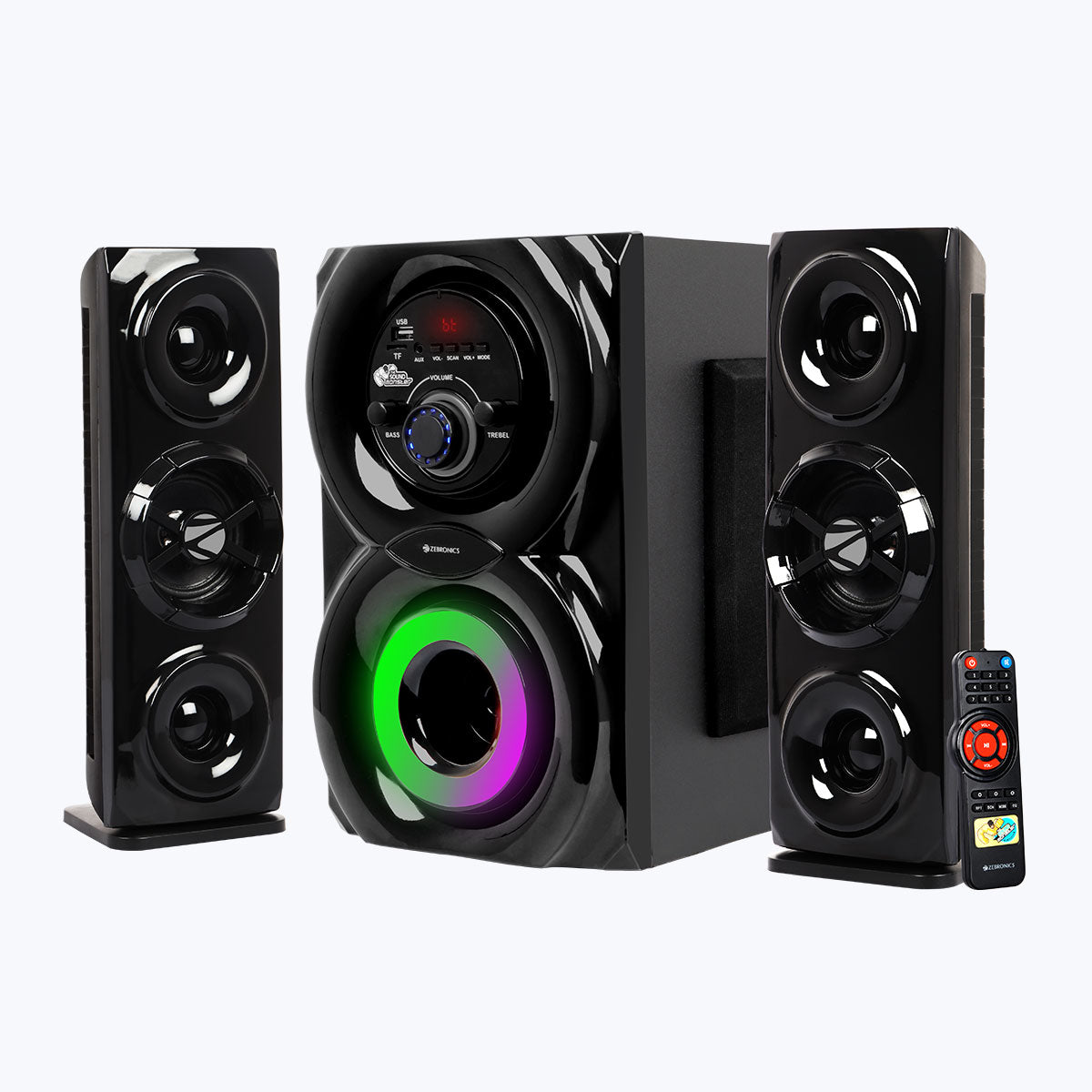 Step into the audio groove with Zebronics 2.1 speaker, ZEB-Samba 5 that comes in a stylish design with powerful 80watts sound. The speaker comes with an LED display along with LED lights to elevate your audio experience.

ZEB-Samba 5 speaker feature multi-connectivity options like BT v5.1, so you can play your audio wirelessly. It comes with a USB port and can play songs from a pendrive. You can use a memory card via the mSD card slot.  Connect your laptop, desktop, or TV/DTH to the AUX, and the speaker also comes with a built-in FM Radio.
The 2.1 speaker comes with a large 15.25cms powerful subwoofer to bring the thumping effect of bass. The large ported subwoofer is capable of creating an immersive bass effect.
The 2.1 speaker has an LED Display and comes with controls for media/volume, individual controls for bass/treble. It also features the LED lights that elevate your audio experience further.
Get the powerful sound with a wall-mountable feature in the 2.1 speaker that adds charm to your room. Sit back, relax and enjoy the theatre-like sound experience at home with a remote control that tags with the speaker.


Features
| | |
| --- | --- |
| | 2.1 channel speaker |
| | Wireless BT/USB/mSD/FM/AUX |
| | LED Display |
|   | 15.25 cm subwoofer |
| | Remote control |
| | Volume, Bass and Treble adjustment |
| | LED Lights |
| | Stylish Design |
Specifications
| | | |
| --- | --- | --- |
| | Output Power (RMS) | |
| | Subwoofer | 50 watts |
| | Satellite | 15 watts x 2 |
| | Total | 80 watts |
| | Driver Size | |
| | Subwoofer | 15.25 cm |
| | Satellite | 7.62 cm x 2 |
| | Impedance | |
| | Subwoofer | 8Ω |
| | Satellite | 4Ω |
|   | Frequency response | 40Hz - 20kHz |
|   | S/N Ratio | ≥ 45dB |
|   | Separation | ≥ 72dB |
|   | File format support (USB/mSD) | MP3 |
|   | Line input | 2ch RCA |
| | Max supported memory size (USB/mSD) | 32GB |
|   | FM frequency range | 87 MHz-108 MHz |
|   | BT name | ZEBRONICS |
|   | BT version | 5.1 |
|   | Product Dimension (W x D x H) | |
|   |  Subwoofer | 215 x 350 x 310 mm |
| |  Satellite | 108 x 97 x 313 mm |
| | Package Dimension (W x D x H) | 410 x 245 x 475 mm |
|   | Net.Weight | |
|   | Subwoofer | 5.6 kg |
| | Satellite | 432g x 2 |
| | Total | 6.4 kg |
| | Country of Origin | India |
| | Package Contents |   |
|   | Subwoofer | 1 U |
|   | Satellite | 2 U |
|   | Remote | 1 U |
|   | Input cable | 1 U |
| | User manual | 1 U |