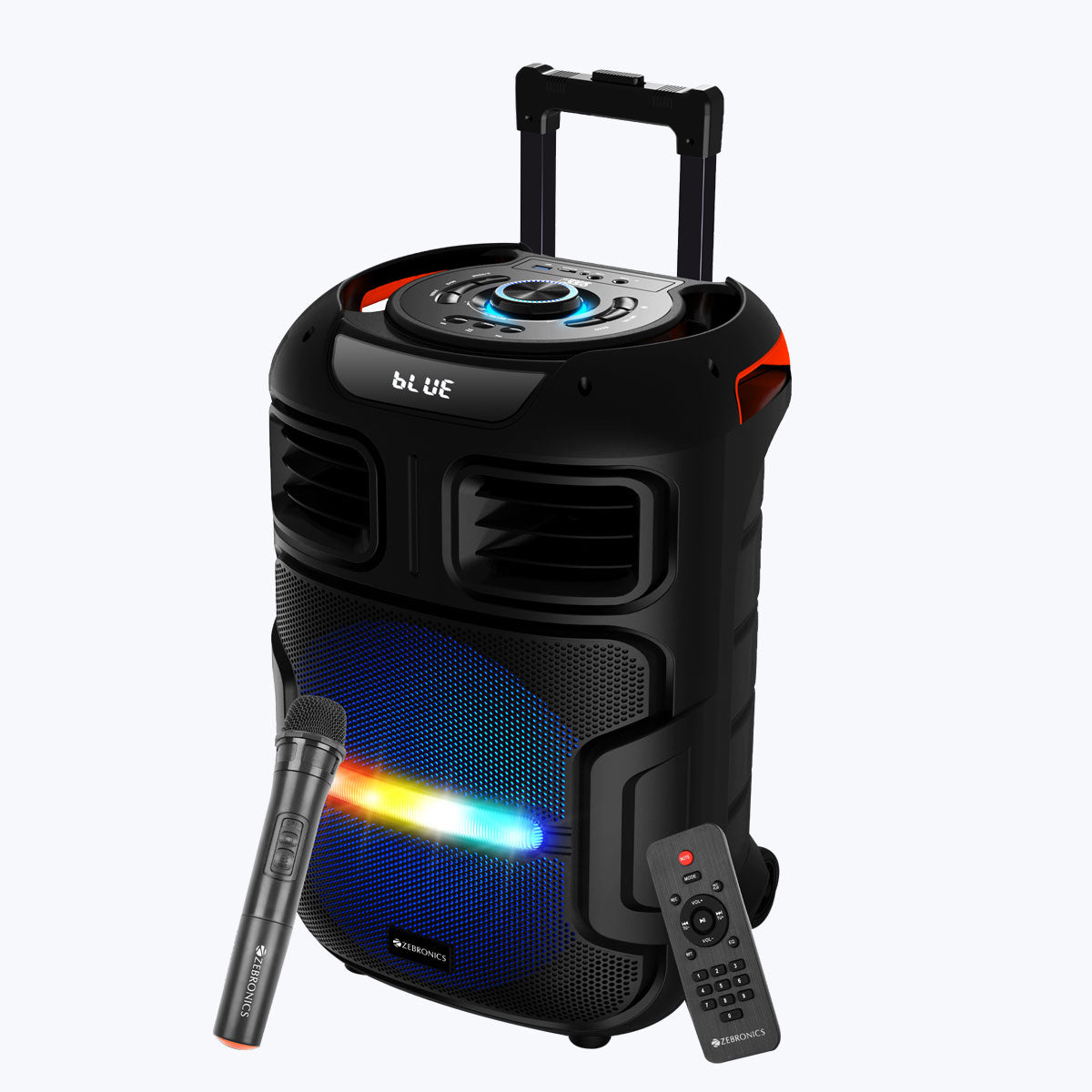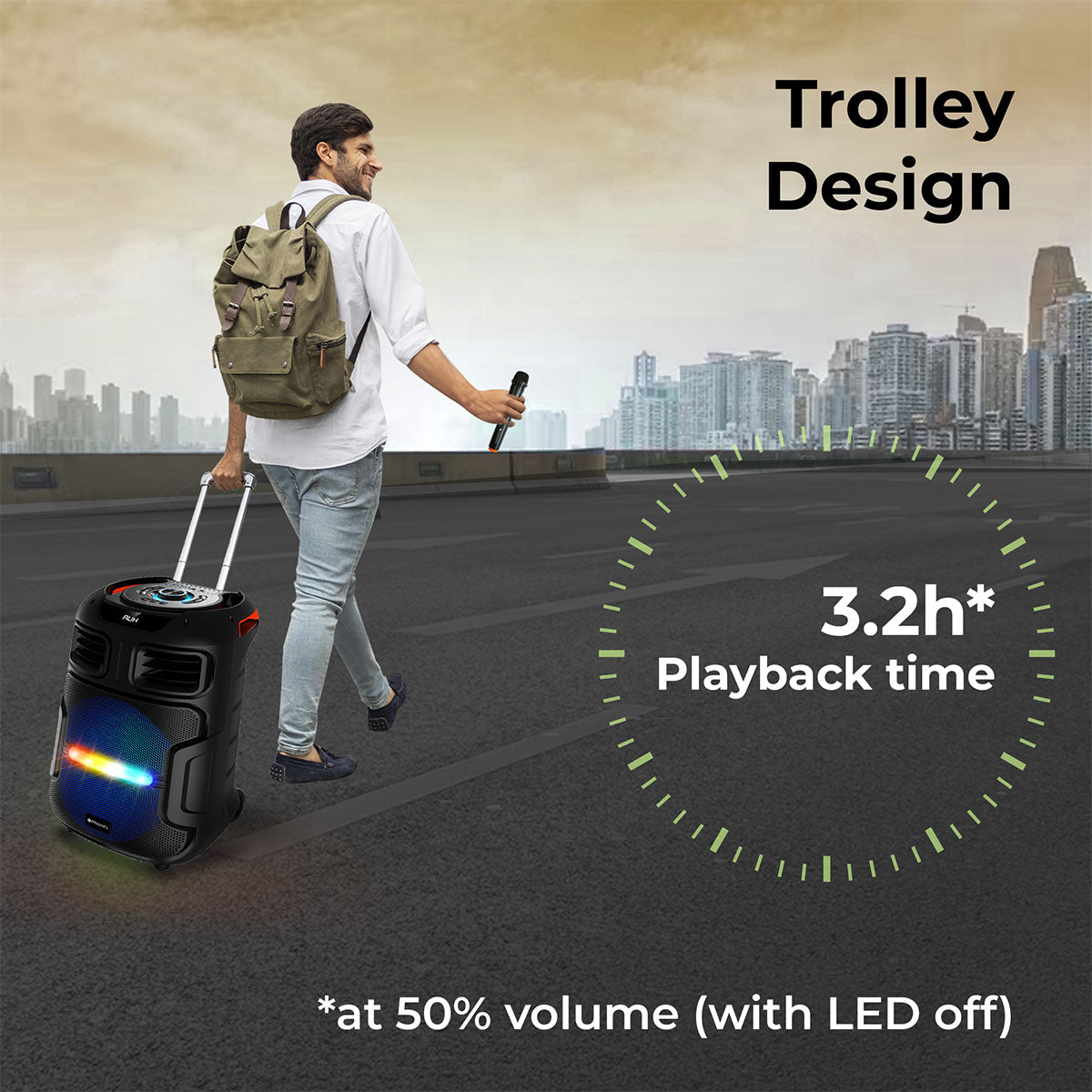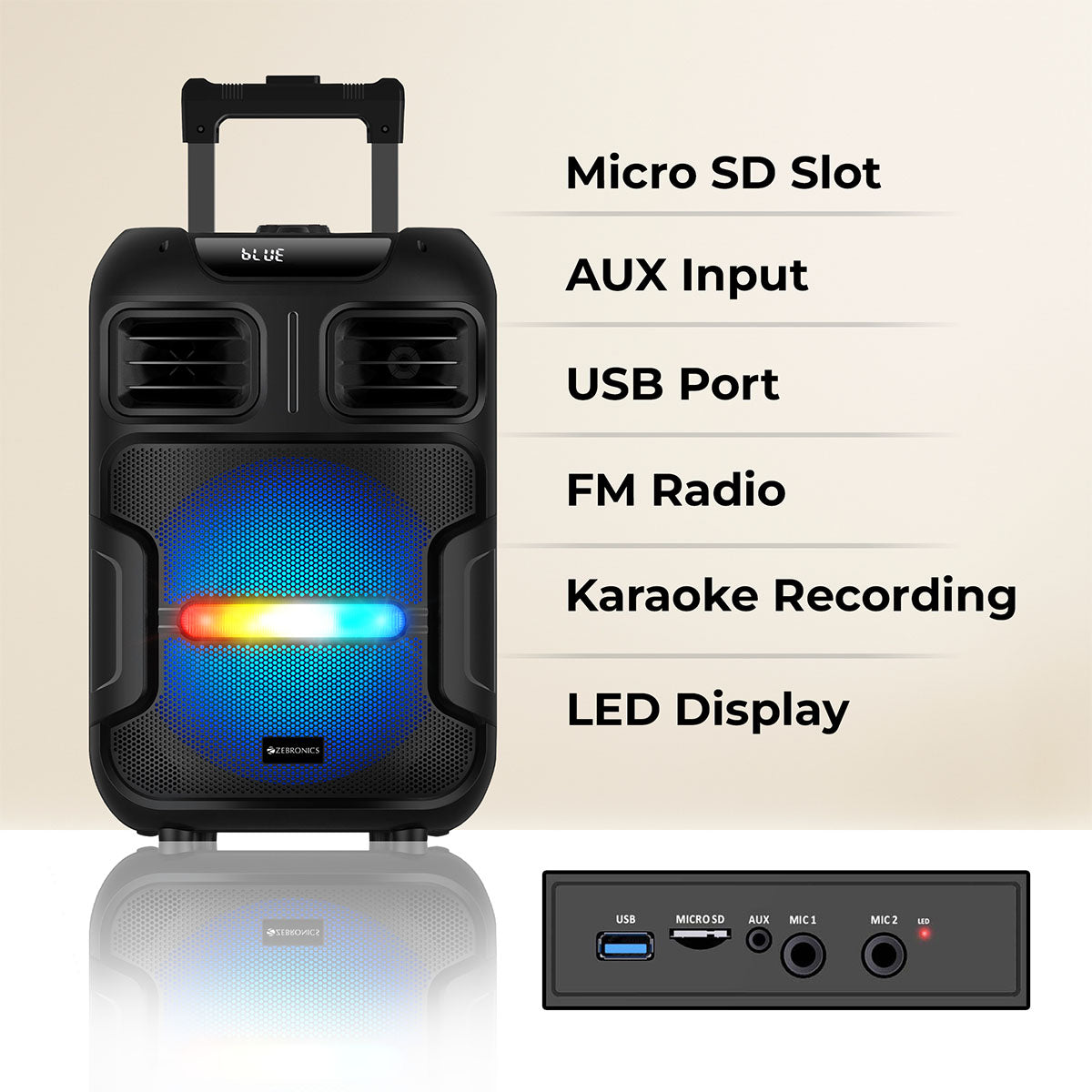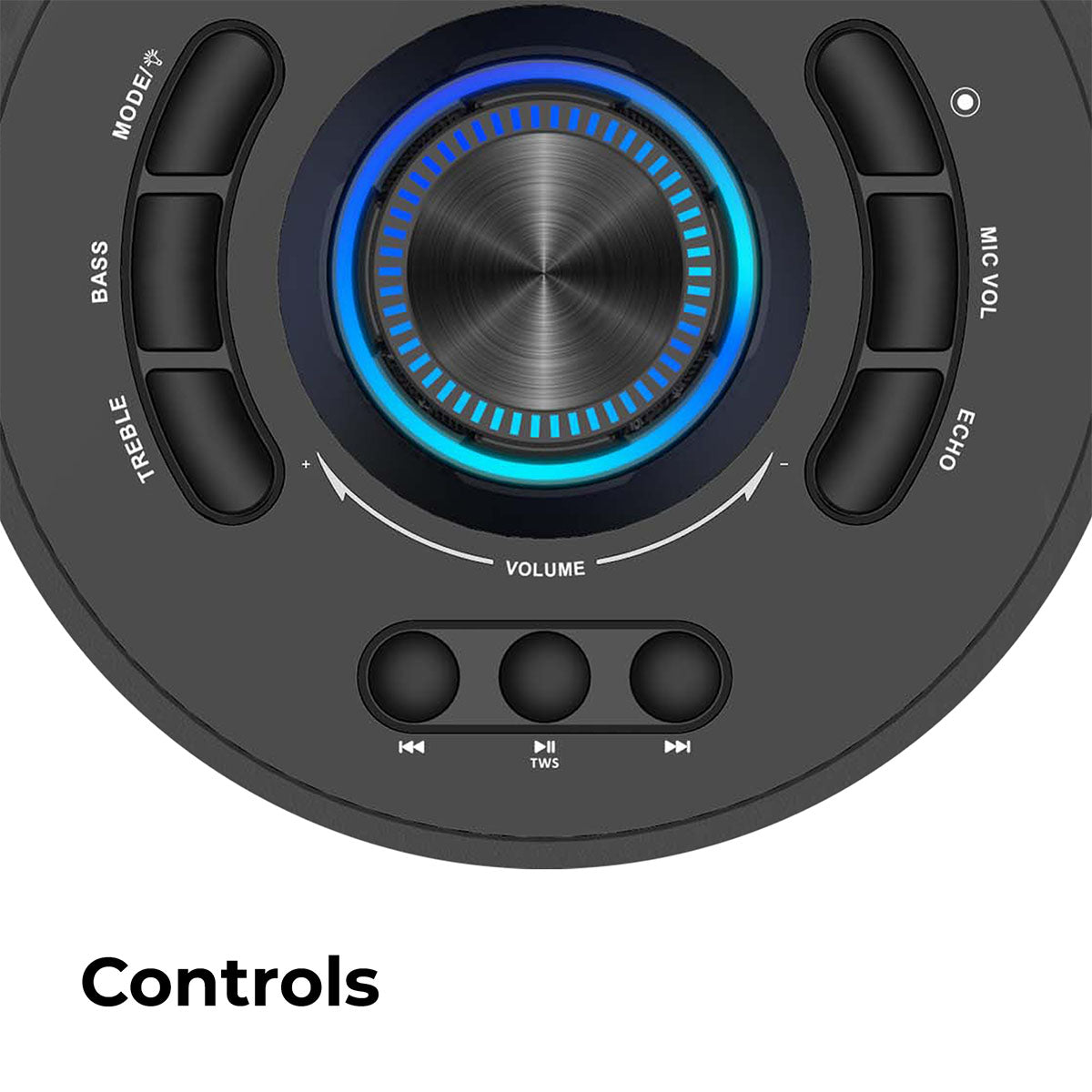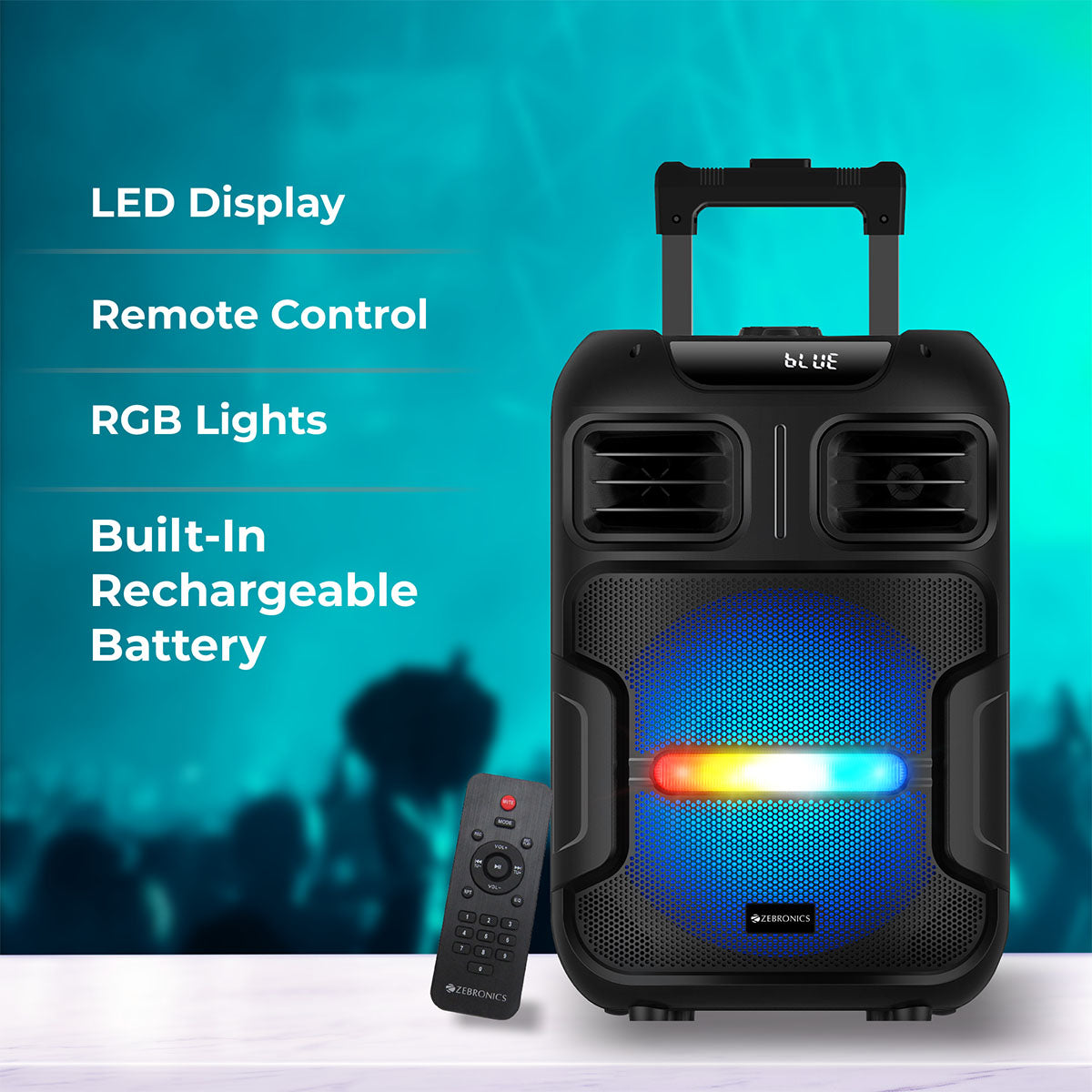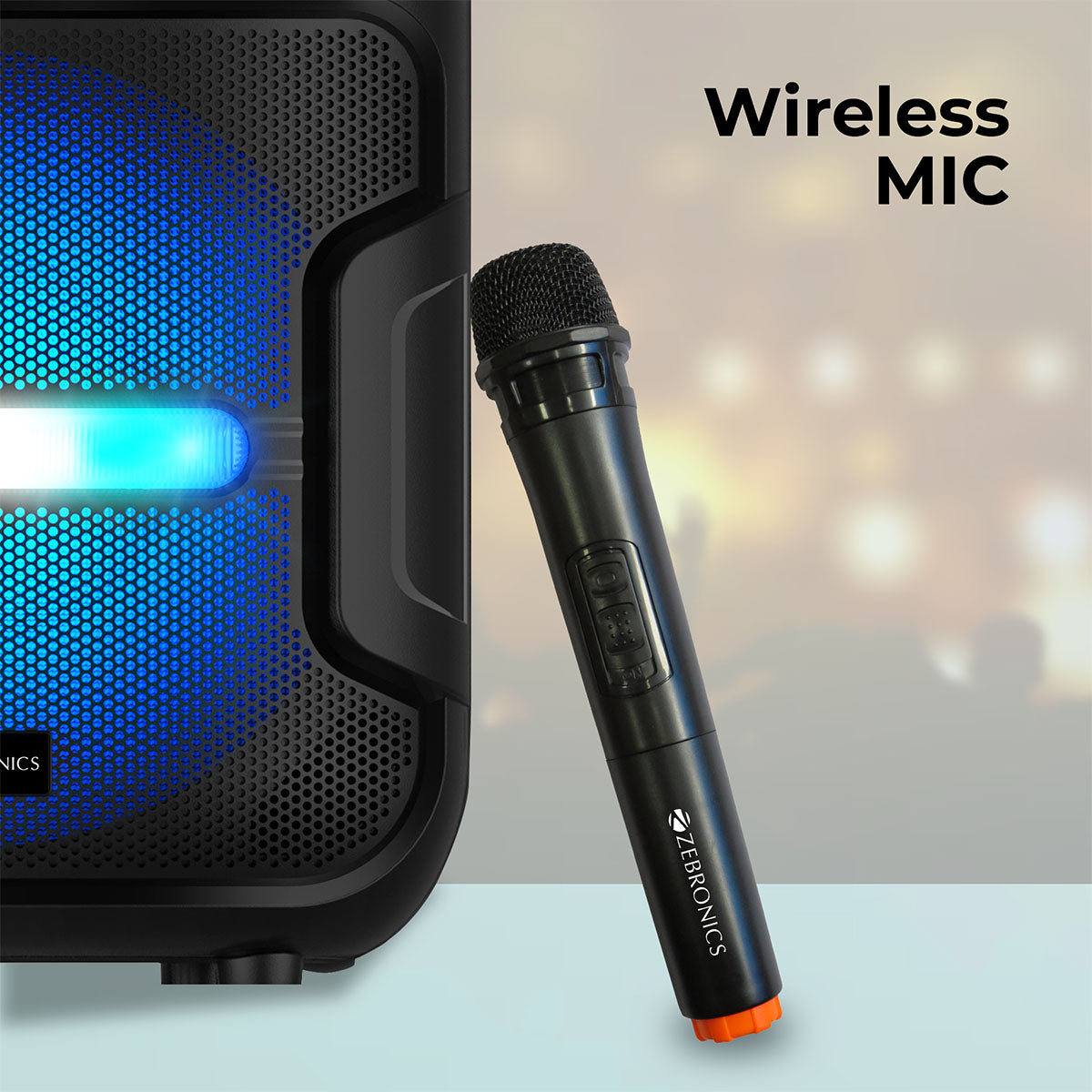 Zeb-Thump 350
---
BT v5.0 / USB / mSD / AUX / FM / Mic In x 2
LED Display
TWS Function
Dual 6.3mm Microphone input
Media/Volume control
Volume, Bass & Treble Control
Mic Volume / Echo Control Knob
Wireless MIC
Karaoke/Recording
Retractable Handle with Wheels
RGB Lights with control button
Product Type: Trolley Speakers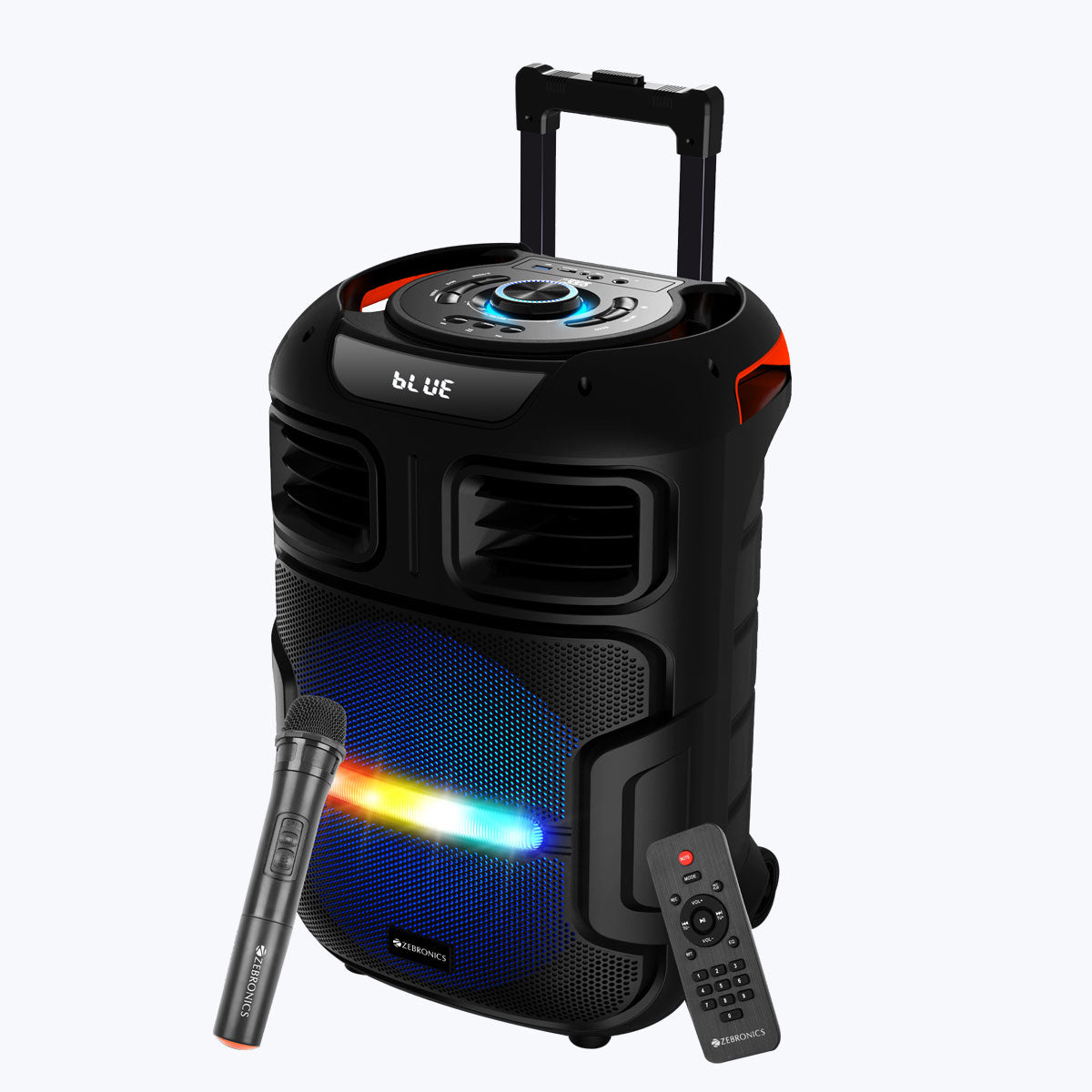 It's time to revive your entertainment with the brand-new music companion called ZEB-Thump 350, a trolley DJ speaker. Groove to your favorite tracks by listening to them all day with this DJ speaker, so you never miss a chance to lose out on the entertainment. The speaker comes with captivating features and will leave you surprised with its performance.
The thump from the speaker can be felt by the 40 watts of output power, so the beat never drops as you keep vibing with your gang.
The speaker is equipped with a mighty full-range driver of size 30.48cm along with a 2.52cm tweeter driver for impressive acoustics and treble. You'll fall even deeper in love with entertainment thanks to its exquisite detail, meticulous dialogue, fine detailing, and realistic sound.
Just plug your device into the speaker to enjoy your favorite music. Connect your USB pen drive to the speaker to start listening to your whole, priceless MP3/WMA/WAV song library. By connecting the smartphone to this wireless speaker via BT v5.0, you can now enjoy your favorite songs that you find on music streaming services in unambiguous audio. The wired connection with the speaker is eased by connecting the Aux output for additional input. The speaker also allows you to play your favorite broadcast station that operates in a frequency range between 87.5MHz to 108MHz with an FM connection and sing it your way through the wireless mic & dual 6.3mm mic input.
Your party won't even notice a slight slowdown owing to the built-in rechargeable battery, which lasts up to 12 hours (at 50% volume & LED off), and its charge is indicated by LED.
Boost your energy by simultaneously connecting two speakers via a TWS connection. ZEB-Thump 350 is here to persuade you of the superior sound quality.
Keep karaoke going in any place you travel with the wireless mic that comes along with the speaker. This DJ speaker has an easily portable trolley design, so your musical enjoyment is not confined to just homes. With a 6.3mm mic input now you can connect 2 mics to the speaker with wire and start your karaoke session.

Now the festivity is upheld by altering the audio control just the way you want with the all-in-one remote control.
All you have to do to instantly start the party is get up and dance because of the speaker's dynamic and colorful RGB LED lights.

Features
| | |
| --- | --- |
| | BT v5.0 / USB / mSD / AUX / FM / Mic In x 2 |
| | LED Display |
| | TWS Function |
| | Dual 6.3mm Microphone input |
| | Media/Volume control |
| | Volume, Bass & Treble Control |
| | Mic Volume / Echo Control Knob |
| | Wireless MIC |
| | Karaoke/Recording |
| | Retractable Handle with Wheels |
| | RGB Lights with control button |
Specifications


Output Power (RMS)

40W


BT Version
v5.0


Driver Size

30.48cm + 2.52cm


Speaker Impedance
4Ω + 6Ω


Frequency Response

60Hz-18kHz


S/N Ratio
≥65dB


Max Supported USB/mSD
memory size

32GB


FM Frequency range 
87.5MHz - 108MHz


Supported Audio formats

MP3 / WAV / WMA


Charging time

8h


Playback time

12h*


Product Dimension (W x D x H)

34.5 x 32.5 x 52.5 cm


Package Dimension (W x D x H)
38.4 x 37.2 x 57.8 cm


Net. Weight

6.17 Kg


Country of Origin
India








* at 50% Volume (with LED off)    






Package contents





Speaker

1 U


AUX Cable
1 U


Remote Control

1 U


Wireless MIC
1 U


Charging Cable

1 U


QR Code Guide
1 U


QR Code Guide

1U