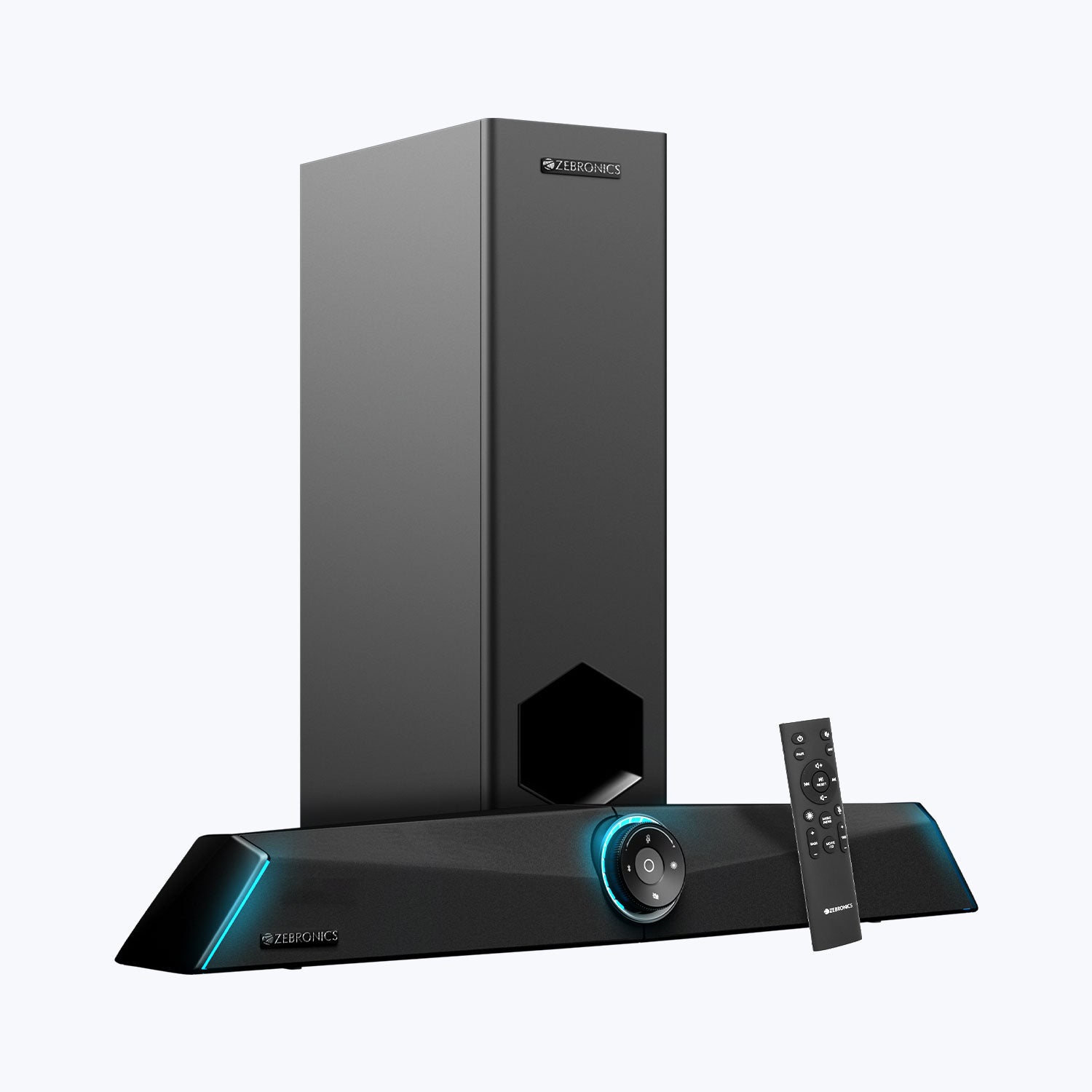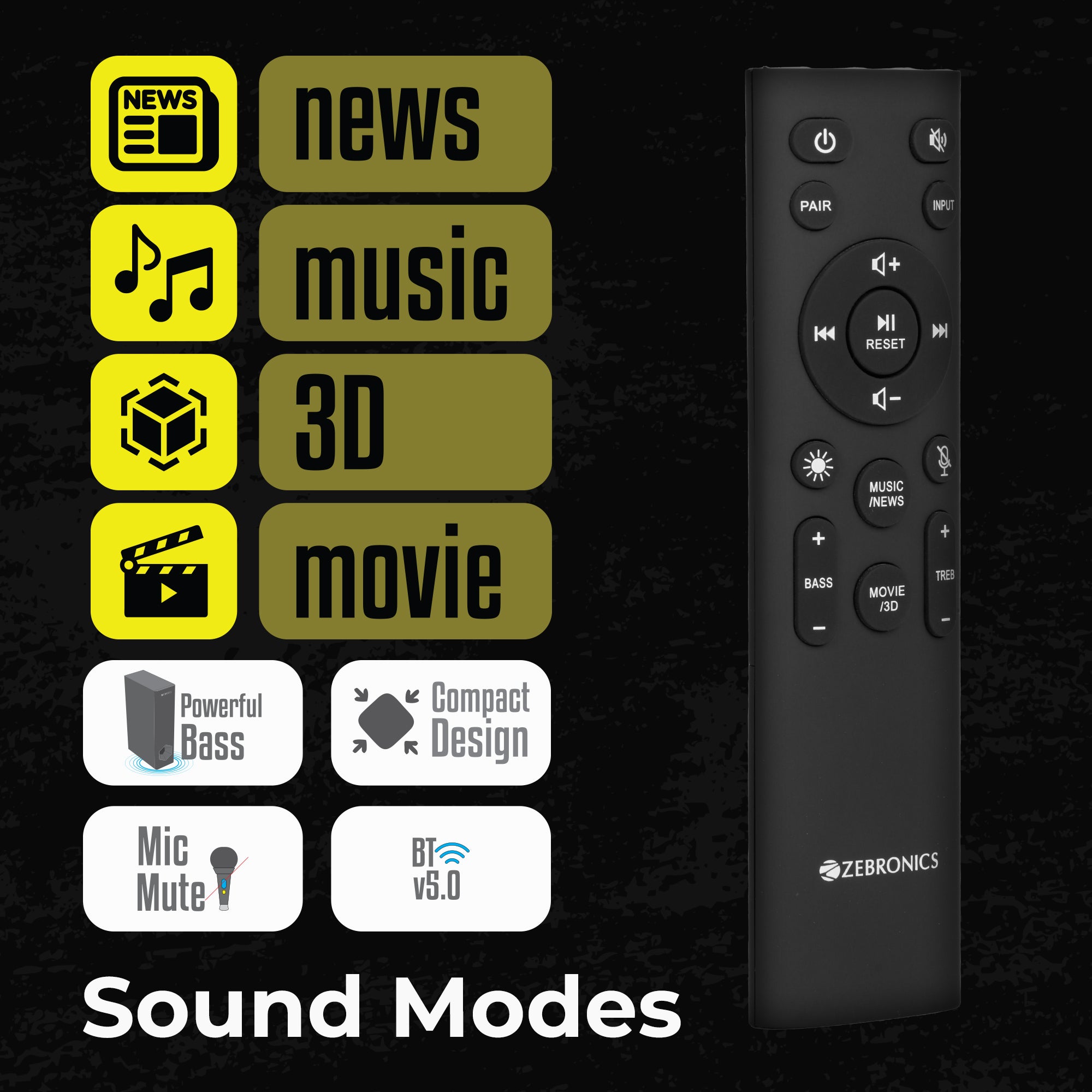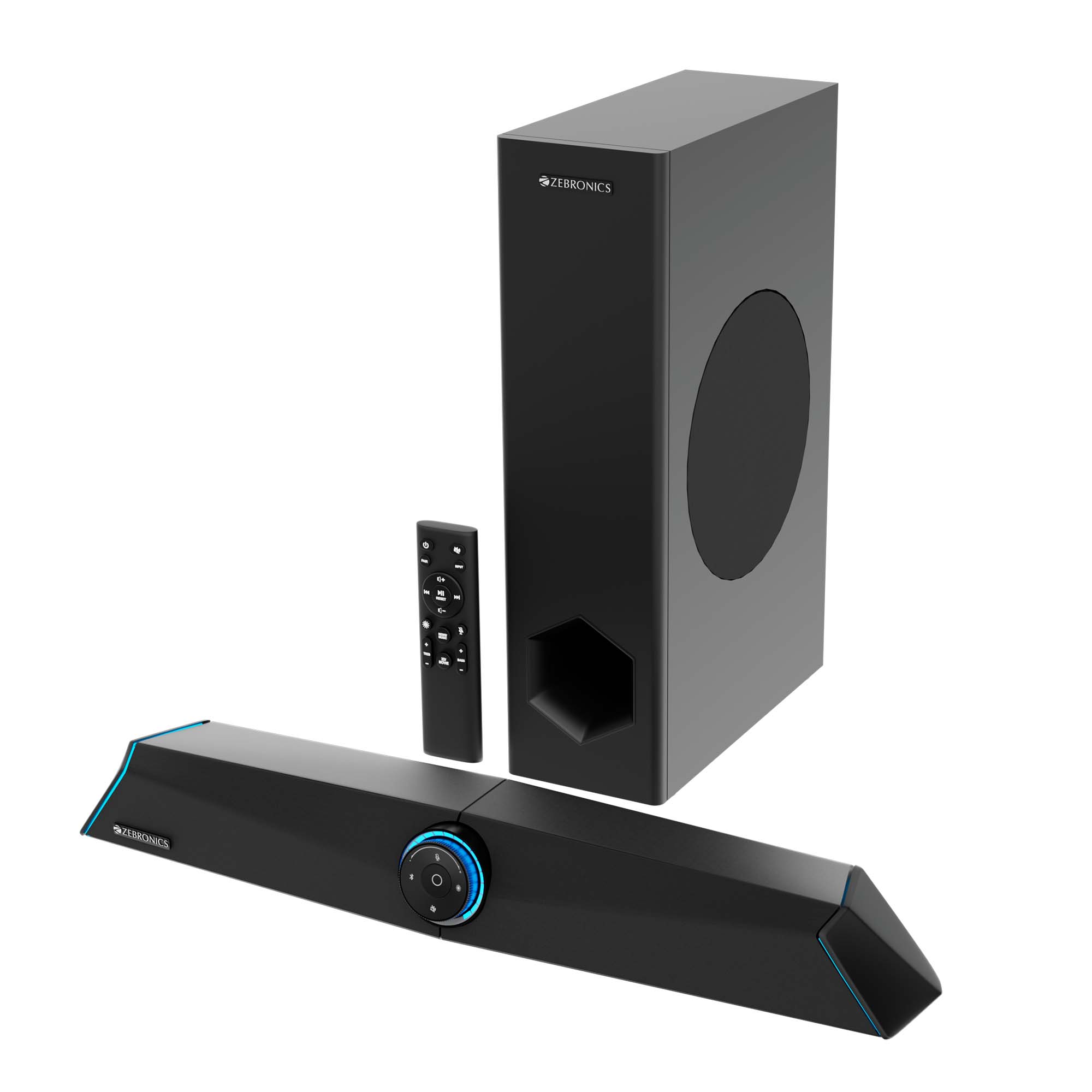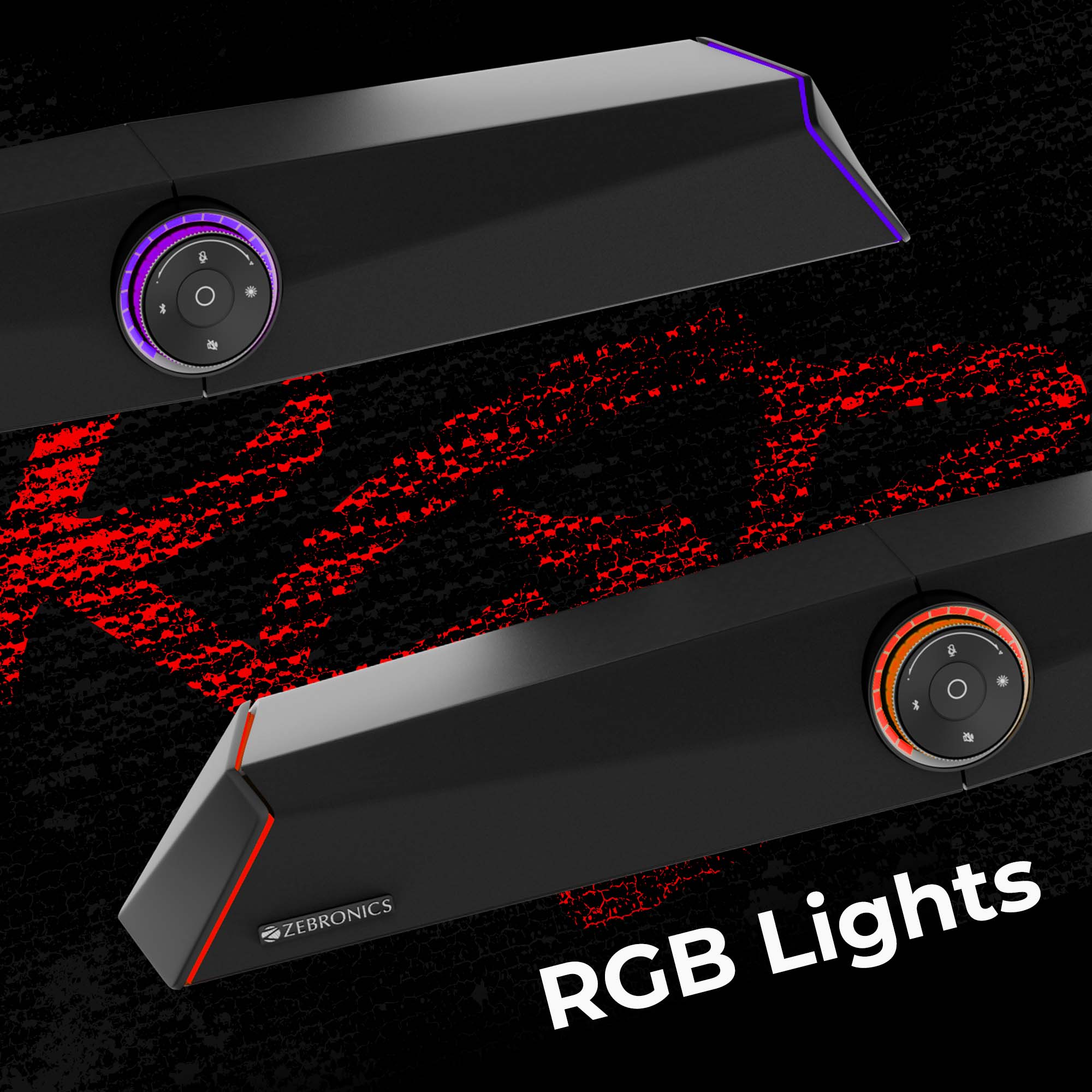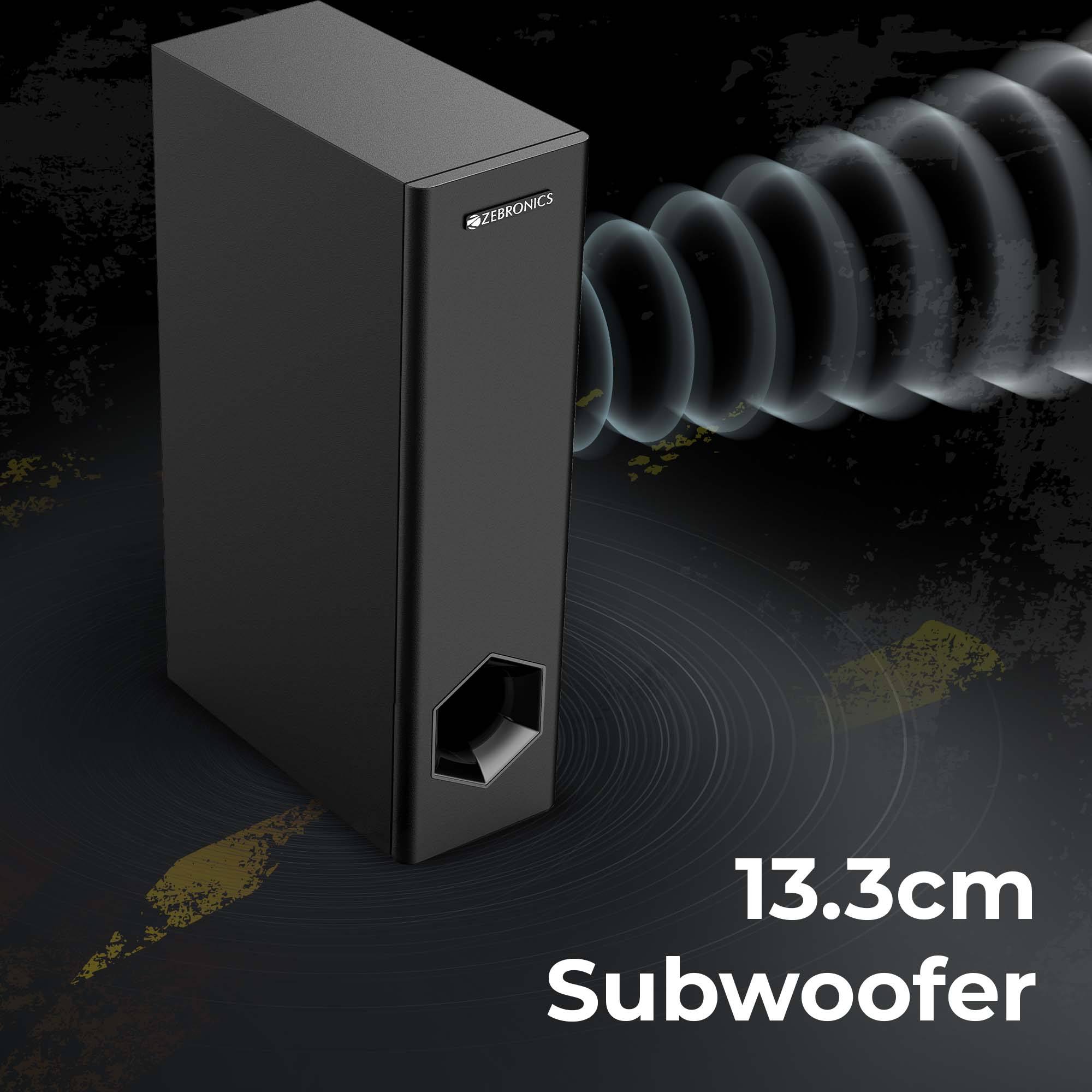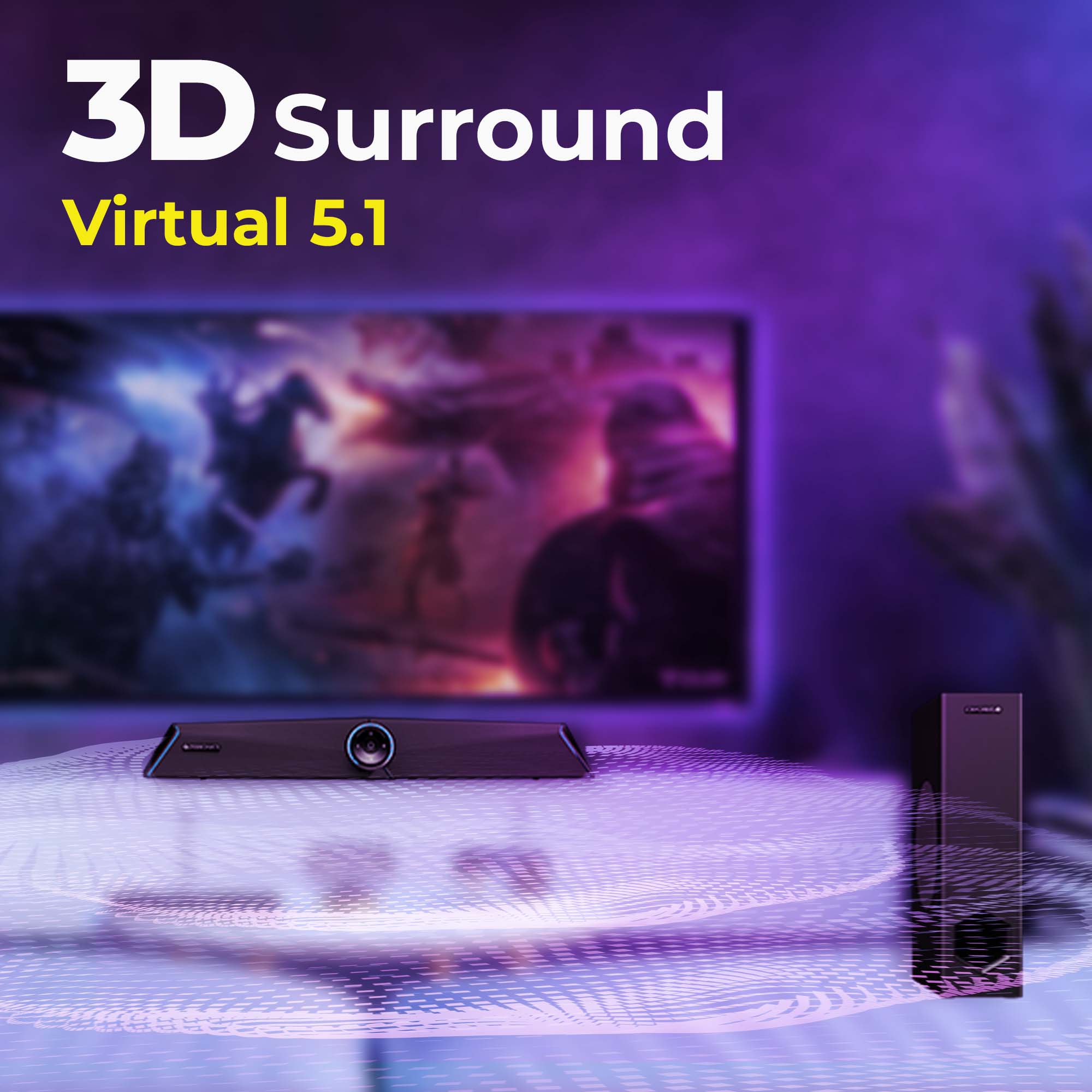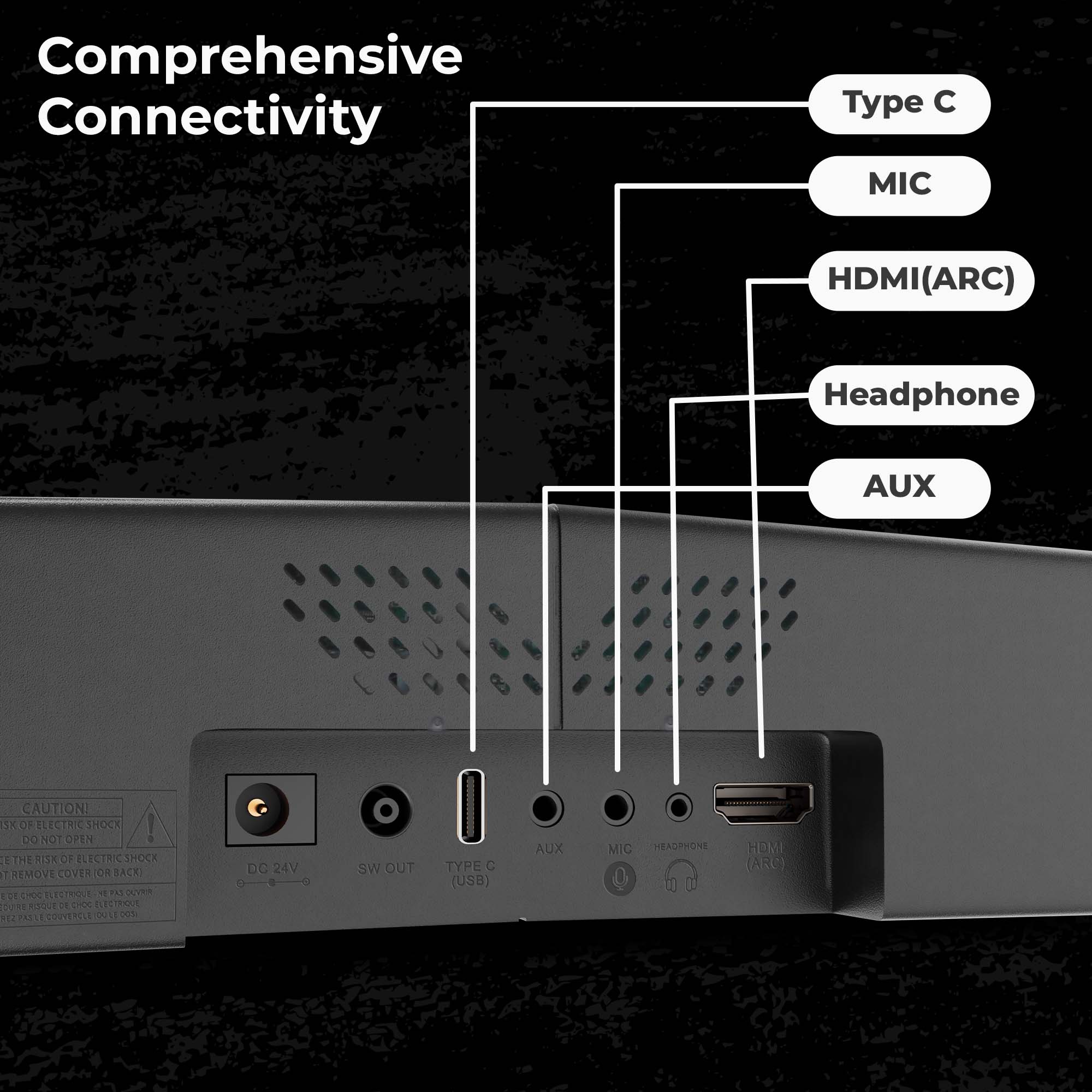 Zeb-Sonic Bar 100
---
Premium gaming soundbar
compact size
13.33 cms Subwoofer
RGB indicator
Virtual 5.1 experience
3D simulated surround sound
Multi-connectivity options like wireless BT,Type C port for PC, AUX, HDMI ARC, 3.5mm port for headphone & mic.
Mute Mic
Remote control
Product Type: Soundbar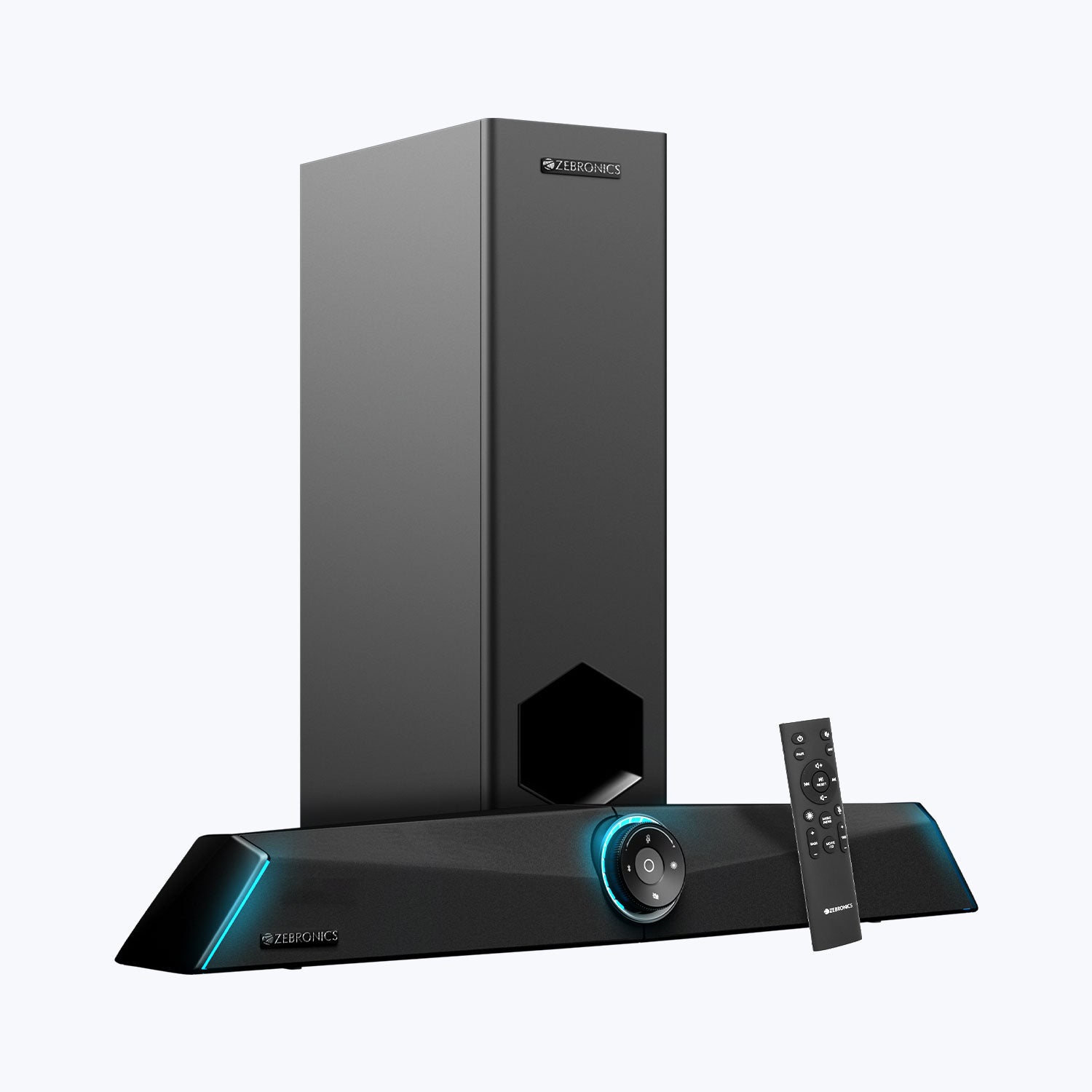 ZEB-Sonic Bar 100 is a premium gaming soundbar that comes in a compact design with extraordinary sound quality designed to match the aesthetics of your gaming rig.  The soundbar comes with a 13.33 cms driver and has RGB lights  to elevate your audio experience. Get an immersive virtual 5.1 audio that gives you a simulated surround experience.  Be at the center of all the action with realistic 3D simulated surround sound that enhances your gaming experience by providing better positional accuracy.  It comes with multi-connectivity options like wireless BT/ TypeC port for PC, AUX, HDMI ARC, 3.5mm port for headphone & mic


Make every game life-like with the premium gaming soundbar ZEB-Sonic Bar 100, which comes in a very compact design with extraordinary sound quality.
Gaming, movies or music take your entertainment experience to the next level.
Premium gaming soundbar comes with a powerful dedicated subwoofer with 13.33cms driver to give a room thumping bass experience.
ZEB-Sonic Bar 100 is a premium gaming soundbar that comes in a compact design, which will take less space on your desk and can be easily accommodated below your monitor.
The soundbar is designed to match the design aesthetics of your gaming rig.
The premium gaming soundbar features RGB lights that add charm to the premium look and feel.
The Light modes can be changed from the remote control, it can be also switched off.
Redefine your audio experience as the premium gaming soundbar features preset modes like news, music, 3D, movies so you can pick the mode to suit your preference.
Whether you're playing heart-racing games, listening to music, or binge-watching series; stay floored with an immersive virtual 5.1 experience that gives you a simulated surround experience. 
Be at the center of all the action with realistic 3D simulated surround sound that enhances your gaming experience by providing better positional accuracy.
Get the convenience of multi-connectivity options as the gaming soundbar features a Type C port, to connect your PC.
The soundbar uses a digital connection to the PC to give you the best audio experience.
You can additionally connect devices like a headphone and mic with dual 3.5mm connector available on the soundbar.
You can use other source devices like smartphone/laptop/tablet to stream audio through wireless BT.
You can also connect to the soundbar with HDMI(ARC). It features an AUX port and comes with a mic mute option.

Features
| | |
| --- | --- |
| | Wireless BT |
| | Type C port for PC |
| | Aux |
| | HDMI ARC |
| | 3.5mm port for Headphone & Mic |
| | 13.3cm SubwoofeR |
| | Remote control |
| | RGB IndicatoR |
| | Volume/Media Control |
| | External Power adapter |
| | Virtual 5.1 |
Specifications
| | | |
| --- | --- | --- |
| | Output Power (RMS)  | |
| | Subwoofer | 60W |
|   | Soundbar | 30W x 2 |
| | Total | 120W |
| | Driver Size | |
| | Subwoofer | 13.3cm x 1 |
| | Soundbar | {5cm x 9cm} x 2 |
| | Impedance | |
| | Subwoofer | 4Ω |
| | Soundbar | 8Ω |
| | Frequency response | 20Hz-20kHz |
| | S/N Ratio | ≥65dB |
| | Separation      | ≥40dB |
| | Line input | 3.5mm, HDMI (ARC) |
| | BT name | ZEB-SONIC BAR 100 |
| | BT version | 5.0 |
| | Product Dimension (W x D x H) | |
| | Subwoofer | 115 x 250 x 420 mm |
| | Sound bar | 595 x 106 x 77 mm |
| | Package Dimension (W x D x H) | 660 x 178 x 410 mm |
| | Net.Weight | |
| | Subwoofer | 3.5kg |
| | Sound bar | 1.31kg |
| | Total | 4.81kg |
| | Country of Origin | China |
| | Package Content      | |
| | Sound Bar | 1 Unit |
| | Subwoofer | 1 Unit |
| | Remote Control | 1 Unit |
| | Type C Cable | 1 Unit |
| | User Manual | 1 Unit |
| | Power adapter | 1 Unit |