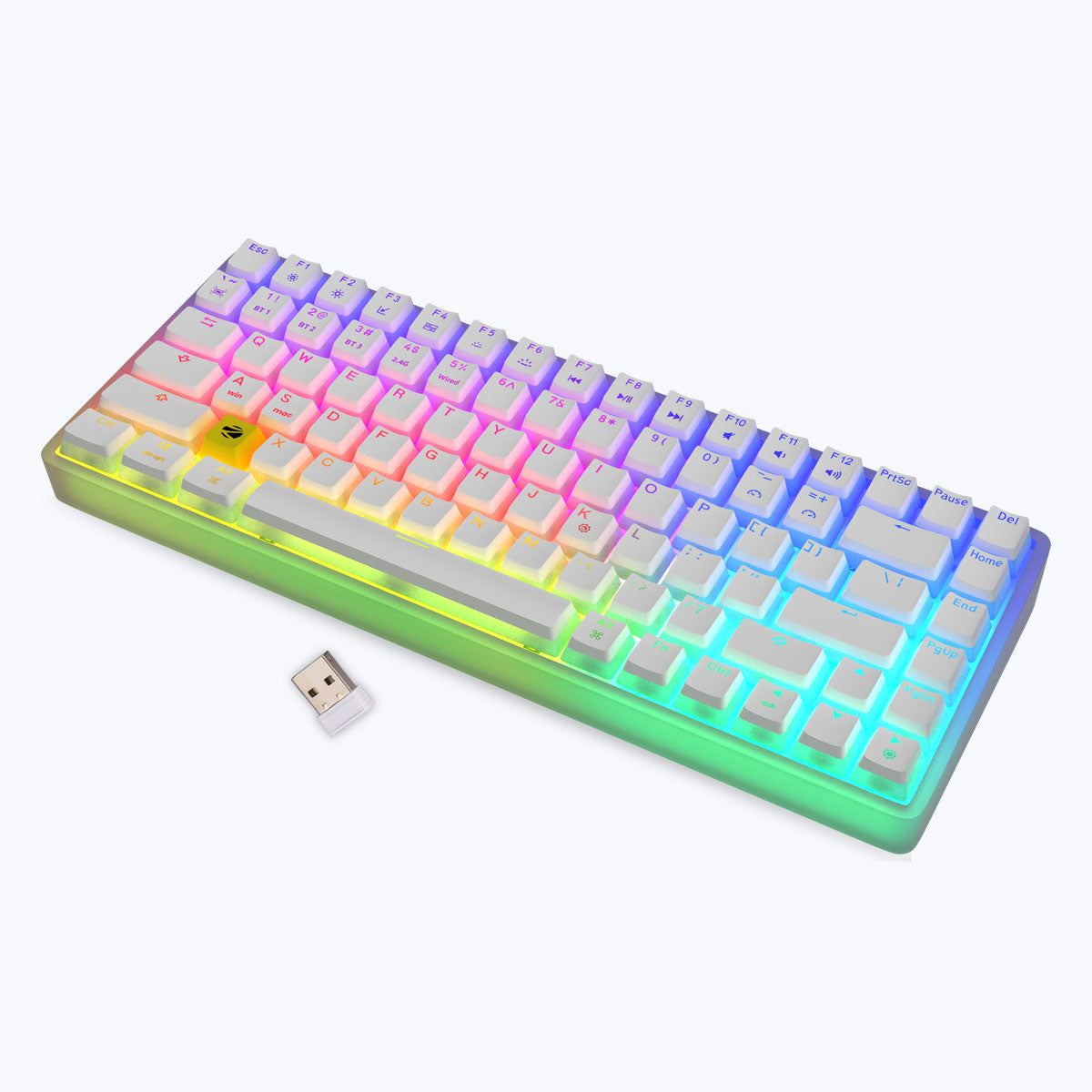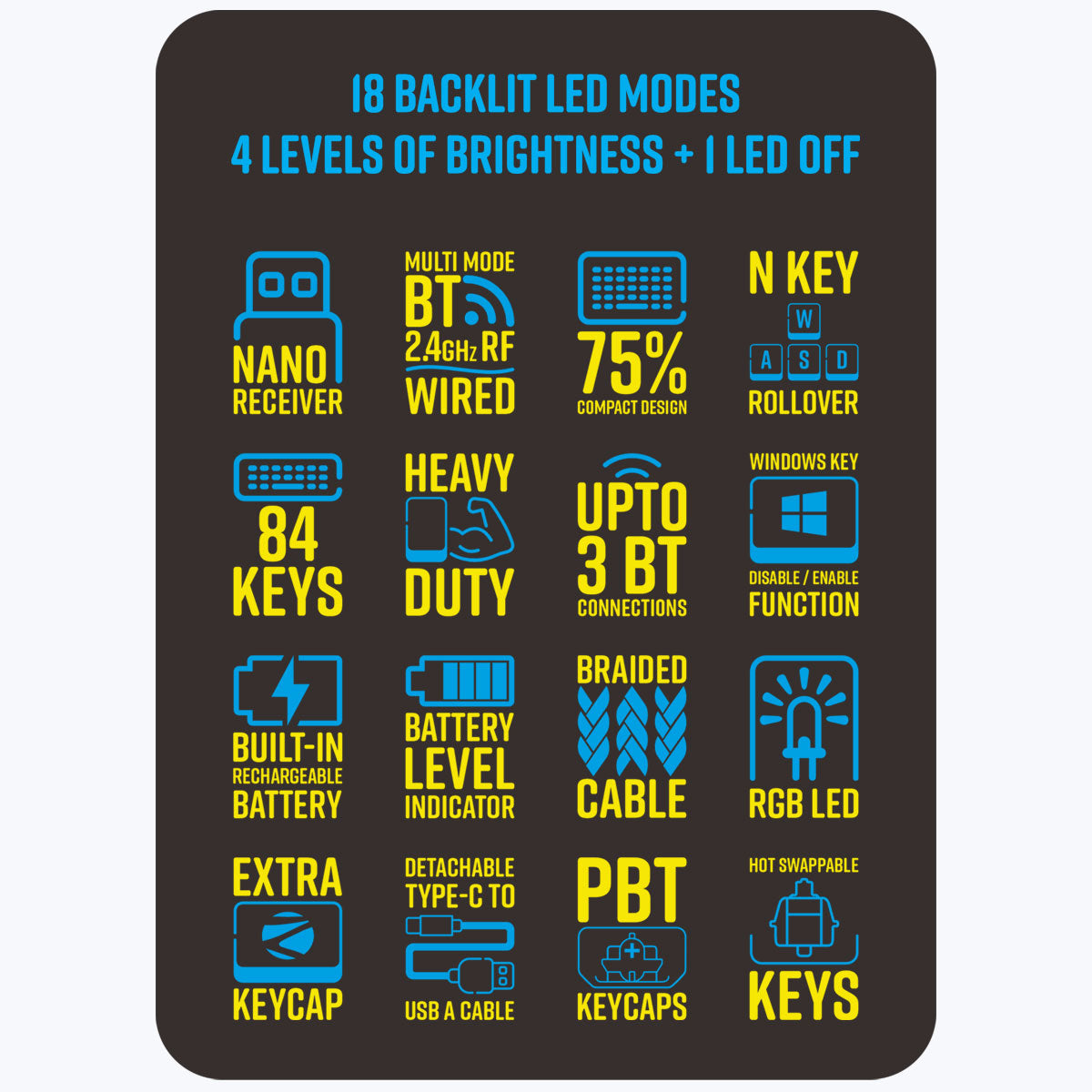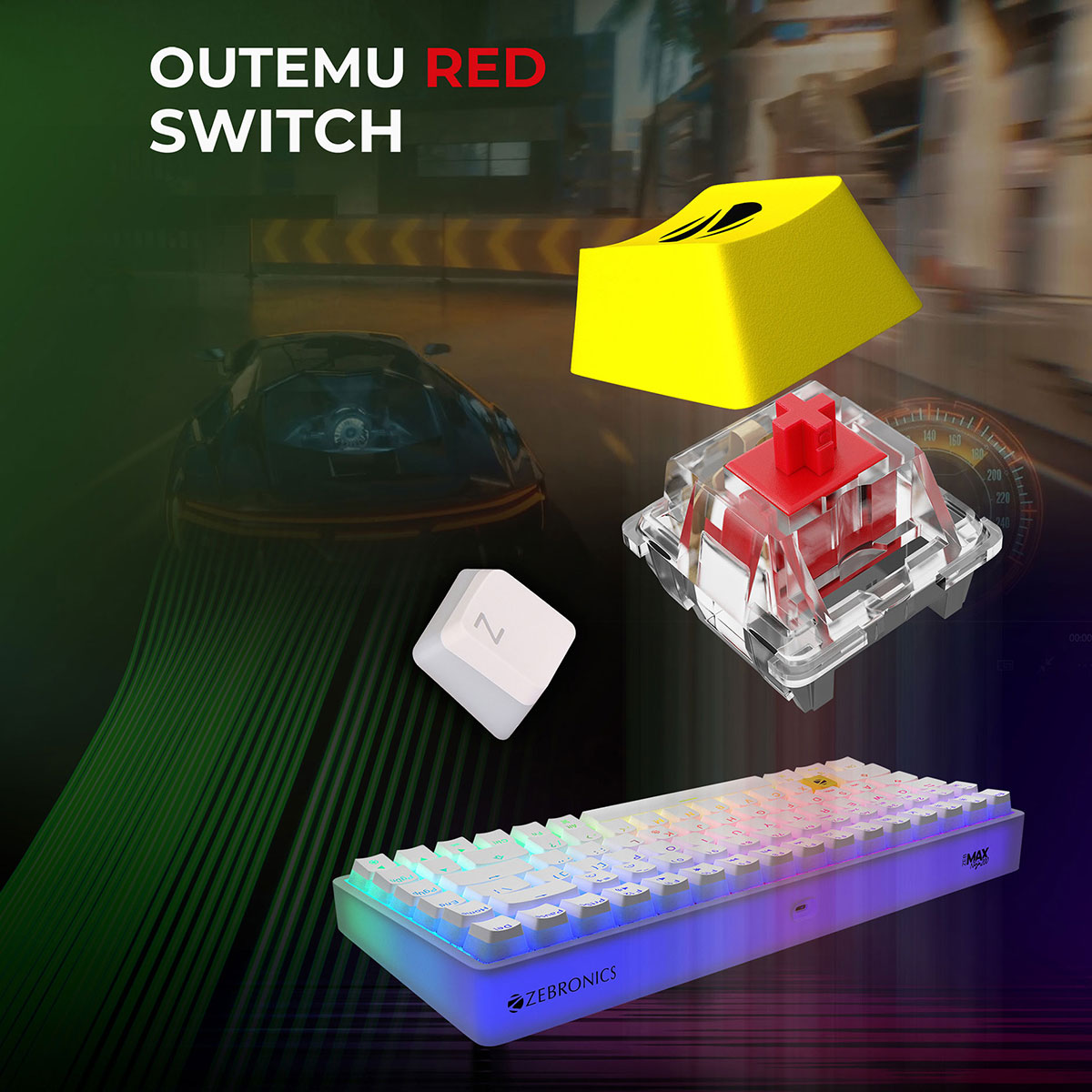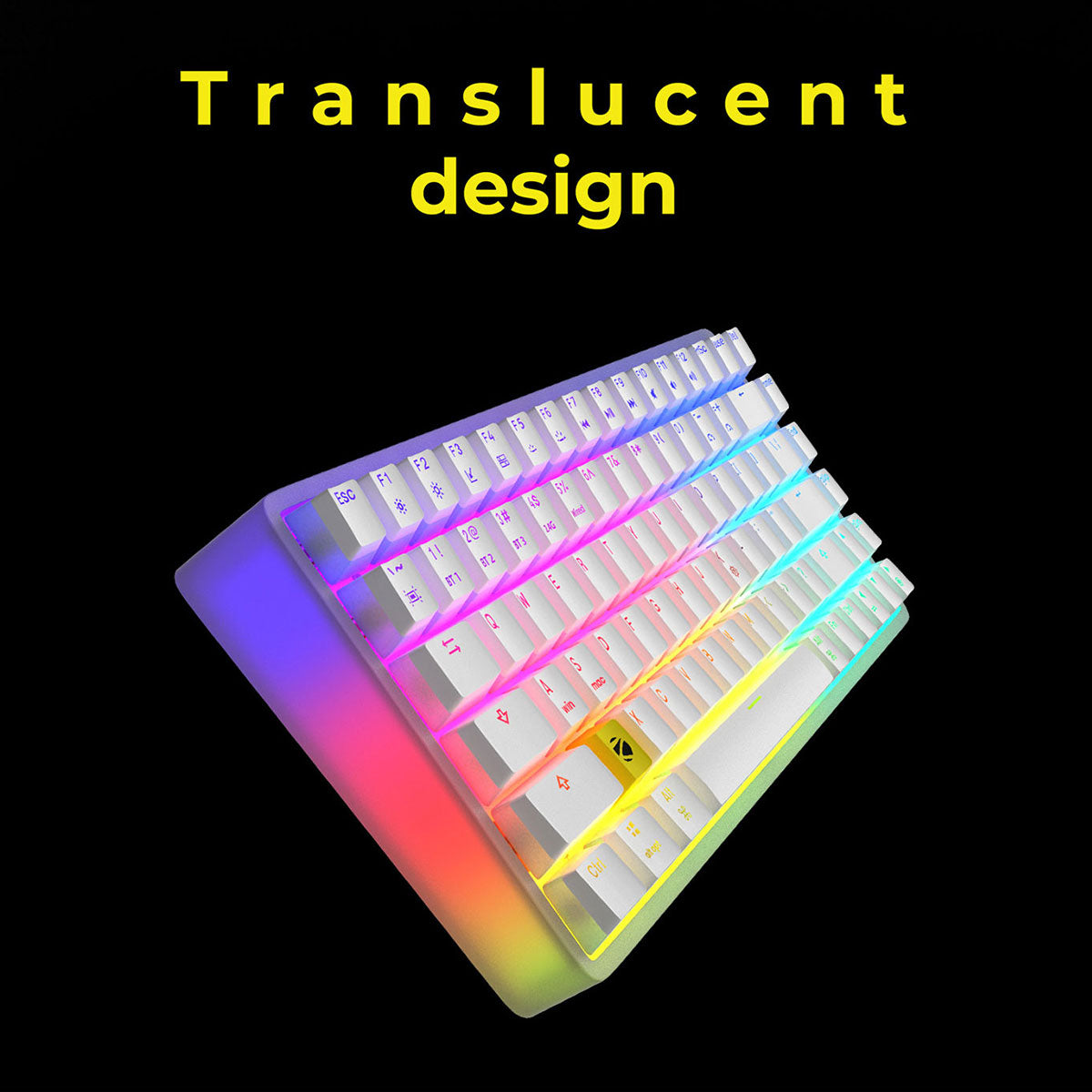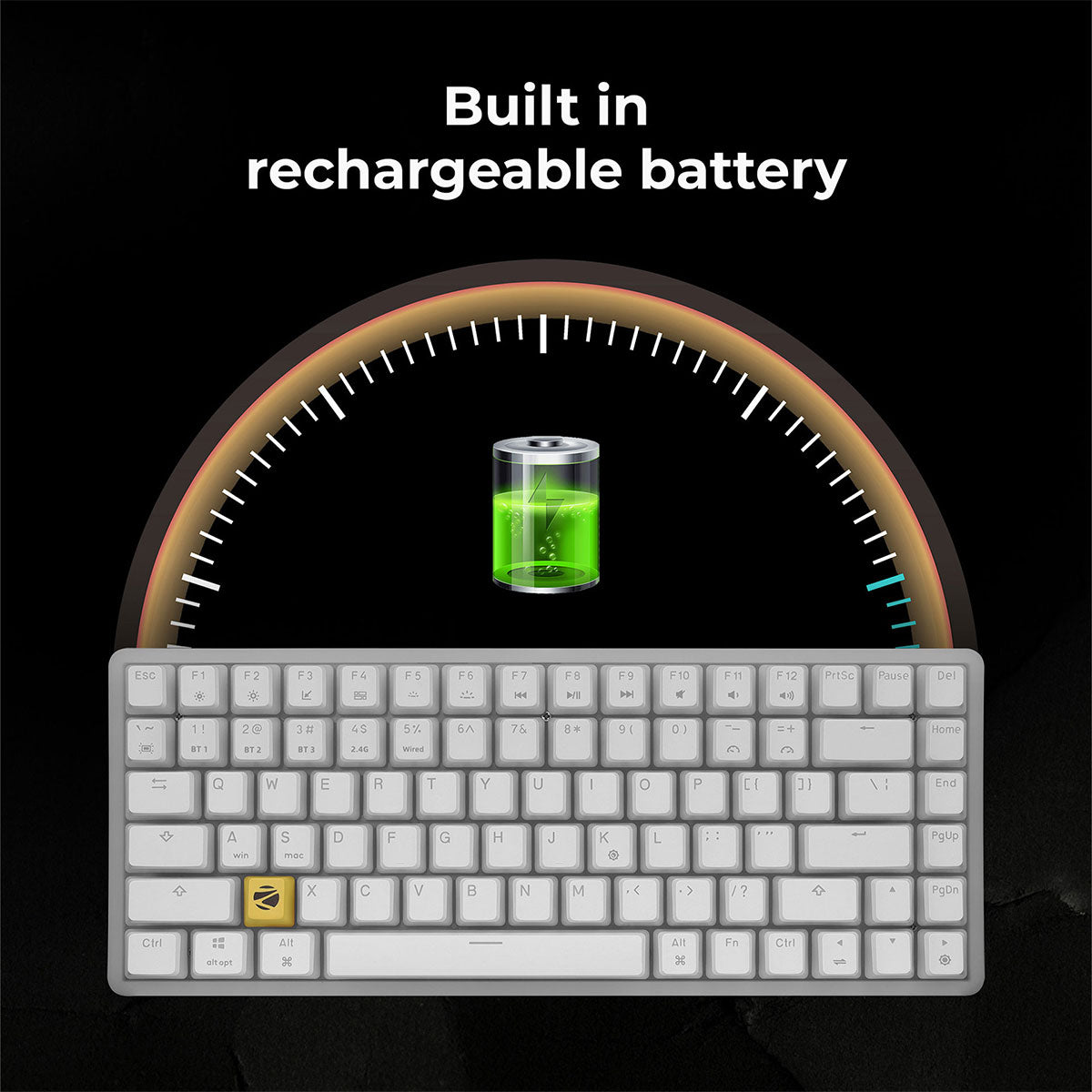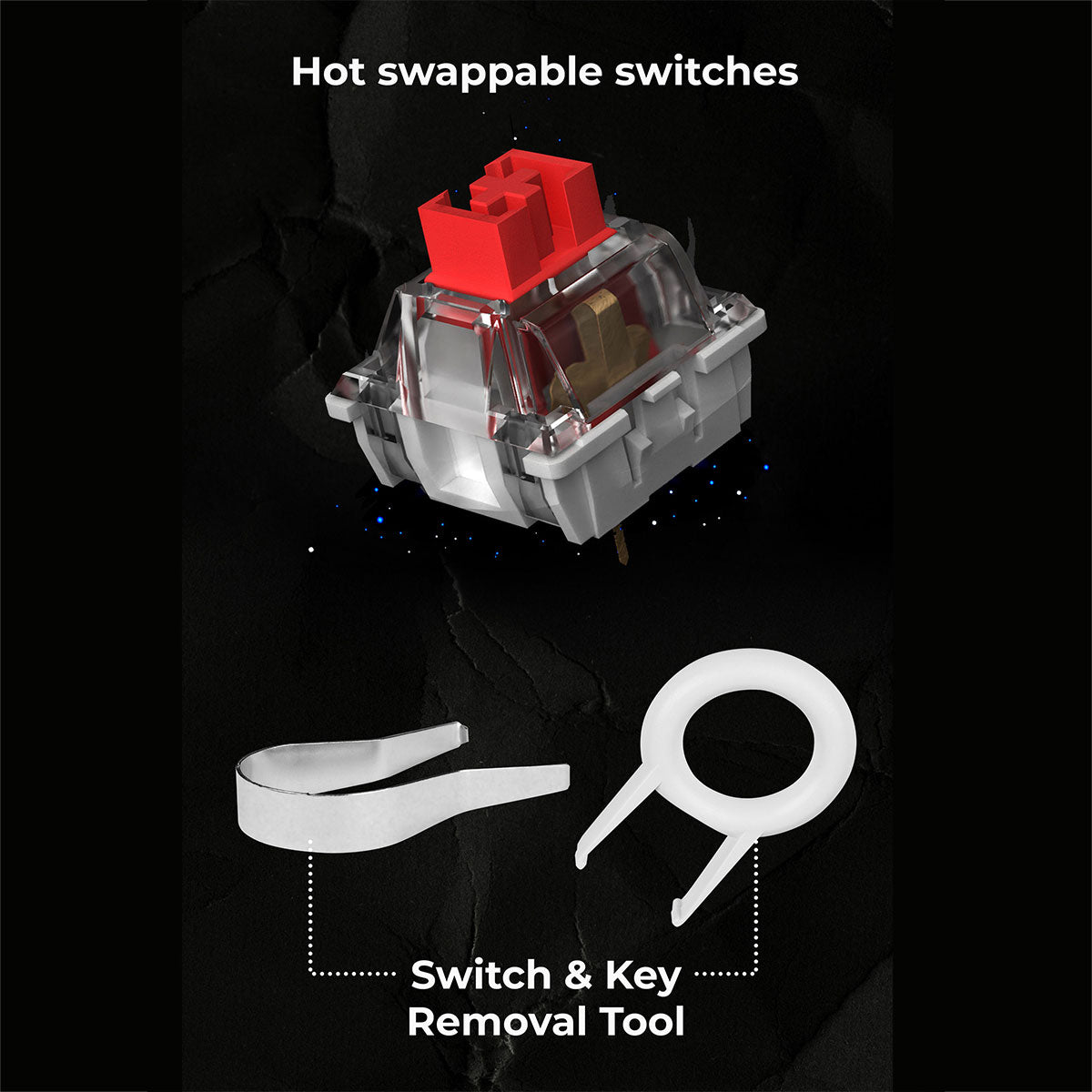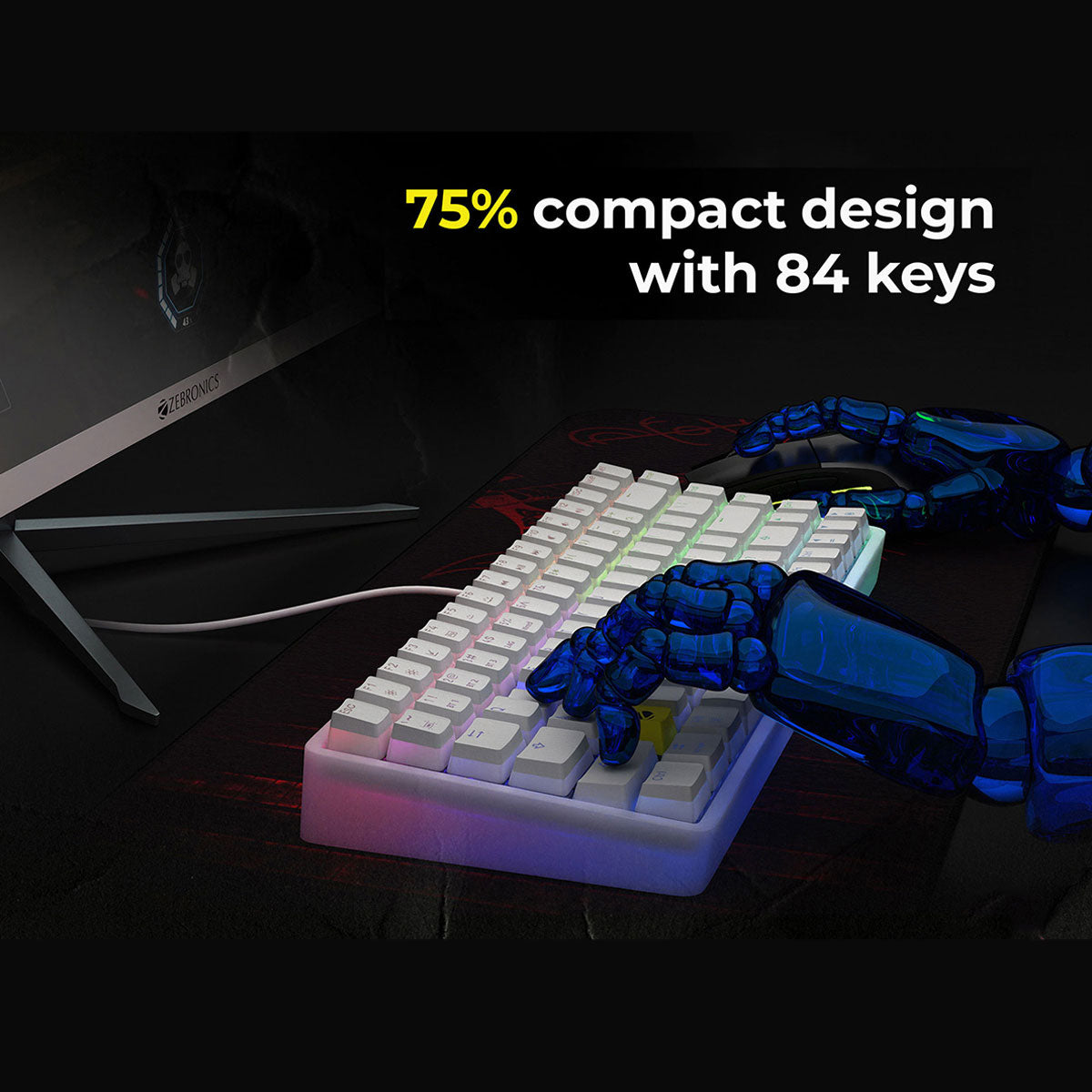 Zeb-Max Ninja 200
---
75% Compact design
Multi Mode (BT/2.4GHz RF/Wired)
N Key rollover
Comfortable silent tactile feeling
18 backlit LED Modes
4 Levels of Brightness + 1 LED Off
4 Levels LED speed modes
Windows key Disable / Enable function
Heavy Duty
Upto 3 BT connections
Bottom Rubber Grip
2.4GHz RF mode USB nano receiver
Detachable Type C to USB A cable
Hot Swappable keys
Windows/Mac /IOS /Android OS Compatible
Battery Level Indicator
OUTEMU Red Switch
Product Type: mechanical keyboard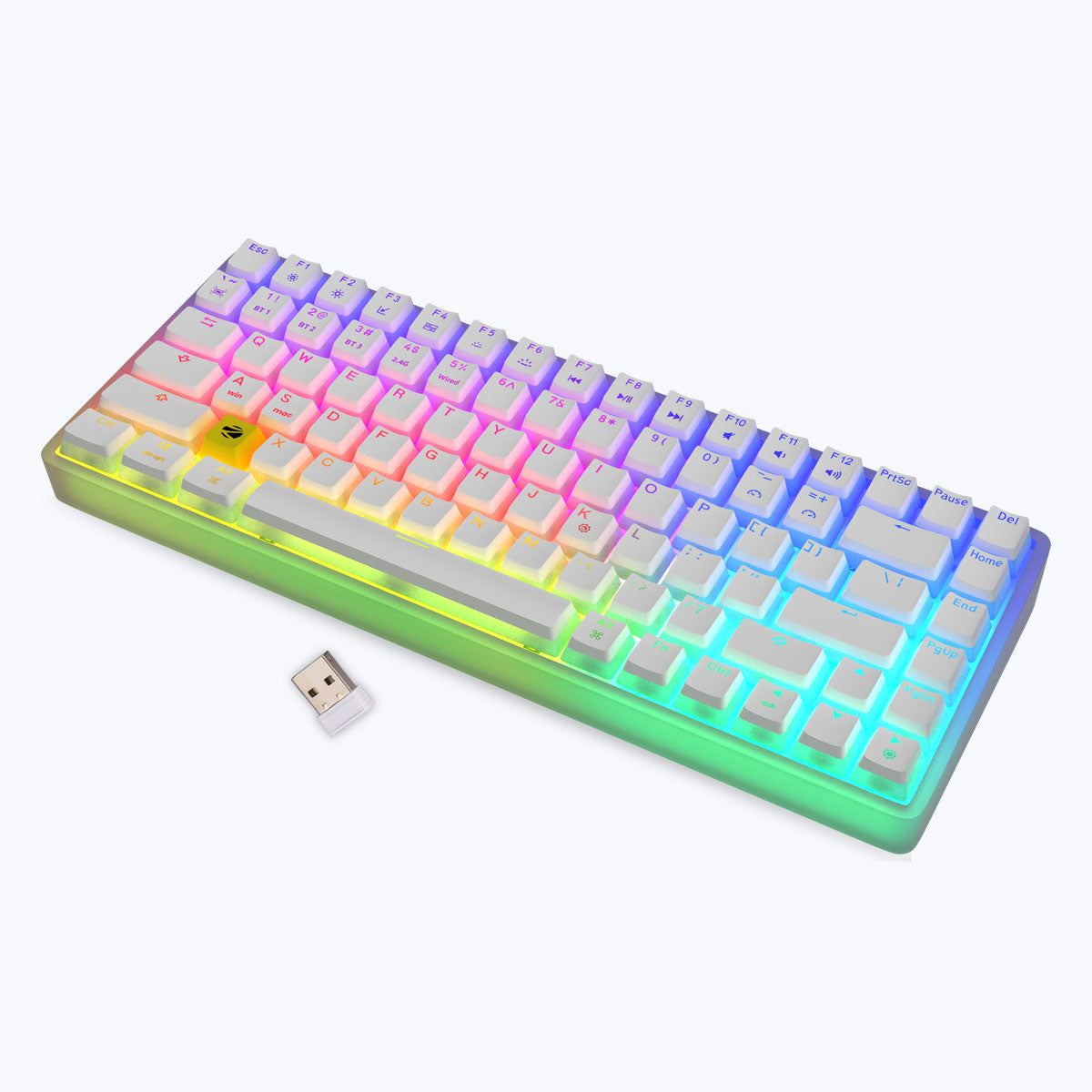 Get the best typing experience with Max Ninja 200 keyboard. The keyboard comes with linear red mechanical switches for a perfect blend of feel and silent operation. These switches require less force from fingers to register a keystroke. The compact 75% keyboard comes with RGB LED lights and various LED modes.
Take your setup to a new level with the ZEB-MAX Ninja 200 keyboard. It comes with a translucent design to elevate the look with RGB lights  . The compact design takes a small footprint in your setup.
ZEB-MAX Ninja 200 is a perfect sized keyboard which comes with 84 keys and has just the right combination of size and functionality.
Keyboard comes with high quality PBT keycaps which not only look good but are also built to last long.
The keyboard has all the connectivity options you can expect from a versatile device. It can be used on BT, 2.4Ghz RF and wired mode, it can connect up to 3 BT devices and one can quickly switch between them. It also supports windows, macOS, iOS or android devices. Comes with a convenient low battery level indicator.
The keyboard comes with a strong build quality to take all the abuse and last long. It also comes with a type C port, a rugged braided type C cable is bundled with the keyboard.
It comes with RGB LED lights with 18 LED light modes, the LED light can be switched off completely as well. The LEDs have 4 levels of brightness and 4 speed modes.

Features
| | |
| --- | --- |
| | 75% Compact design |
|   | Multi Mode (BT/2.4GHz RF/Wired) |
| | N Key rollover |
| | Comfortable silent tactile feeling |
| | 18 backlit LED Modes |
| | 4 Levels of Brightness + 1 LED Off |
| | 4 Levels LED speed modes |
| | Windows key Disable / Enable function |
| | Heavy Duty |
| | Upto 3 BT connections |
| | Bottom Rubber Grip |
| | 2.4GHz RF mode USB nano receiver |
| | Detachable Type C to USB A cable |
| | Hot Swappable keys |
| | Windows/Mac /IOS /Android OS Compatible |
| | Battery Level Indicator |
| | OUTEMU Red Switch |
Specifications


Model no

ZEB-MAX NINJA 200


Interface

Multi Mode (BT/2.4GHz RF/Wired)
 

Keyboard Type

Mechanical


Total No. of Keys

84 nos


Keystroke

Key pressure 50±10gf,
Key Travel 4.0±0.2mm


Key life span

50,000,000 times


Polling Rate (2.4G & Wired)

1000Hz


Polling Rate (BT)

125Hz


Cable length

1.8m


Power Consumption

DC 5V, <300mA (max)


Product Dimension (W x D x H)

31.5 x 12.5 x 4.0 cm


Package Dimension (W x D x H)
35 x 16.5 x 7.0 cm


Net. Weight

814g


Country of Origin

People's Republic of China




Package Contents






Mechanical Keyboard

1 U


Type C to USB A cable

1 U


Key Removal Tool

1 U


Nano Receiver

1 U


QR Code Guide

1 U


Spare Z Keycap

1 U


Switch Removal Tool

1 U