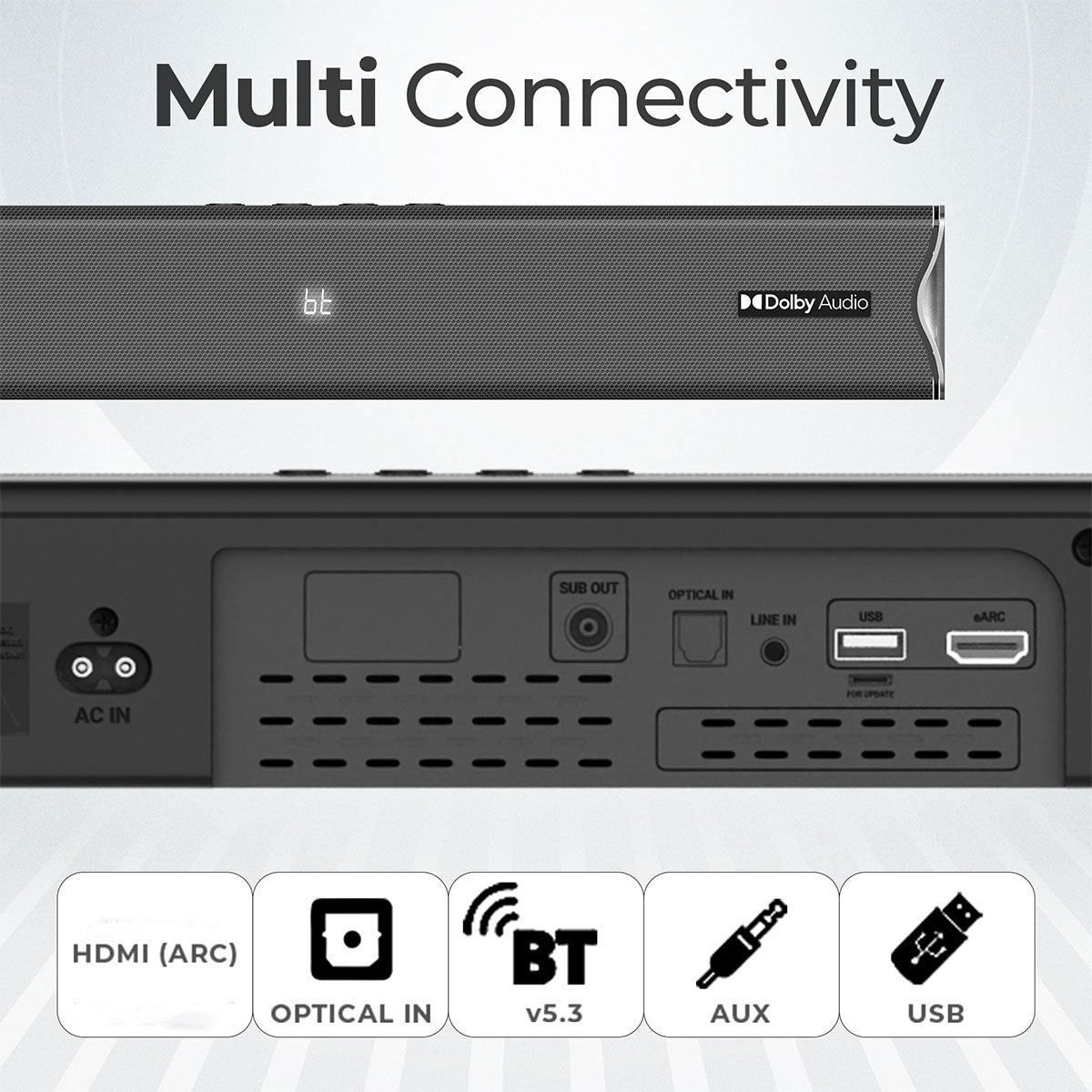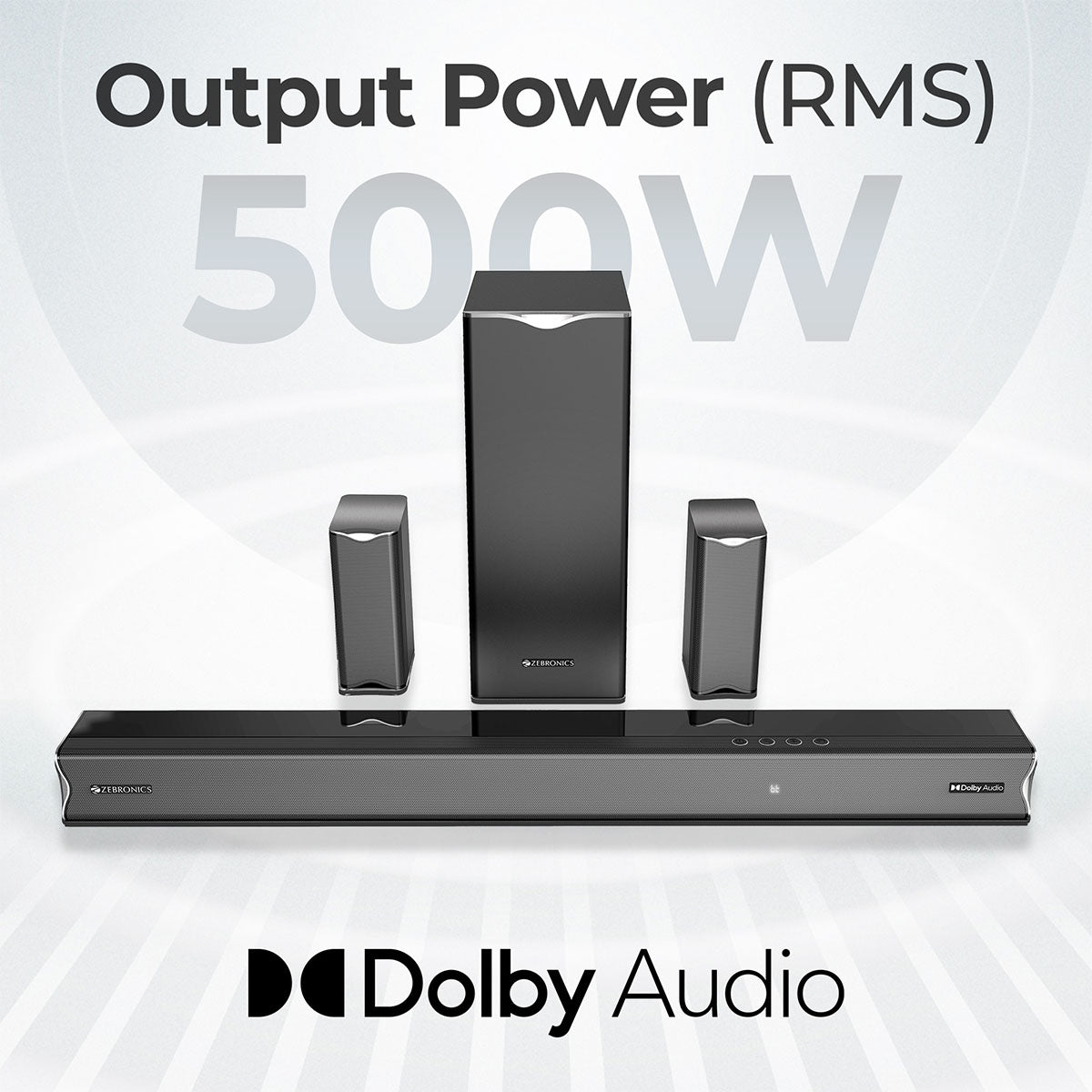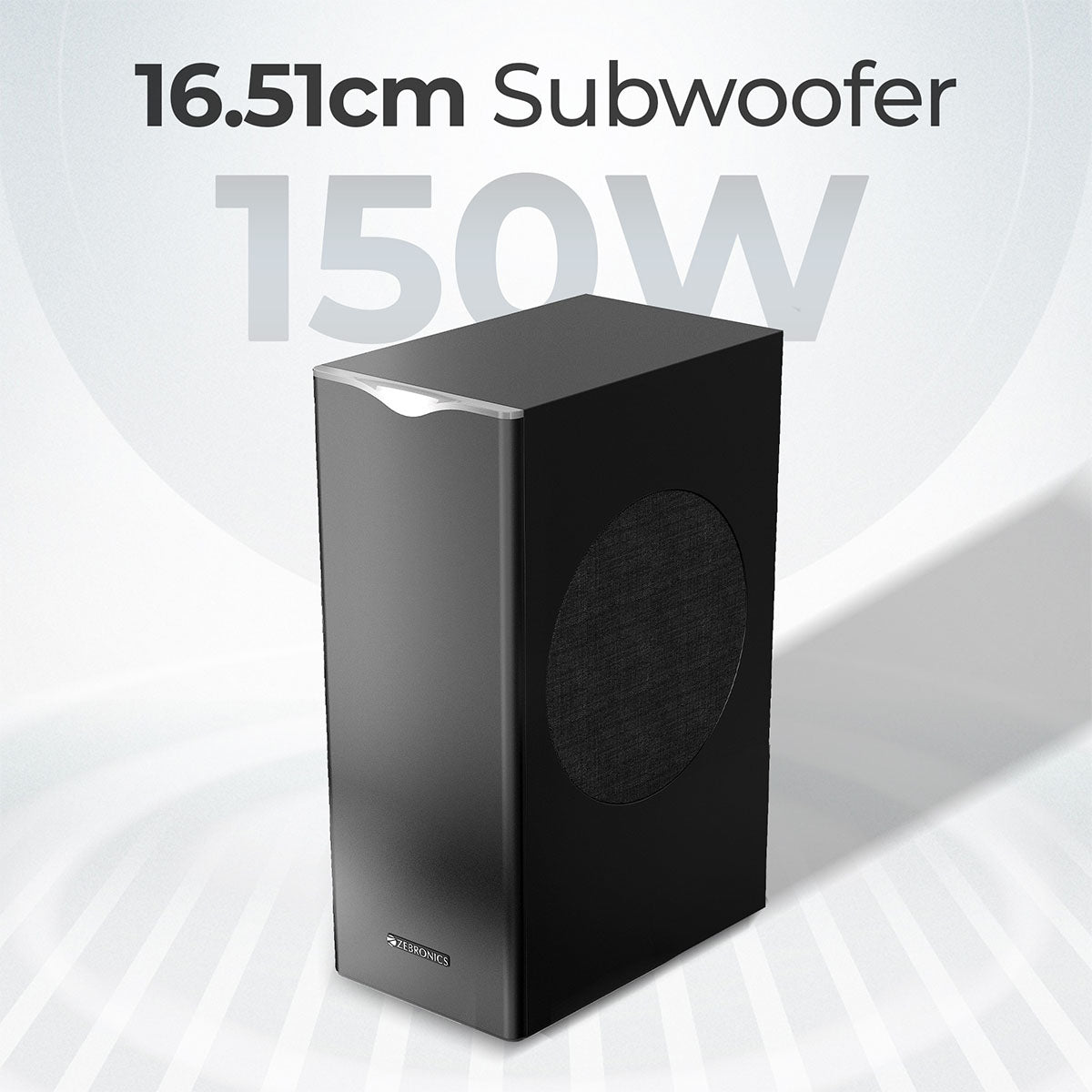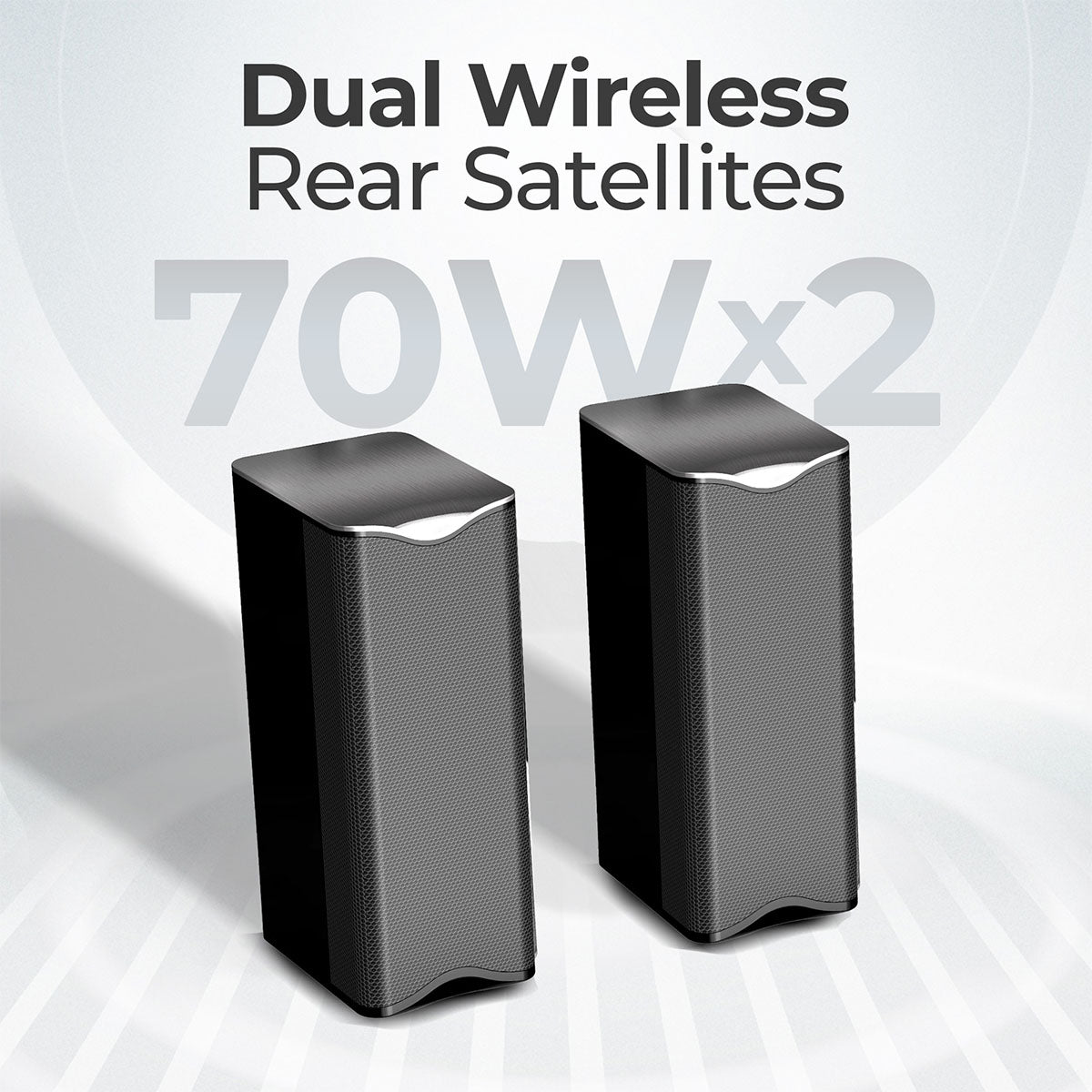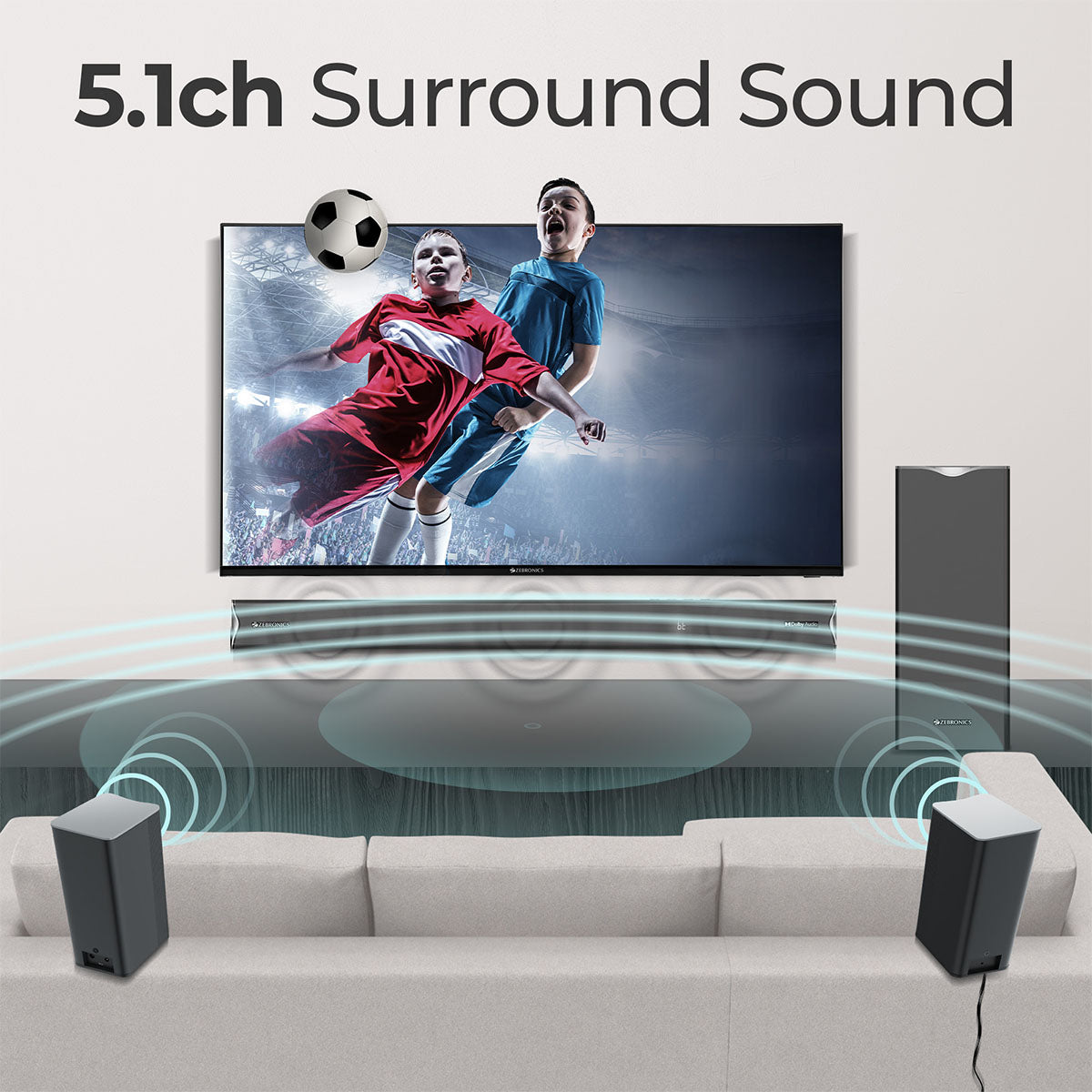 Zeb-Juke Bar 9520WS Pro Dolby 5.1
---
Multi Connectivity (BT v5.3 | HDMI (ARC) | Optical IN | USB | AUX)
16.51cm Subwoofer
Remote control
Wall Mountable
5.1 Channel Soundbar
LED Display
Dolby Audio
Volume/Media Control
Dual Wireless Rear Satellites
Product Type: Soundbar
One of the greatest soundbar for watching films and listening to music is the ZEB-Jukebar 9520WS Pro Dolby 5.1. Your room appears enticing due to itscontemporary and neat design. Enjoy the soundbar's astounding audio quality, which is made possible by its three drivers and unique subwoofer. It has two wireless rear satellite speakers with Dolby Audio technology that increase your audio experience and give unparalleled surround sound.

Experience the real-time cinematic experience with the ZEB-Juke bar 9520WS Pro soundbar that comes with a Dolby 5.1 that takes your audio listening to the next level.
A soundbar configuration with triple drivers lets you perceive every tiny detail. The 9 x 5.8cm, powerful triple drivers offer vocal sounds at mid-frequency and details and treble at high frequency.
As the soundbar has dual wireless rear satellite speakers with a driver size of 5.7cm each and in a compact form that lends a touch of elegance to your living space. Position your speakers in accordance with the way you want to enjoy your entertainment as this wireless dual rear satellite feature serves as an advantage leaving no clutter in the room.
You can hear the depth of the music thanks to the robust dedicated subwoofer comes with the soundbar, which has a 16.51 cm driver for a booming experience. The subwoofer produces the bass, which enhances the low-end performance by highlighting the richness and rumble of the music.
Whether you're playing heart-racing games, listening to music, or binge-watching a series, the soundbar is made to provide you with a 5.1 surround sound experience thanks to the power of Dolby Audio
The soundbar encompasses aremote control, restoring your accessto a variety of features and audio control.Furthermore, it has preset EQ modes, bass, and treble controls.

ZEB-Jukebar 9520WS Dolby Pro 5.1 channel soundbar has a sophisticated, trendy finish thatcomplements most decors. Its versatile, uncluttered layout fits in with any room's decor.
The soundbar has multi-connectivityoptions you can connect wirelessly via BT v5.3.The soundbar also supports USB/AUX/Optical (IN) /HDMI(ARC).
Features
| | |
| --- | --- |
| | Multi Connectivity (BT v5.3 | HDMI (ARC)  | Optical IN | USB | AUX) |
| | 16.51cm Subwoofer |
| | Remote control |
| | Wall Mountable |
| | 5.1 Channel Soundbar |
| | LED Display |
| | Dolby Audio |
| | Volume/Media Control |
| | Dual Wireless Rear Satellites |
Specifications
| | | |
| --- | --- | --- |
| | Output Power | |
|   | Subwoofer | 150 watts |
| | Soundbar | 210 watts |
| | Satellites | 70 watts x 2 |
| | Total | 500 watts |
| | Driver Size | |
| | Subwoofer | 16.51cm x 1 |
|   | Sound bar | (9 cm x 5.8cm)  x 3 |
| | Satellites | 5.7cm x 2 |
| | Impedance | |
|   | Subwoofer | 4Ω |
|   | Soundbar | 8Ω |
| | Satellites | 8Ω |
|   | Frequency response | 45Hz-20kHz |
|   | S/N Ratio | ≥70dB |
|   | Separation | ≥35dB |
|   | File format support (USB) | MP3 (USB)     |
|   | Line input | AUX, Optical IN, HDMI (ARC) |
| | Max. supported memory size (USB) | 32GB (USB)         |
|   | BT name | ZEB-JUKE BAR 9520WS PRO DOLBY |
|   | BT version | v5.3 |
| | Product Dimension (W x D x H) | |
|   | Subwoofer | 19 x 30.6 x 36.7cm |
|   | Sound bar | 96 x 8.8 x 6.8cm |
|   | Satellites   | 6.8 x 8.8 x 19 cm |
| | Net.Weight | |
|   | Subwoofer | 4.85 kg |
| | Sound bar | 2.2 kg |
| | Satellites | 500g x 2 |
|   | Total | 8.05 kg |
| | Country of Origin | People's Republic of China |
| | Package Contents     | |
|   | Sound Bar | 1 U |
|   | Subwoofer | 1 U |
|   | Satellite | 2 U |
| | Remote Control | 1 U |
| | Input cable | 1 U |
|   | QR code guide | 1 U |
| | Wall mount bracket with fasteners | 1 U |
|   | External Power adapter (for surround) | 1 U |
| | Power cable | 1 U |