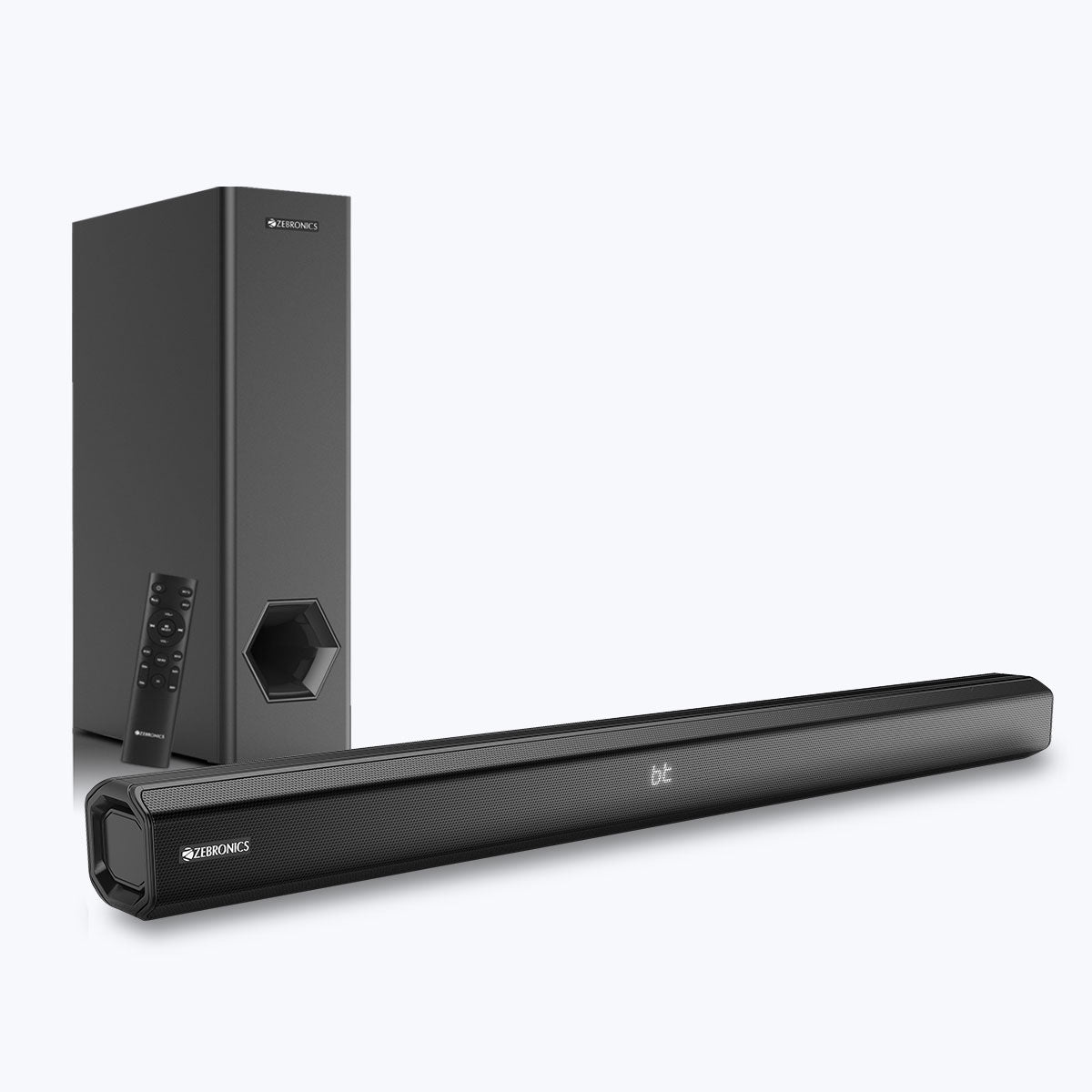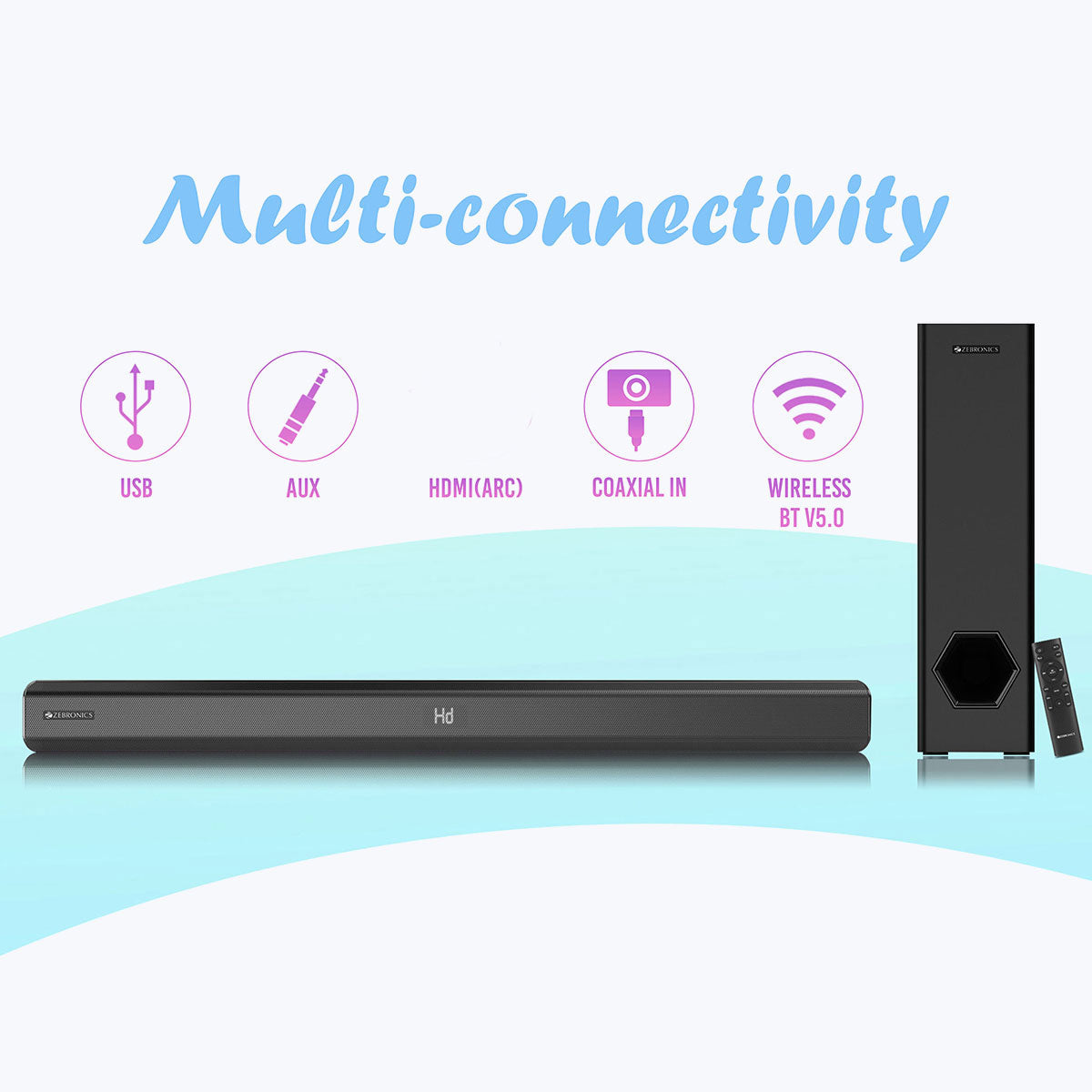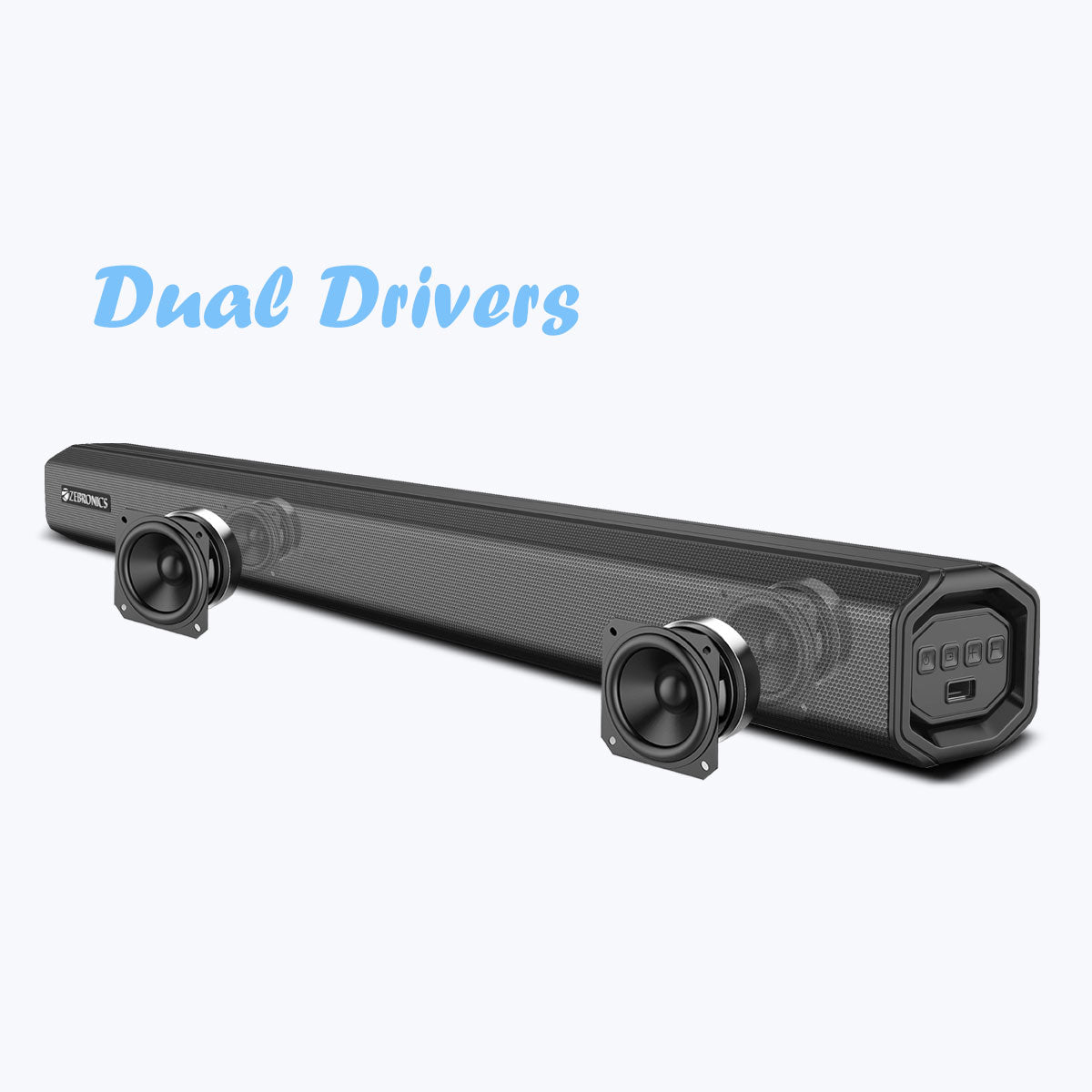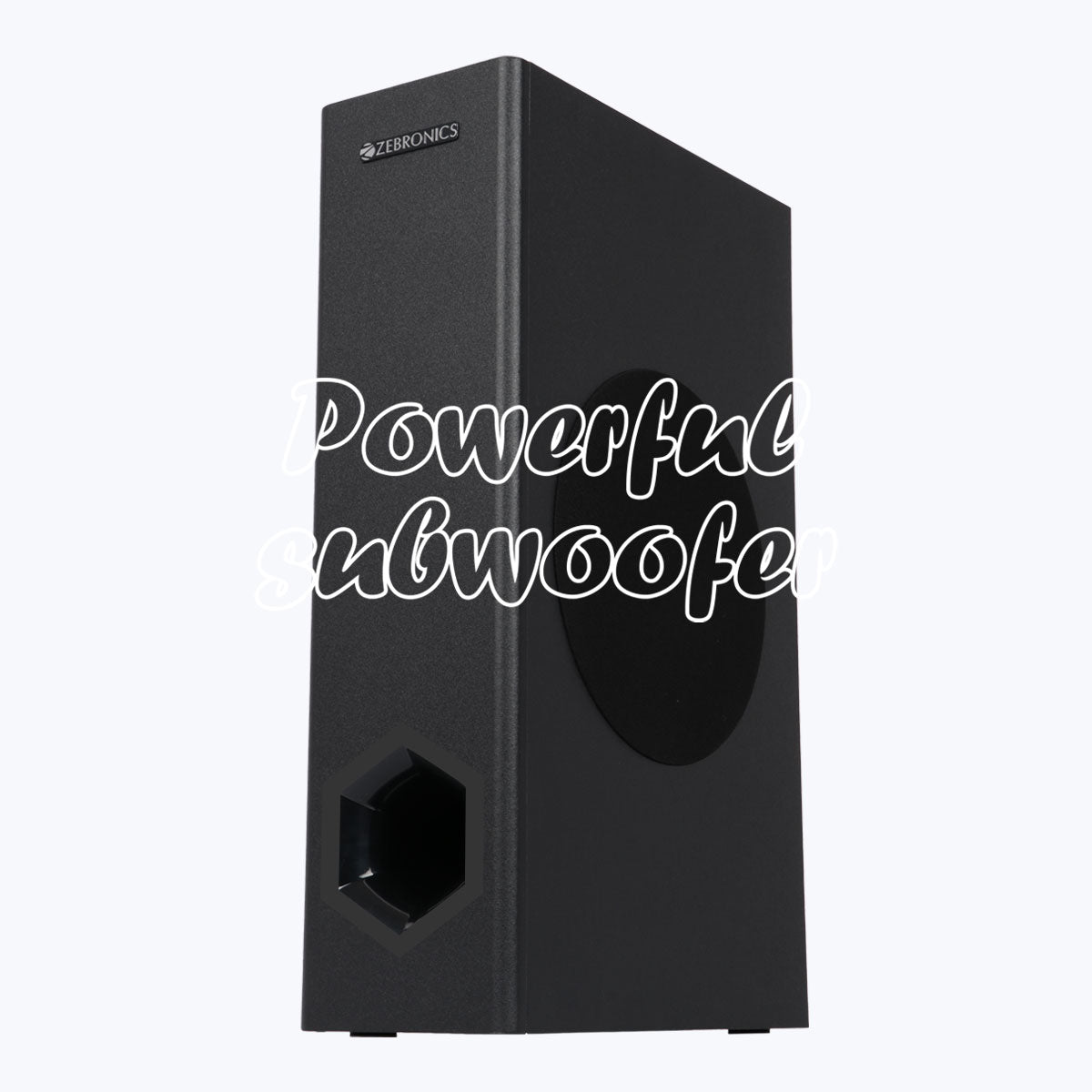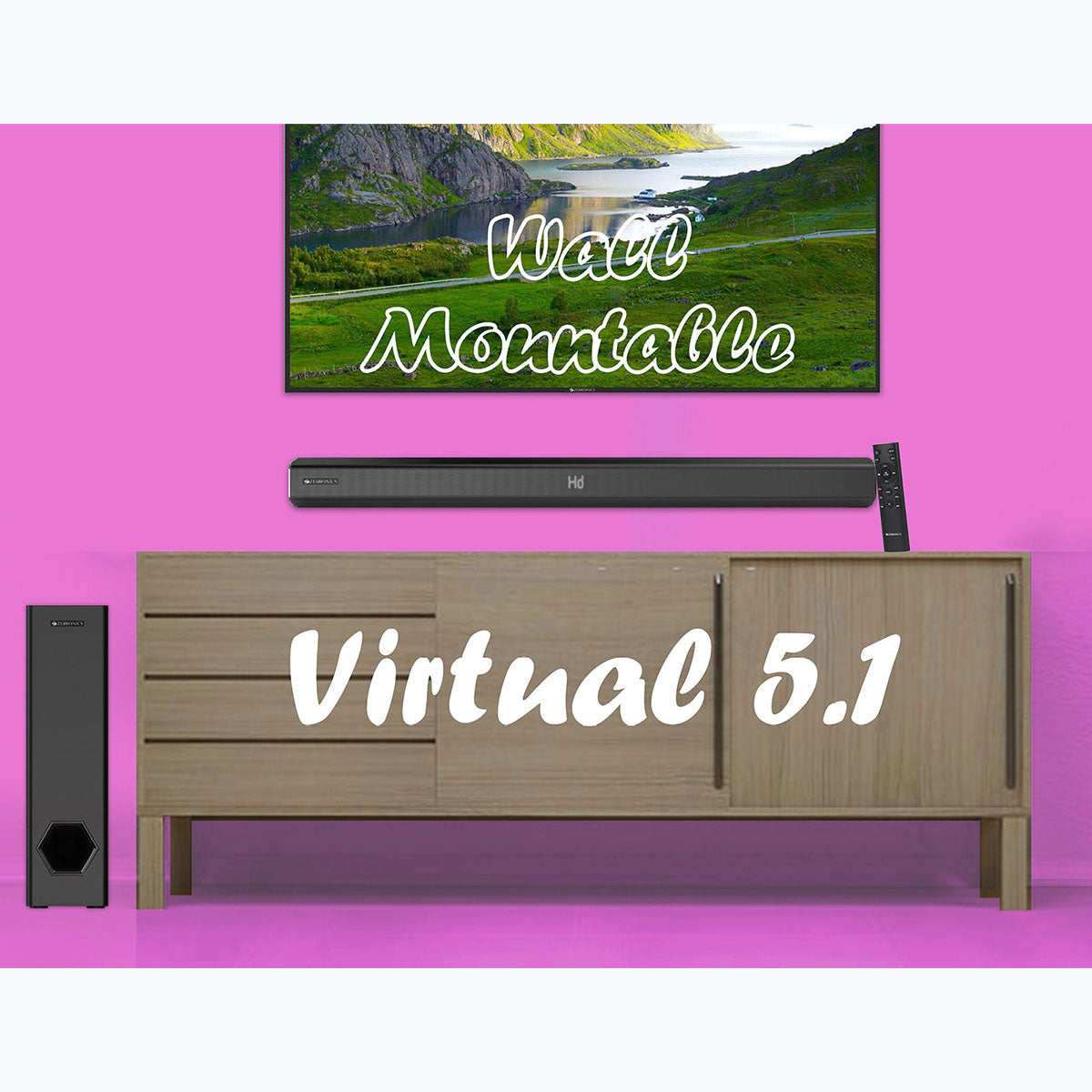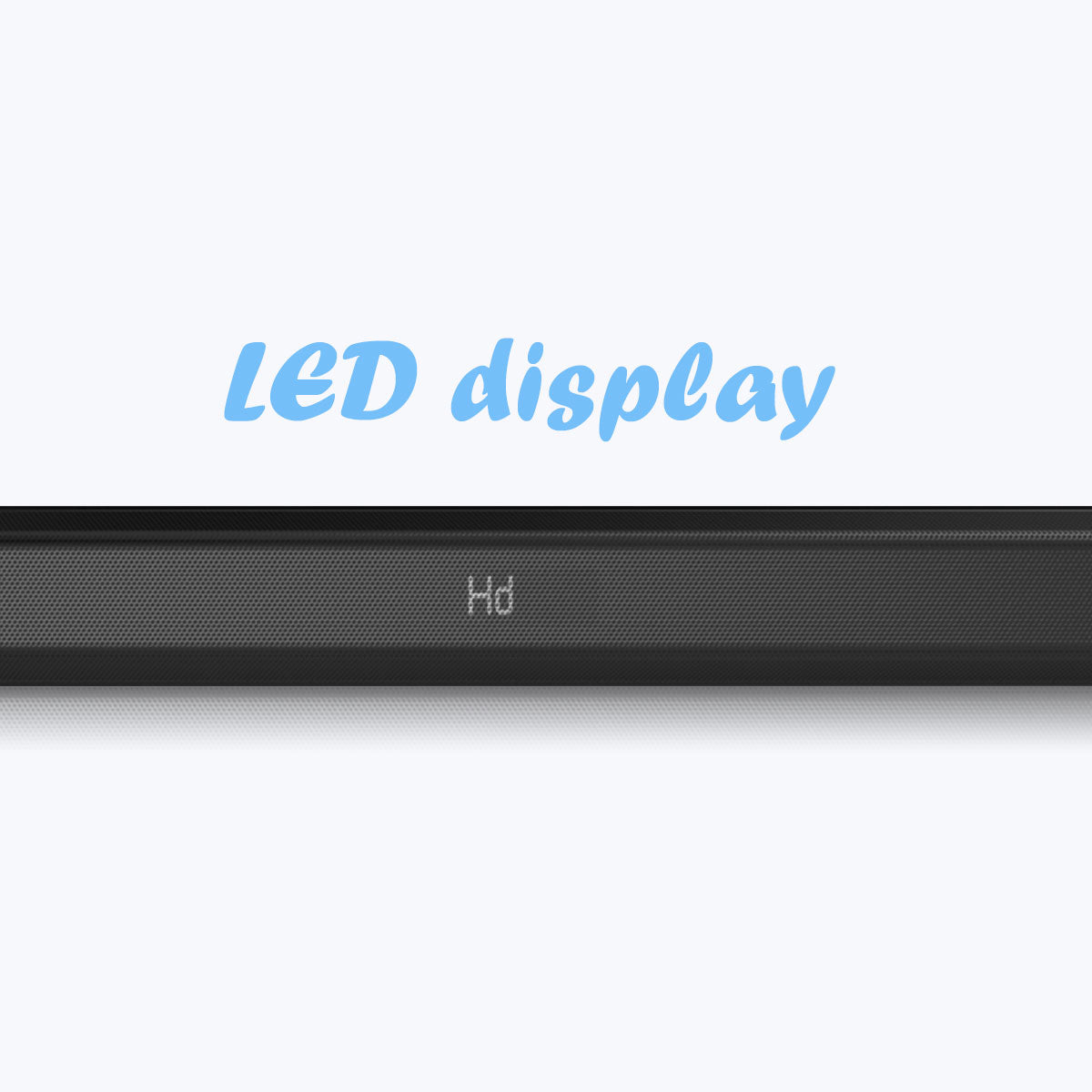 Zeb-Juke Bar 501
---
Wireless BT/USB/AUX/Coaxial IN/HDMI(ARC)
13.33cm Subwoofer
Remote control
LED Display
Wall Mountable
Volume/Media Control
External Power adapter
Virtual 5.1
Product Type: Soundbar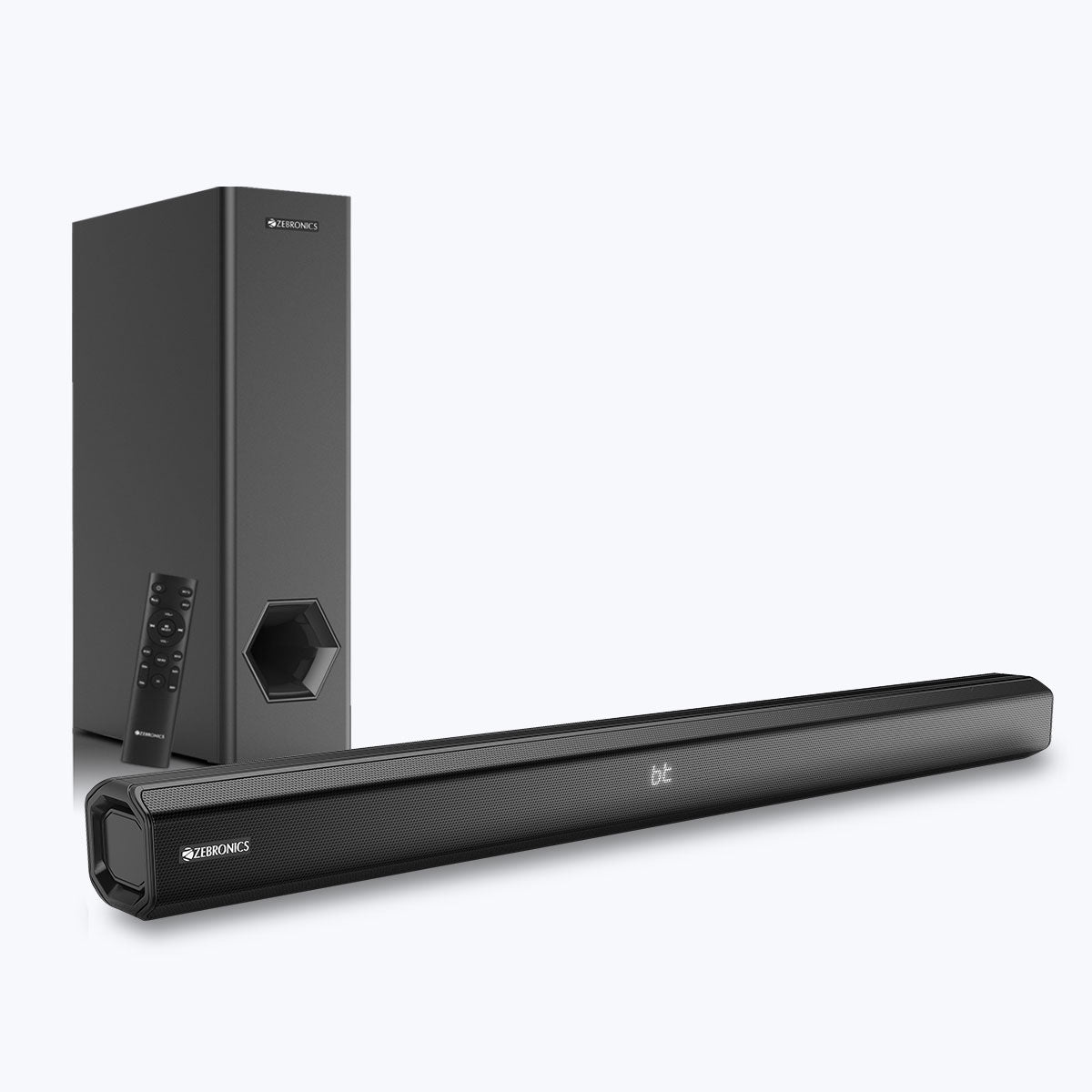 Enjoy high fidelity cinematic experience right at home with ZEB-Juke Bar 501. Pair it with your TV and enjoy the crisp clarity of audio when you watch movies, listen to music, or other entertainment. It delivers powerful audio like a theater with powerful subwoofer and sleek soundbar with dual drivers.
Enjoy the crisp and clear audio on the sleek soundbar with a powerful dual-driver set up in such a sleek design, that takes your audio experience a notch above.

The Soundbar comes powerful dedicated subwoofer with 13.33cms driver to create room thumping bass.
The soundbar comes with multi-connectivity options like you can connect wirelessly via BT. The soundbar also supports connectivity options like HDMI(ARC) and coaxial for your TV, DTH etc., It can also play songs from a USB pen drive. The AUX port can be used to connect devices like laptops.
Features
| | |
| --- | --- |
| | Wireless BT/USB/AUX/Coaxial IN/HDMI(ARC) |
| | 13.33cm Subwoofer |
| | Remote control |
| | LED Display |
| | Wall Mountable |
| | Volume/Media Control |
| | External Power adapter |
| | Virtual 5.1 |
Specifications
| | | |
| --- | --- | --- |
| | Output Power (RMS) | |
| | Subwoofer | 40 watts |
| | Soundbar | 40 watts (20+20) |
| | Total | 80 watts |
| | Driver Size | |
| | Subwoofer | 13.33cm x 1 |
| | Soundbar | 5.71cm x 2 |
| | Impedance | |
| | Subwoofer | 6Ω |
| | Soundbar | 4Ω |
| | Frequency response | 55Hz-20kHz |
|   | S/N Ratio | ≥66dB |
|   | Separation | ≥42dB |
|   | File format support (USB) | MP3 |
|   | Line input | 3.5mm, Coaxial IN, HDMI (ARC) |
|   | Max supported memory size (USB)  | 32GB |
|   | BT name | ZEB-JUKE BAR 501 |
|   | BT version | 5.0 |
|   | Product Dimension (W x D x H)     | |
| | Subwoofer | 115 x 250 x 420 mm |
| | Sound bar | 860 x 73.5 x 67 mm |
|   | Package Dimension (W x D x H) | 980 x 173 x 402 mm |
|   | Net.Weight     | |
| | Subwoofer | 3.3 kg |
| | Sound bar | 1.26 kg |
| | Total | 4.56 kg |
| | Country of Origin | People's Republic of China |
|   | Package Contents | |
|   | Sound Bar | 1 U |
|   | Subwoofer | 1 U |
|   | Remote Control | 1 U |
|   | Input cable | 1 U |
| | QR code guide | 1 U |
|   | Wall mount fasteners | 1 U |
| | Power Adapter | 1 U |