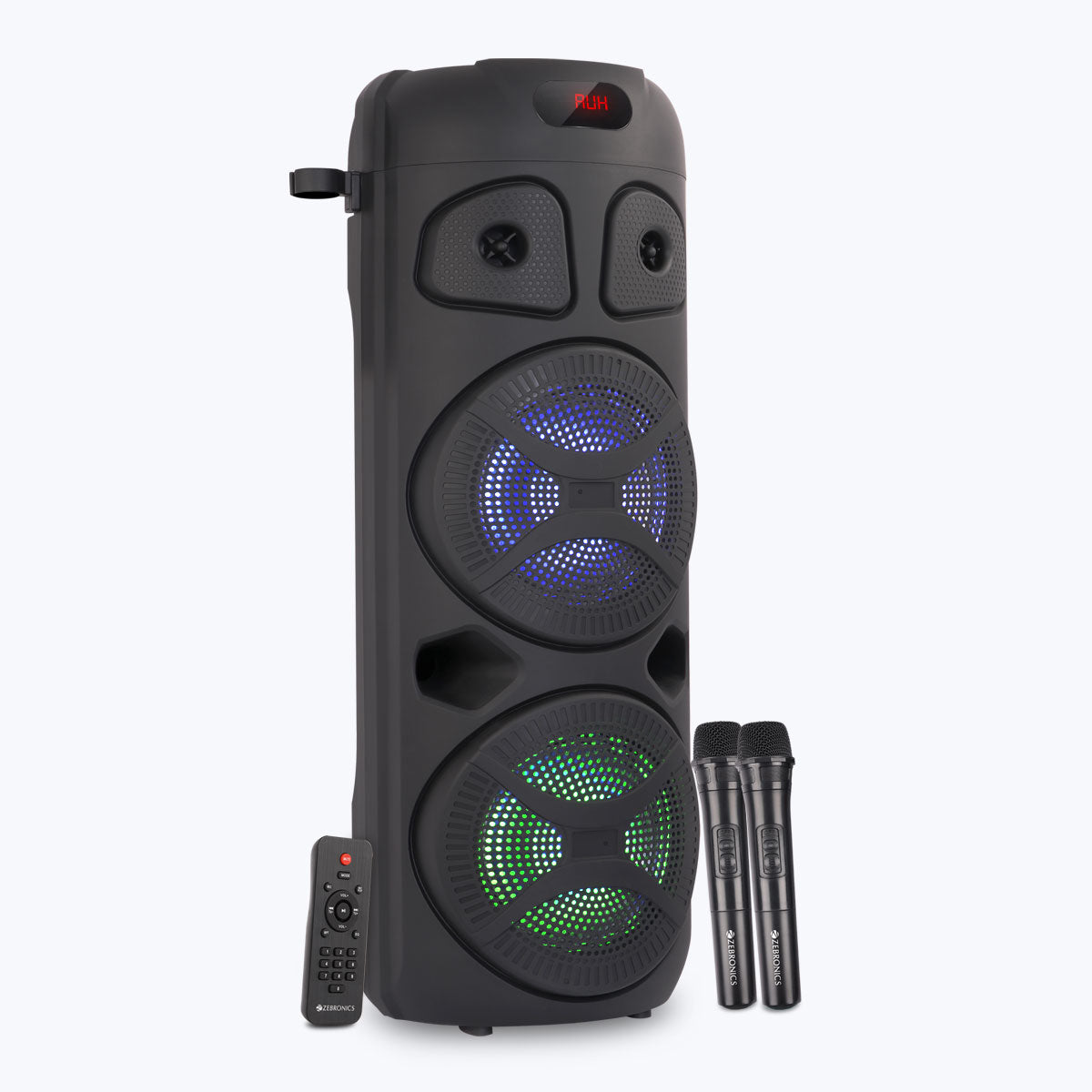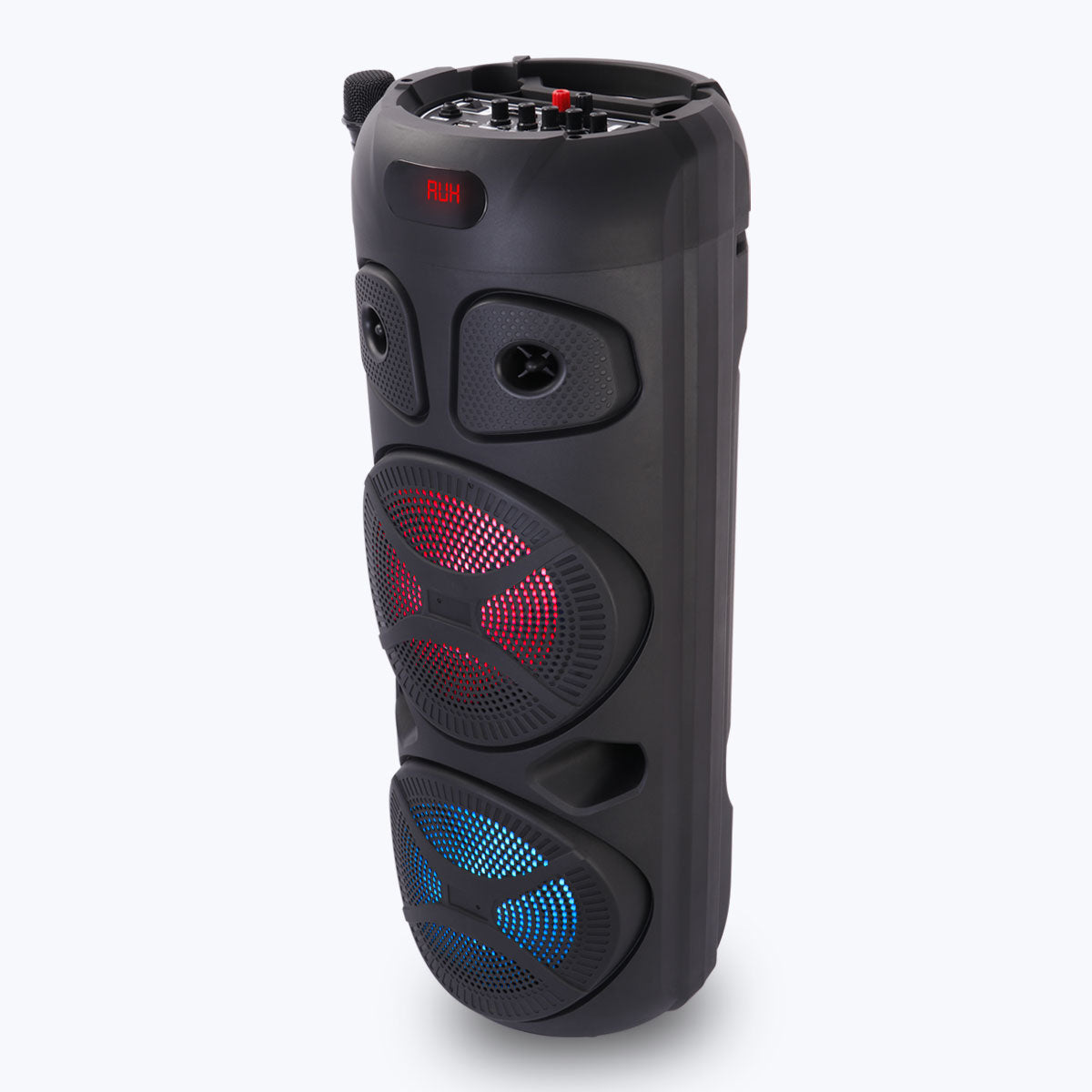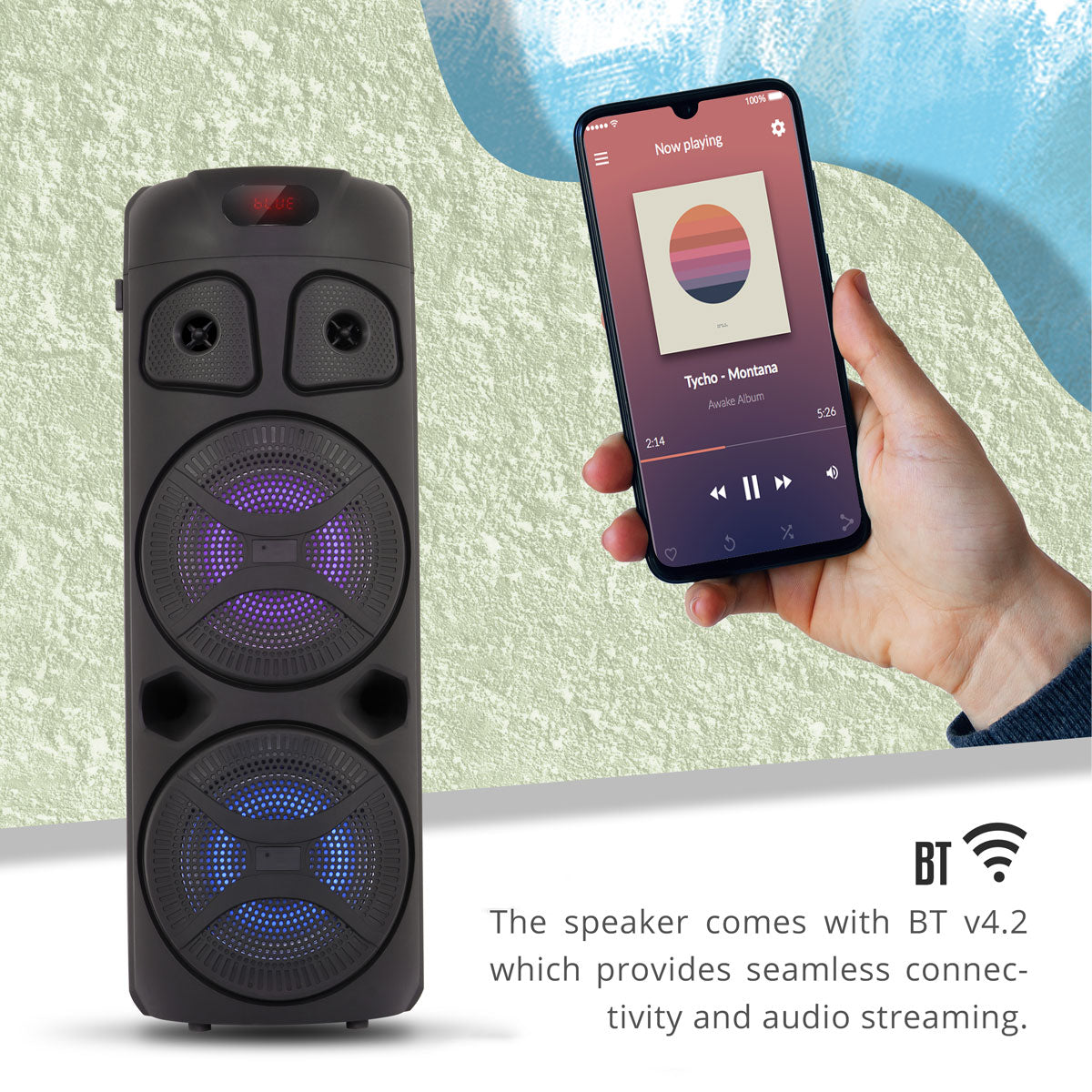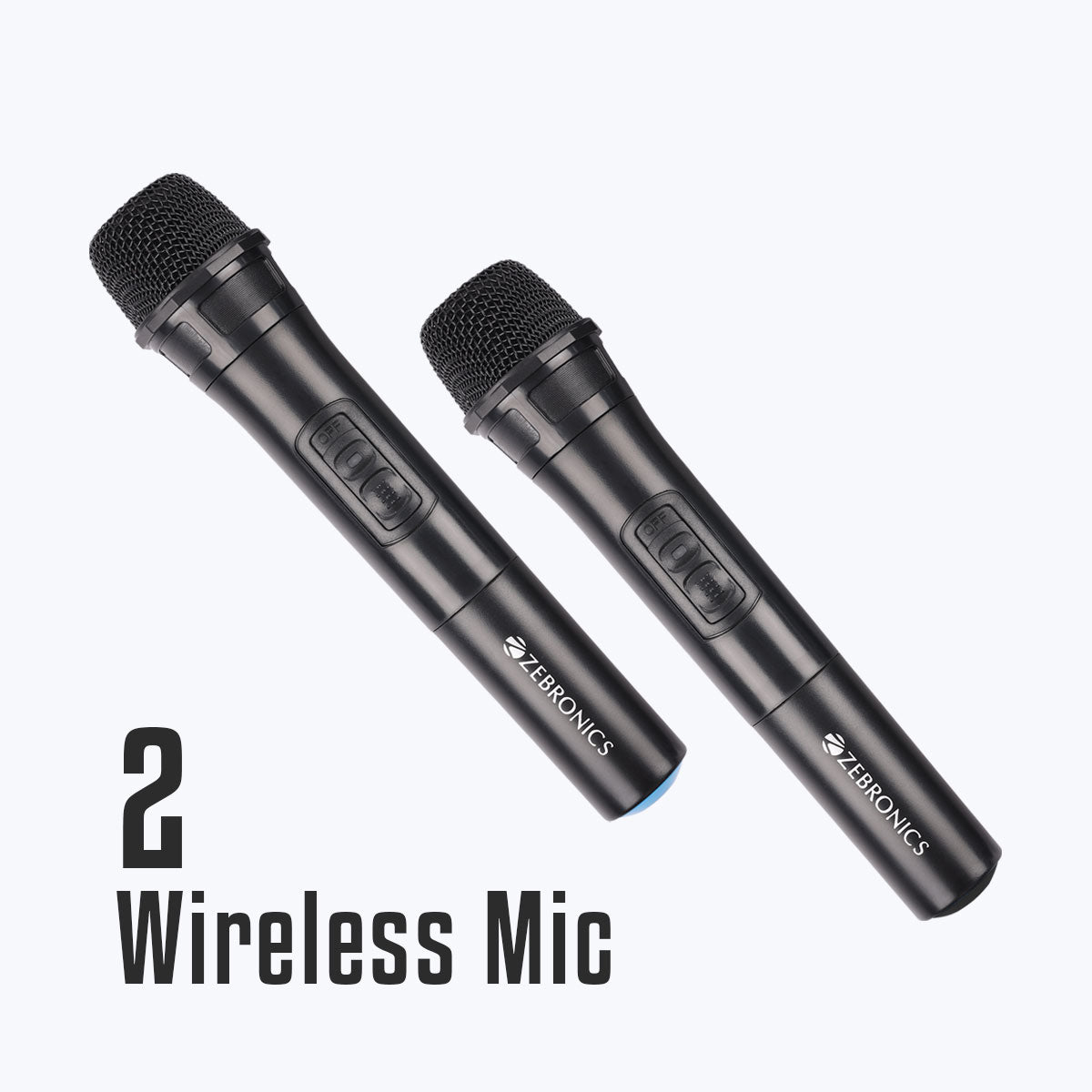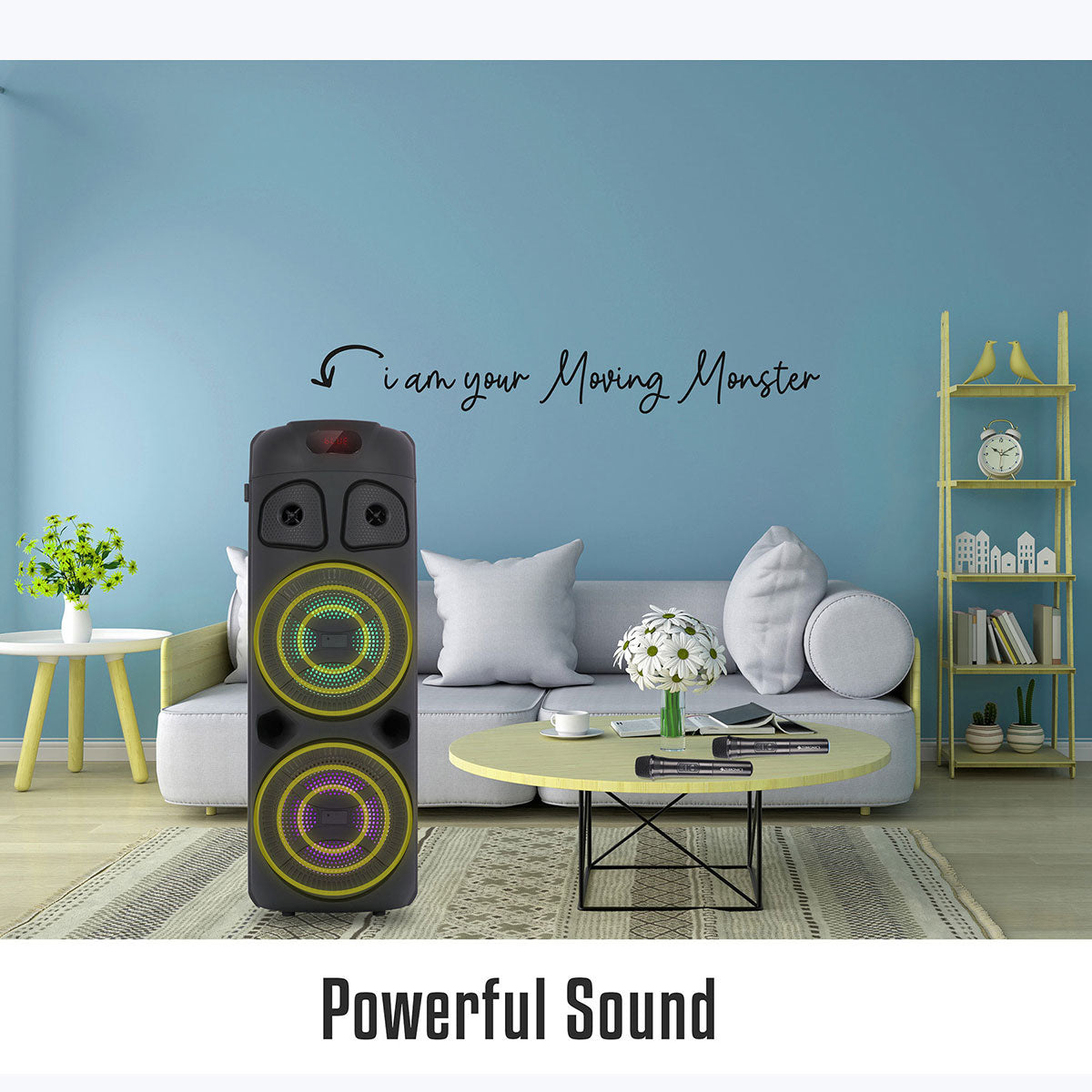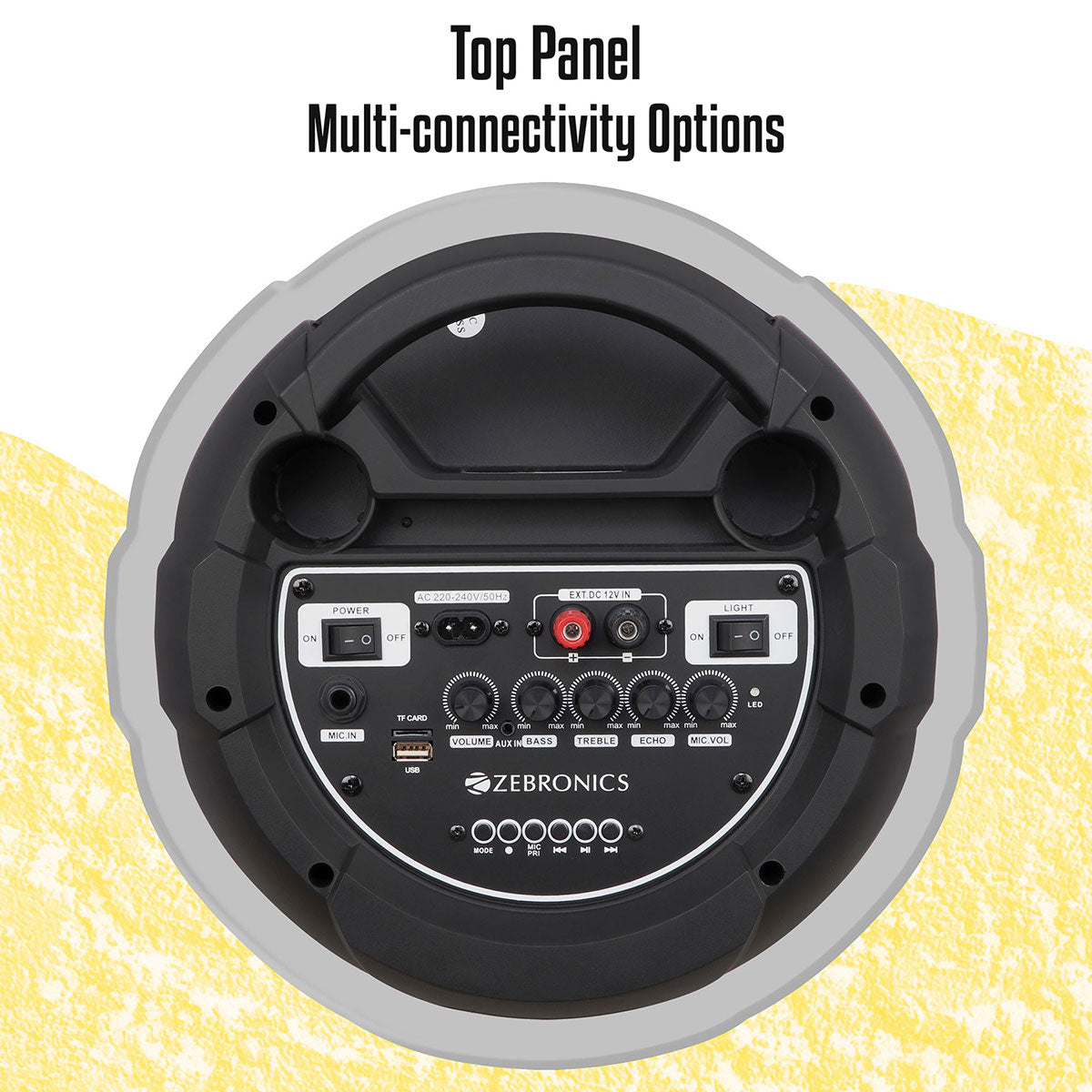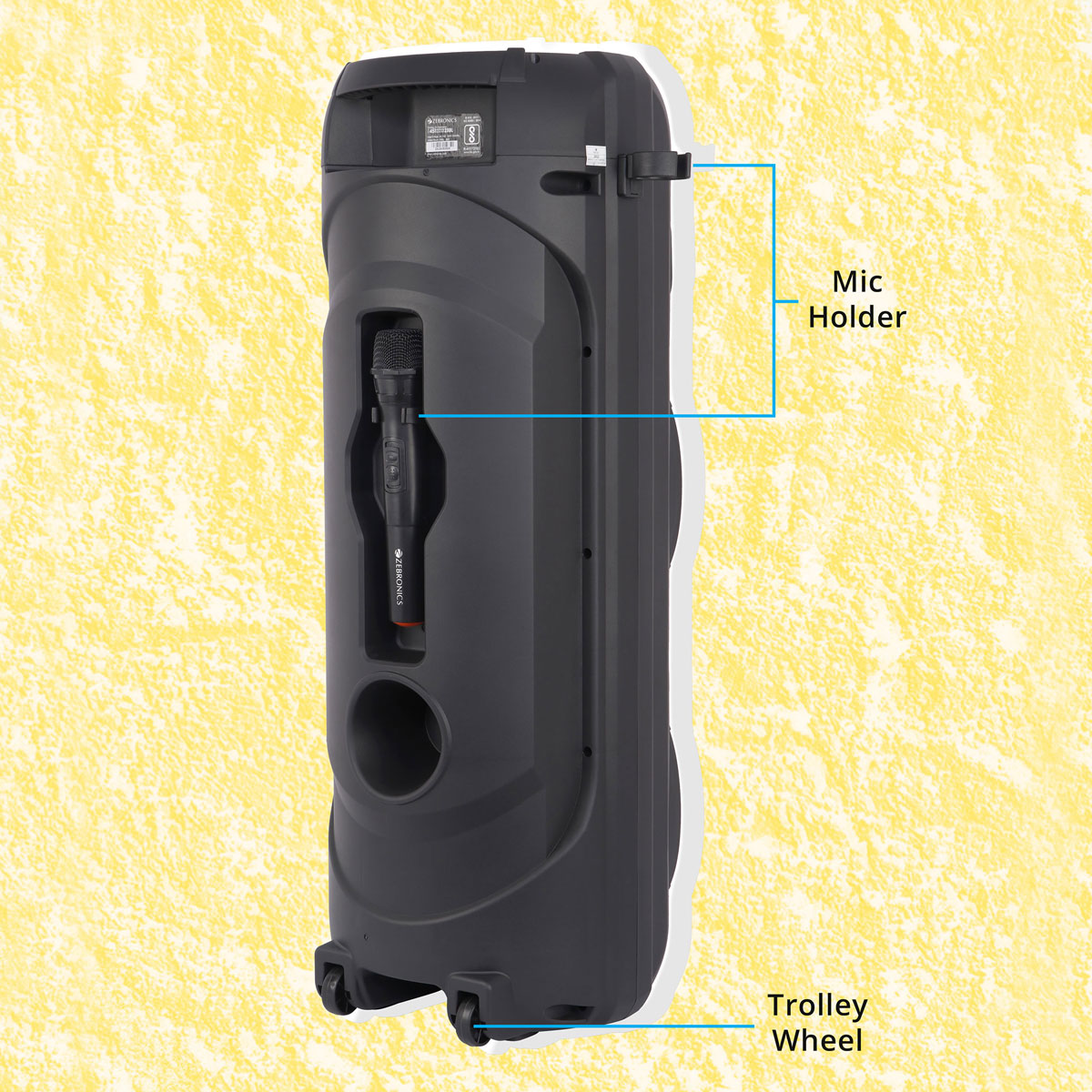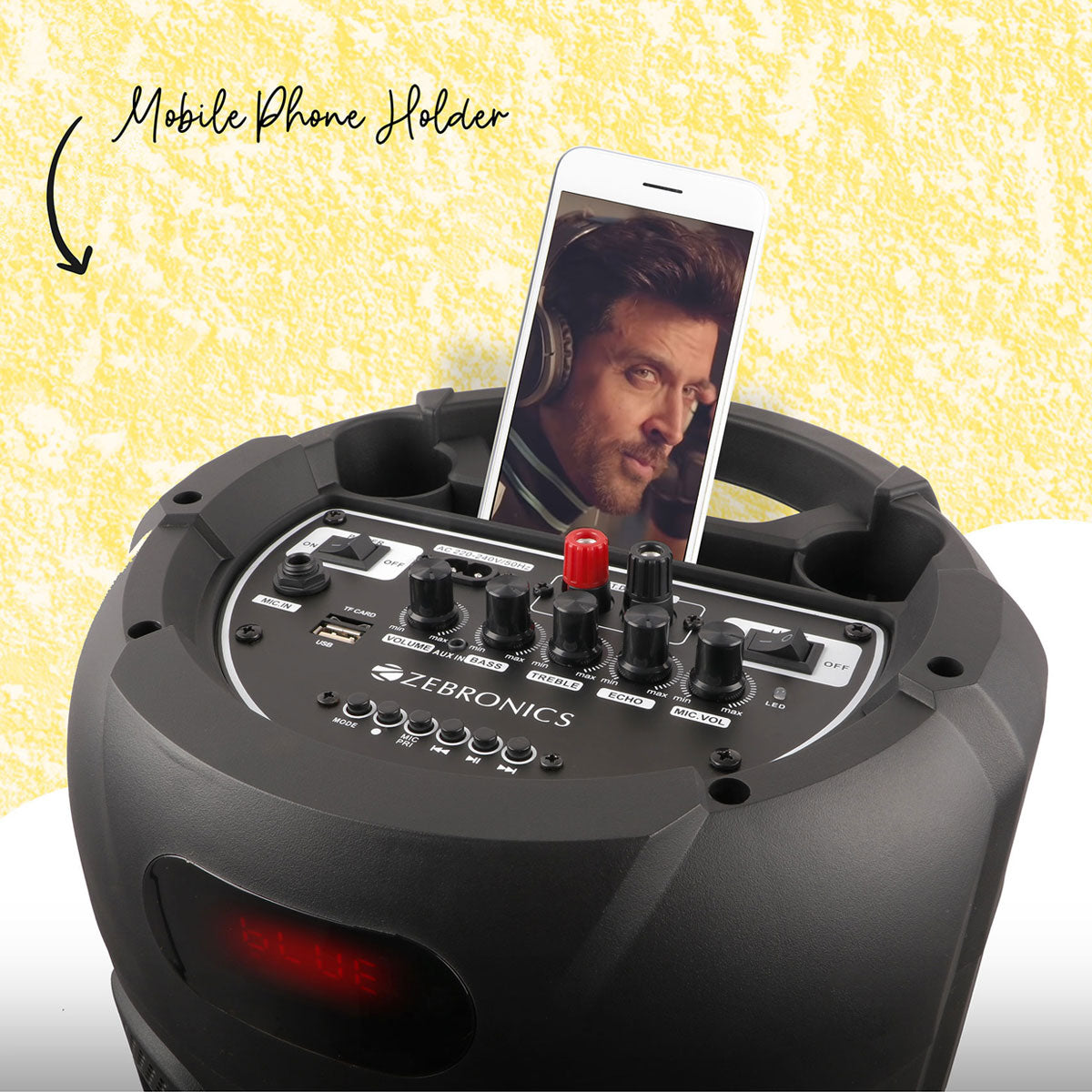 Zeb-451 Moving Monster 2X8L with dual mic
---
Trolley speaker
Wireless BT / USB / Micro SD / FM / AUX / 6.3mm Wired Mic Input
Recording function
Karaoke function
LED display
LED lights with On/Off switch
20.32cm x 2 full range speaker
Remote control
2 Wireless MIC
Phone/Tablet Holder
Built-in rechargeable battery
Supports external battery
Volume, bass & treble controls
Product Type: Trolley Speakers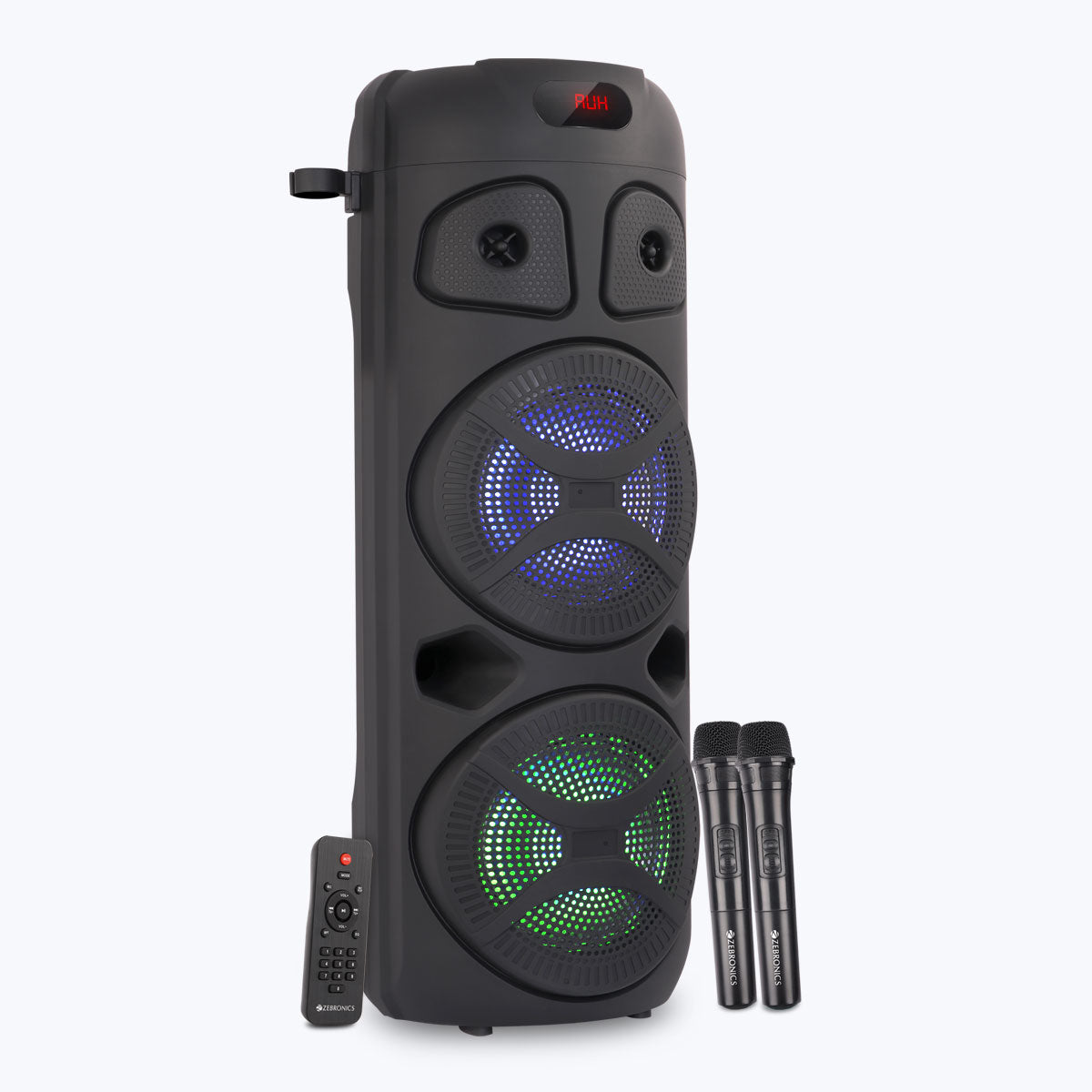 Take your music wherever you go with ZEB-451 Moving Monster 2x8L Trolley DJ speaker that comes with a handle on the top and wheels on bottom for easy mobility with a portable form factor. Have the best karaoke party at home with a wireless mic that tags along with the speaker. The speaker has LED lights that change the ambiance and feel in perfect fusion with powerful sound.

The speaker comes with BT v4.2 which provides seamless connectivity and audio streaming.

Enjoy the karaoke experience minus the wires with ZEB-451 MOVING MONSTER 2X8L speaker that comes with a wireless microphone.

The speaker has dual 20.32cm full-range speakers designed to give you hi-fidelity sound and thumping bass that will pump up your house party or wherever you go.
Host a house party or take it outside. You'll outlast every party as the speaker comes with a bigger battery life of 10.5H*.

Celebrate the powerful sound with the fusion of RGB LED lights that sparkle up your dull days. The speaker comes with an LED display and has provision to turn on/off the lights according to your preference.
The trolley speaker comes with ample connectivity options like you can stream your music wirelessly or USB/ Micro SD/ AUX/ MIC Input along with a built-in FM Radio. The speaker also a phone holder so you can mount your phone and party away. It also has individual controls for volume, treble, bass, and tags along with remote control.
Features
| | |
| --- | --- |
| | Trolley speaker |
| | Wireless BT / USB / Micro SD / FM / AUX  / 6.3mm Wired Mic Input |
| | Recording function |
| | Karaoke function |
| | LED display |
| | LED lights with On/Off switch |
| | 20.32cm x 2 full range speaker |
| | Remote control |
| | 2 Wireless MIC |
| | Phone/Tablet Holder |
| | Built-in rechargeable battery |
| | Supports external battery |
| | Volume, bass & treble controls |

Specifications
| | | |
| --- | --- | --- |
| | Output power (RMS) | 48W |
| | Driver size | |
| | Full range | 20.32cm x 2 |
| | Tweeter | 2.54cm x 1 |
| | Impedance | |
| | Full range | 4Ω |
| | Tweeter | 8Ω |
| | Frequency response | 60Hz-18kHz |
| | S/N ratio | ≥65dB |
| | File format support (USB/mSD) | MP3,WAV |
| | Line input | 3.5mm |
| | Max. supported USB/mSD memory size | 32GB |
| | FM frequency range | 87.5 MHz - 108 MHz |
| | Charging time | 7 h |
| | Playback time | 10.5 h* |
| | BT name | ZEB-451 MOVING MONSTER 2X8L |
| | BT version | 4.2 |
| | Product dimension (W x D x H) | 280 x 290 x 800 mm |
| | Package dimension (W X D X H) | 325 x 325 x 851 mm |
| | Net. weight | 7.9kg |
| | Country of Origin | People's Republic of China |
| | *at 50% Volume | |
| | Package contents: | |
| | DJ Speaker | 1 U |
| | Remote control | 1 U |
| | Wireless Mic | 2 U |
| | QR Card Guide | 1 U |
| | Input cable | 1 U |
| | Power cord | 1 U |
| | Microphone clamp | 1 U |