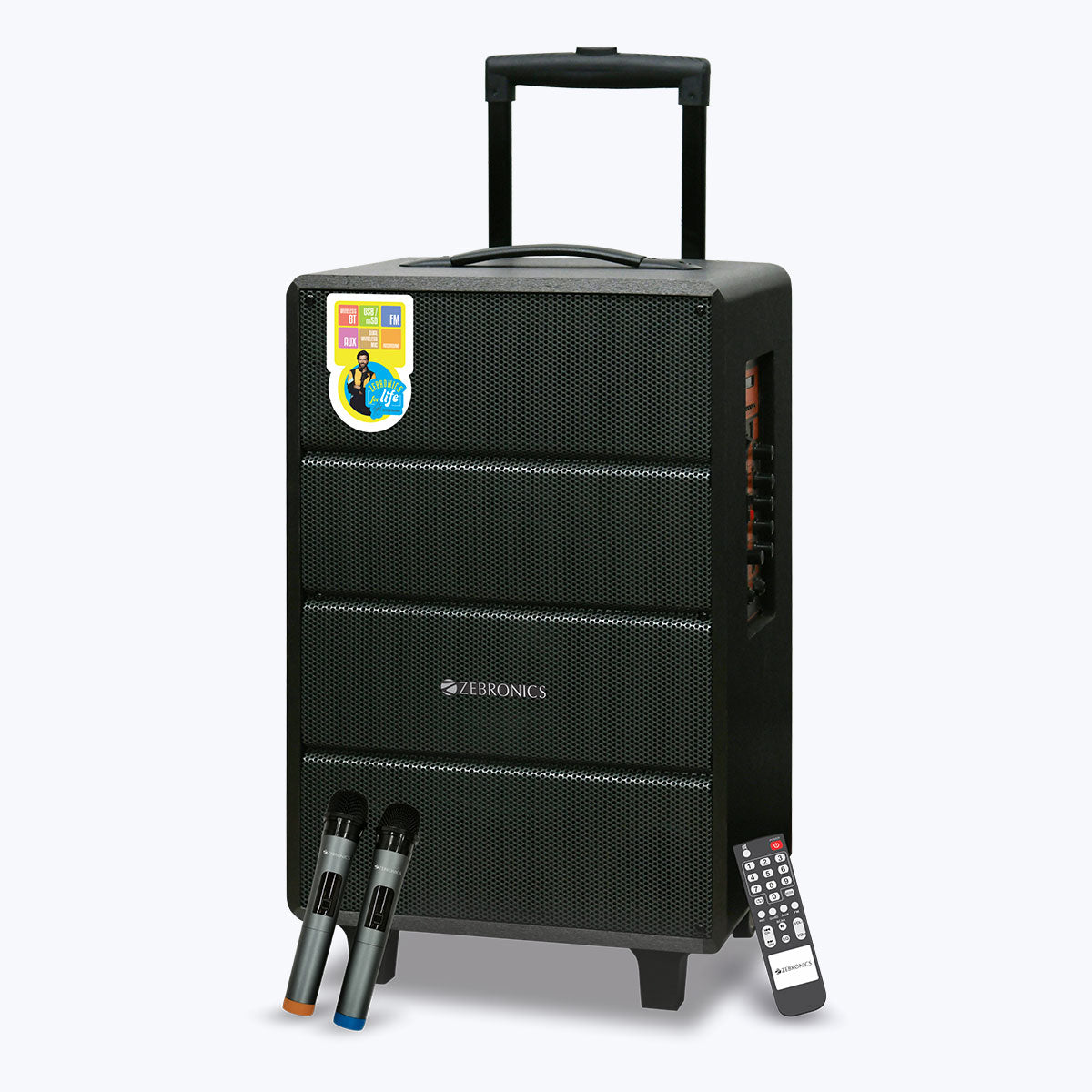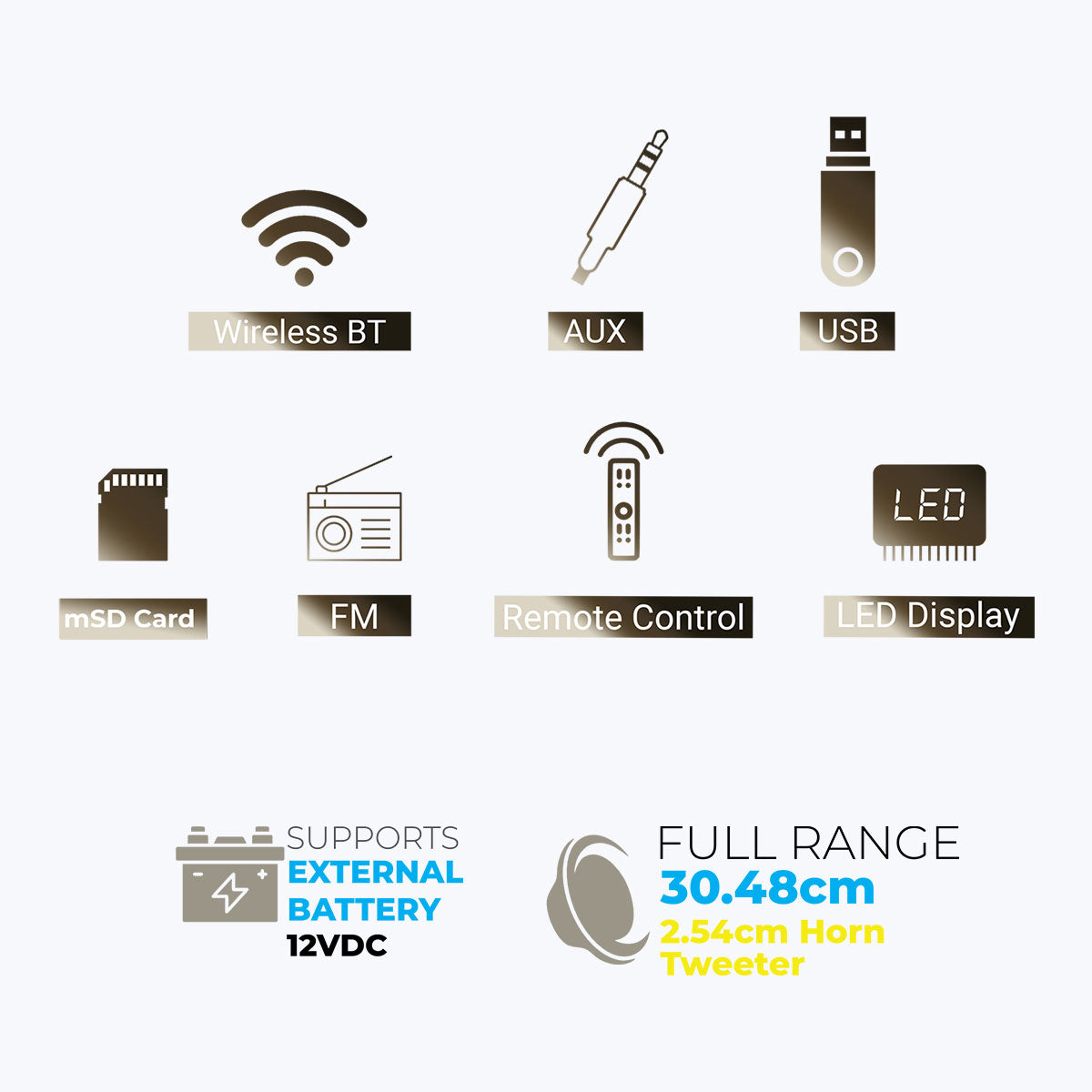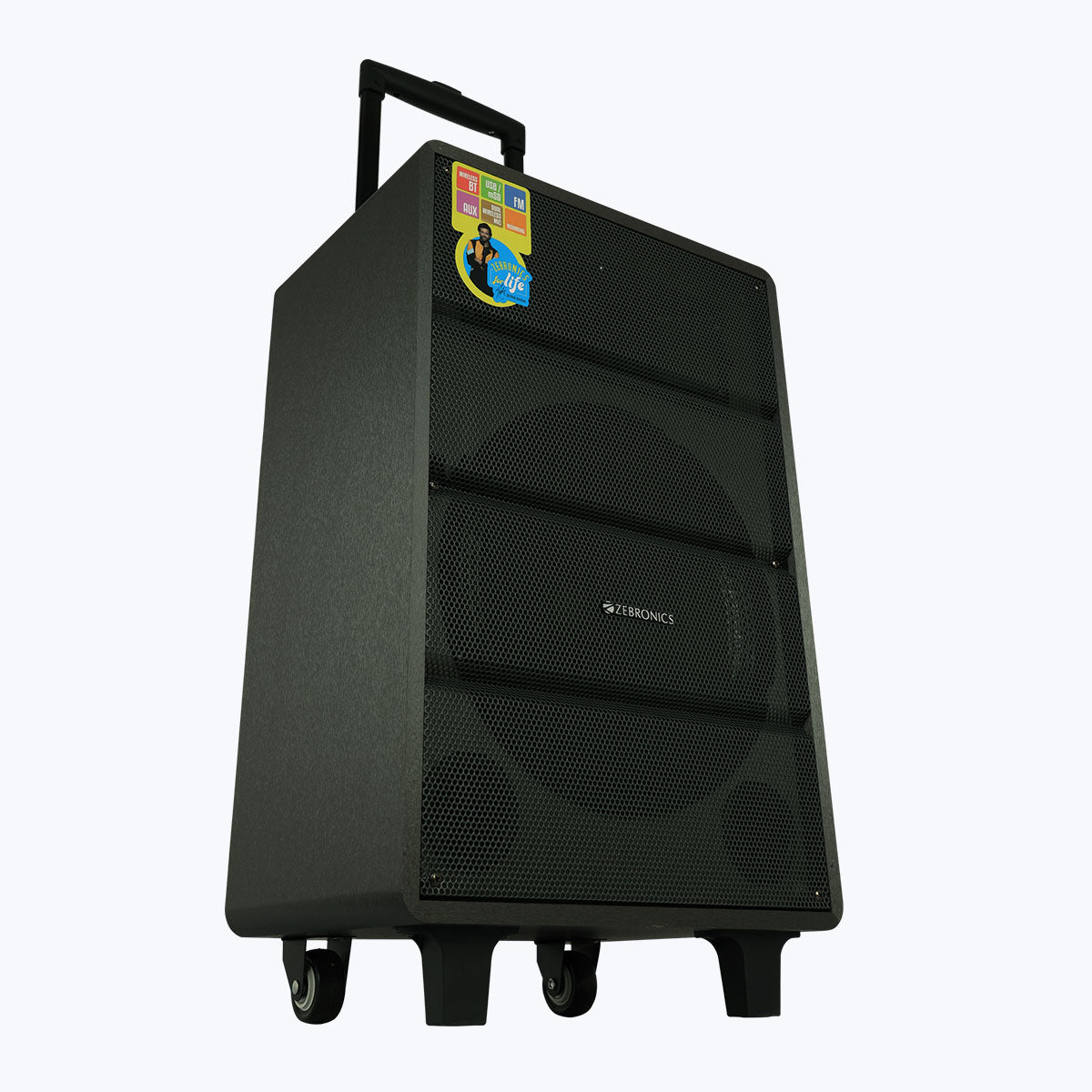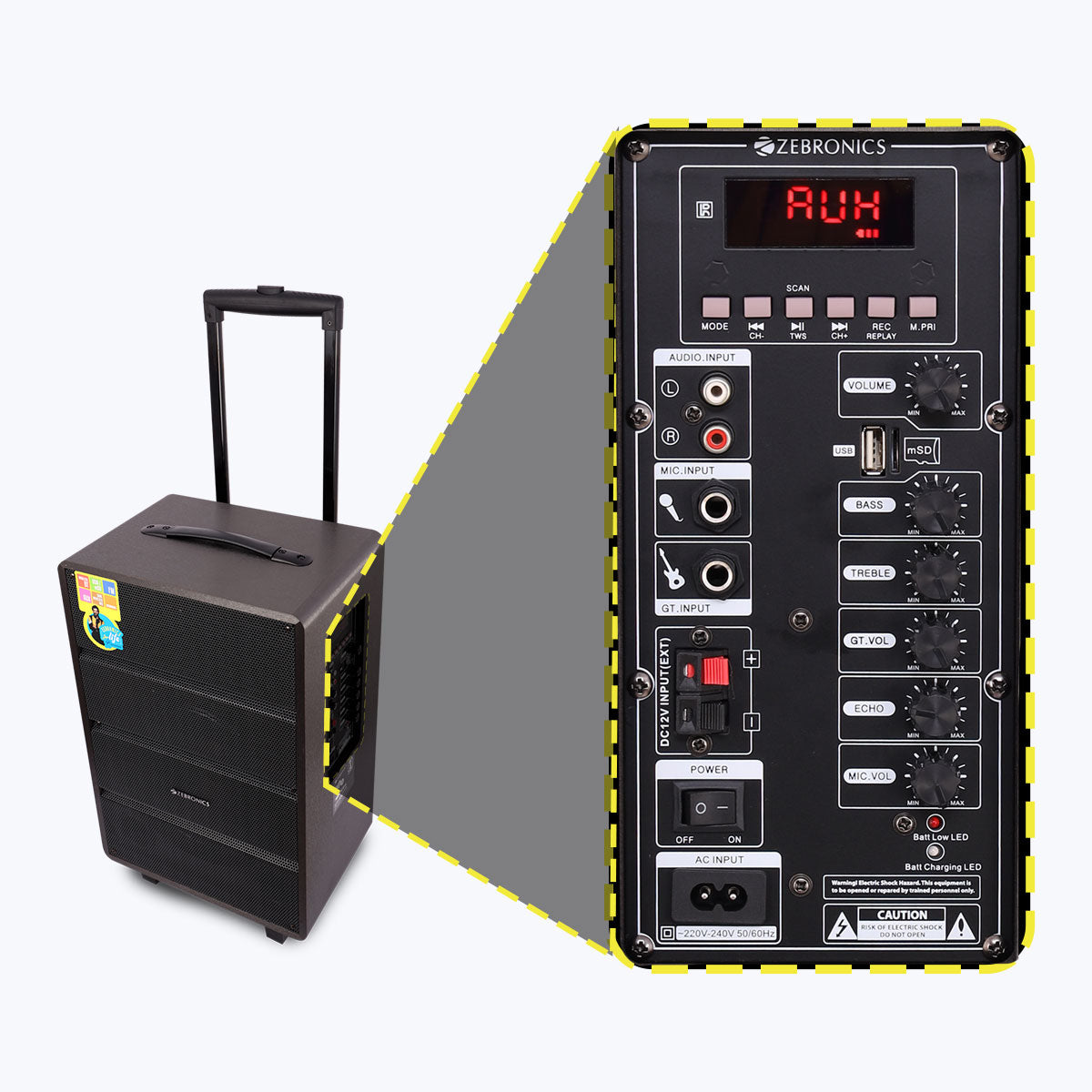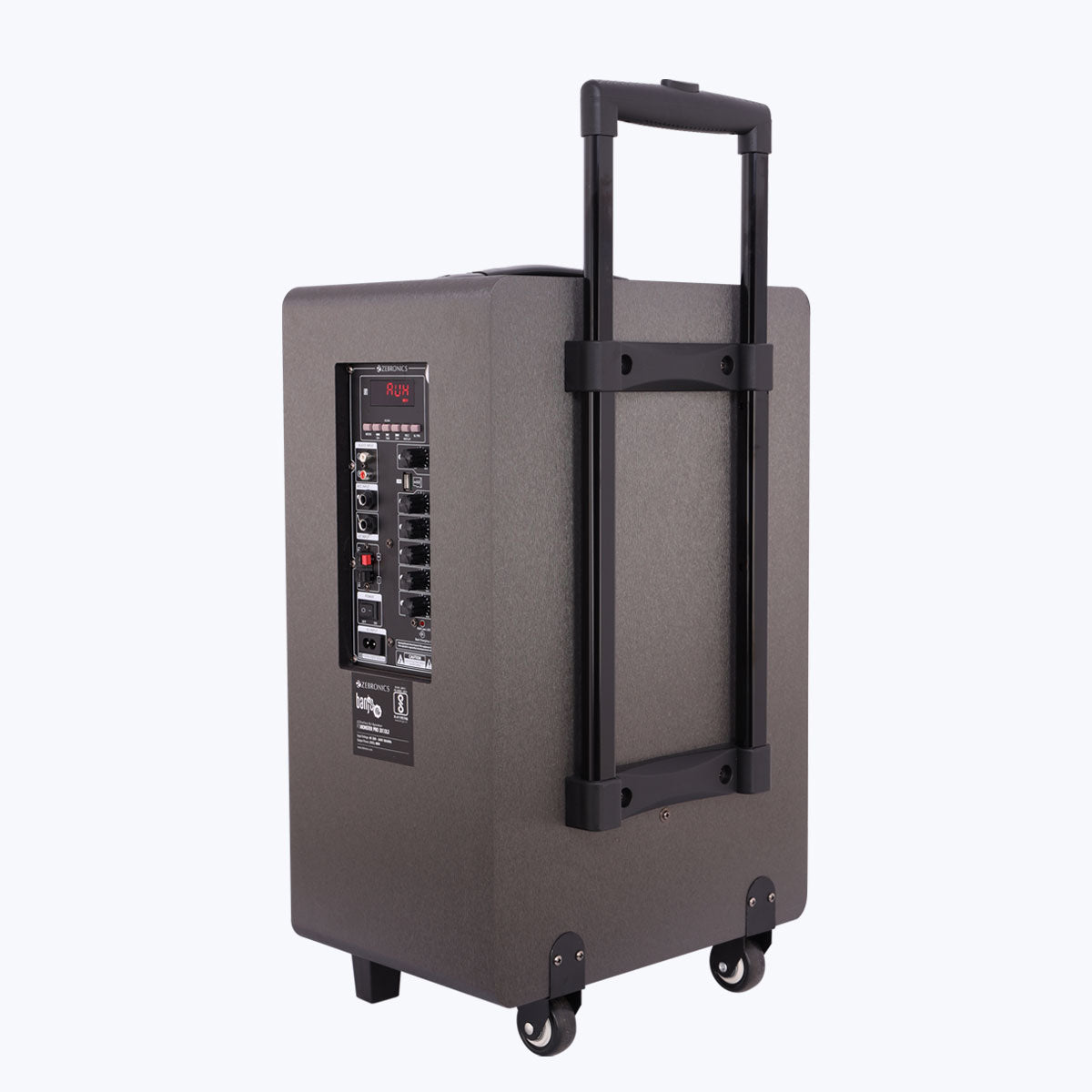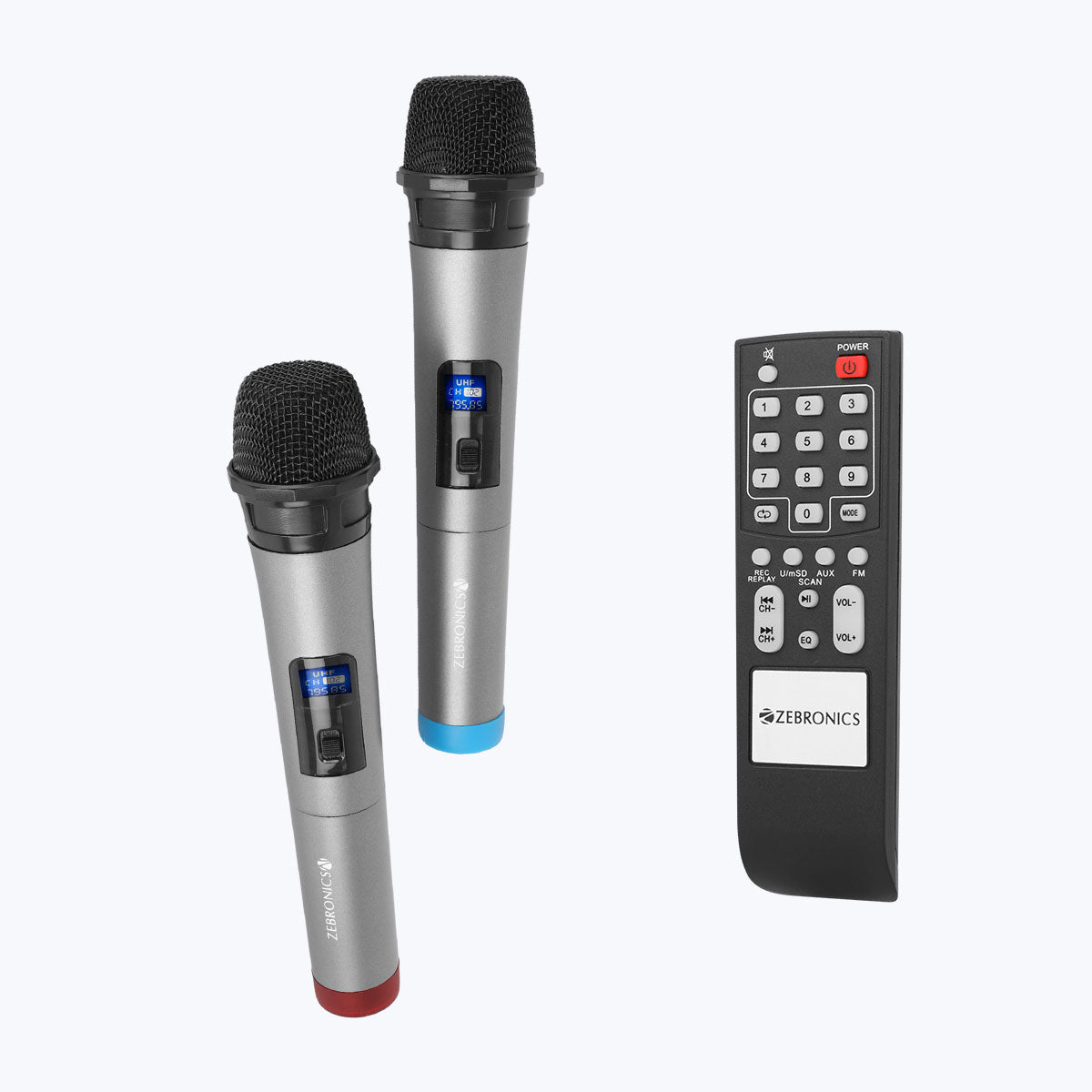 Banjo (Zeb-Monster Pro 2X12L2)
---
Wireless BT / USB / Micro SD / FM / AUX / Mic Input / Guitar IN
Recording function
LED display
Horn Tweeter for high frequencies
30.48cm full range speaker
2 way speaker
Remote control
Dual UHF wireles microphones with digital display
Battery status indicator on display
Volume, bass & treble controls
Karaoke
Mic volume/Echo/ Guitar volume controls
Supports external battery
TWS function
Charging LED indications
Built in rechargeable battery and supports for external battery
2 Wheels trolley design with retractable handle
Product Type: Trolley Speakers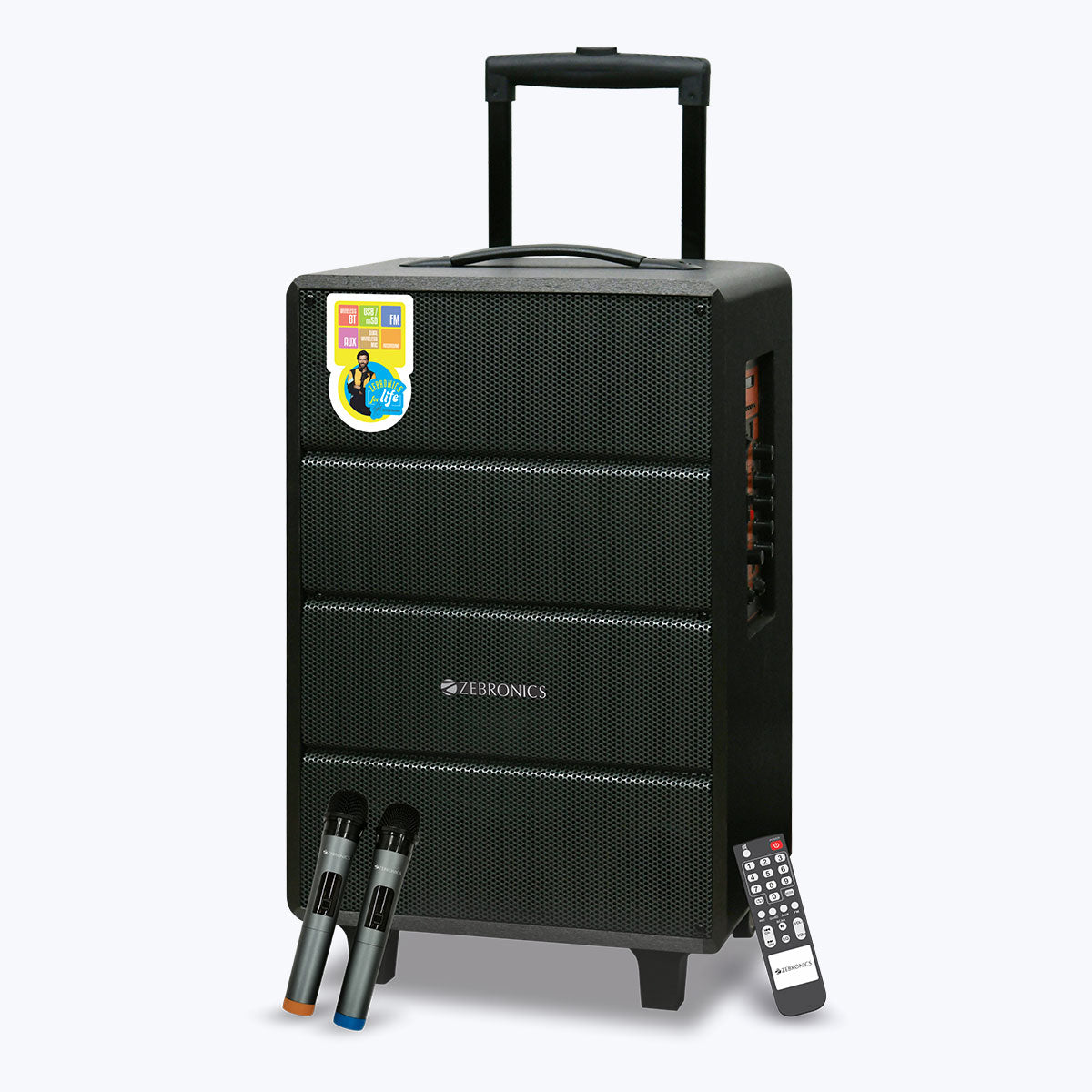 Take your music and karaoke sessions to the next level with Zebronics Trolley DJ speaker "Banjo". The stylish and portable trolley speaker comes with a retractable handle on top and wheels for easy movement. The powerful drivers in the speaker give crisp and loud audio with thundering bass.
The Banjo trolley DJ speaker comes with a full-range 30.48cm driver along with a 2.54cm tweeter that delivers powerful music with thumping bass. It also has individual controls for volume, Bass, treble, mic volume, mic echo and guitar volume adjustment.
Sing along to your favorite songs as the trolley speaker comes with two wireless mics for karaoke. Additionally you can connect a wired mic as well, as the speaker comes with wired mic input. The trolley speaker also comes with a guitar input, so you can connect and play your guitar music outdoors or at events.
The speaker comes with a  recording function,  so you can record the audio from the mic.
The Trolley speaker has multi-connectivity options. You can stream audio from your smartphone, laptop or tablet through wireless BT. It supports USB, mSD card, AUX, and comes with built-in FM Radio function.
Enjoy your party for longer as the trolley speaker comes with built-in battery and a back up time of 3.5h*. An external battery can be also connected to the speaker.
The speaker comes with a retractable handle with wheels for easy transportation. Take your music anywhere with ease.
Pair another Banjo speaker with TWS mode to enjoy a wireless stereo setup.
Control at your fingertips with a fully functional remote control which comes with the package contents.


Features
| | |
| --- | --- |
| | Wireless BT / USB / Micro SD / FM / AUX  / Mic Input / Guitar IN      |
|   | Recording function |
|   | LED display |
|   | Horn Tweeter for high frequencies |
|   | 30.48cm full range speaker |
|   | 2 way speaker |
|   | Remote control |
|   | Dual UHF wireles microphones with digital display |
|   | Battery status indicator on display |
|   | Volume, bass & treble controls |
| | Karaoke |
| | Mic volume/Echo/ Guitar volume controls |
| | Supports external battery |
| | TWS function |
| | Charging LED indications |
| | Built in rechargeable battery and supports for external battery |
| | 2 Wheels trolley design with retractable handle |
Specifications
| | | |
| --- | --- | --- |
|   | Model Number | ZEB-MONSTER PRO 2X12L2 |
|   | Output Power (RMS) | 80W |
|   | Driver Size | |
|   | Full range | 30.48cm |
|   | Tweeter | 2.54cm |
|   | Impedance | |
|   | Full range | 4Ω |
|   | Tweeter | 6Ω |
|   | Frequency response | 60Hz-19kHz |
|   | S/N Ratio | ≥80dB |
|   | File format support(USB/mSD) | MP3, WMA, WAV |
|   | Line input | RCA to 3.5mm |
|   | Max supported USB/mSD memory size | 64GB |
|   | FM frequency range | 87.5 MHz - 108 MHz |
|   | Charging time | 6-8h |
|   | Playback time | 3.5h* |
|   | BT name | Zebronics Banjo |
|   | BT version | v4.2 |
| | Product Dimension (W x D x H) | 370 x 290 x 605 mm |
| | Package Dimension (W X D X H) | 430 x 325 x 646 mm |
| | Net.Weight | 12.5 kg |
| | Country of Origin | People's Republic of China |
| | * at 50% volume | |
| | Package Contents | |
|   | Trolley DJ Speaker | 1 U |
| | Power Cord | 1 U |
| | Remote | 1 U |
| | Wireless Mic | 2 U |
| | QR Code Guide | 1 U |
| | Input cable | 1 U |
| | DC cable | 1 U |