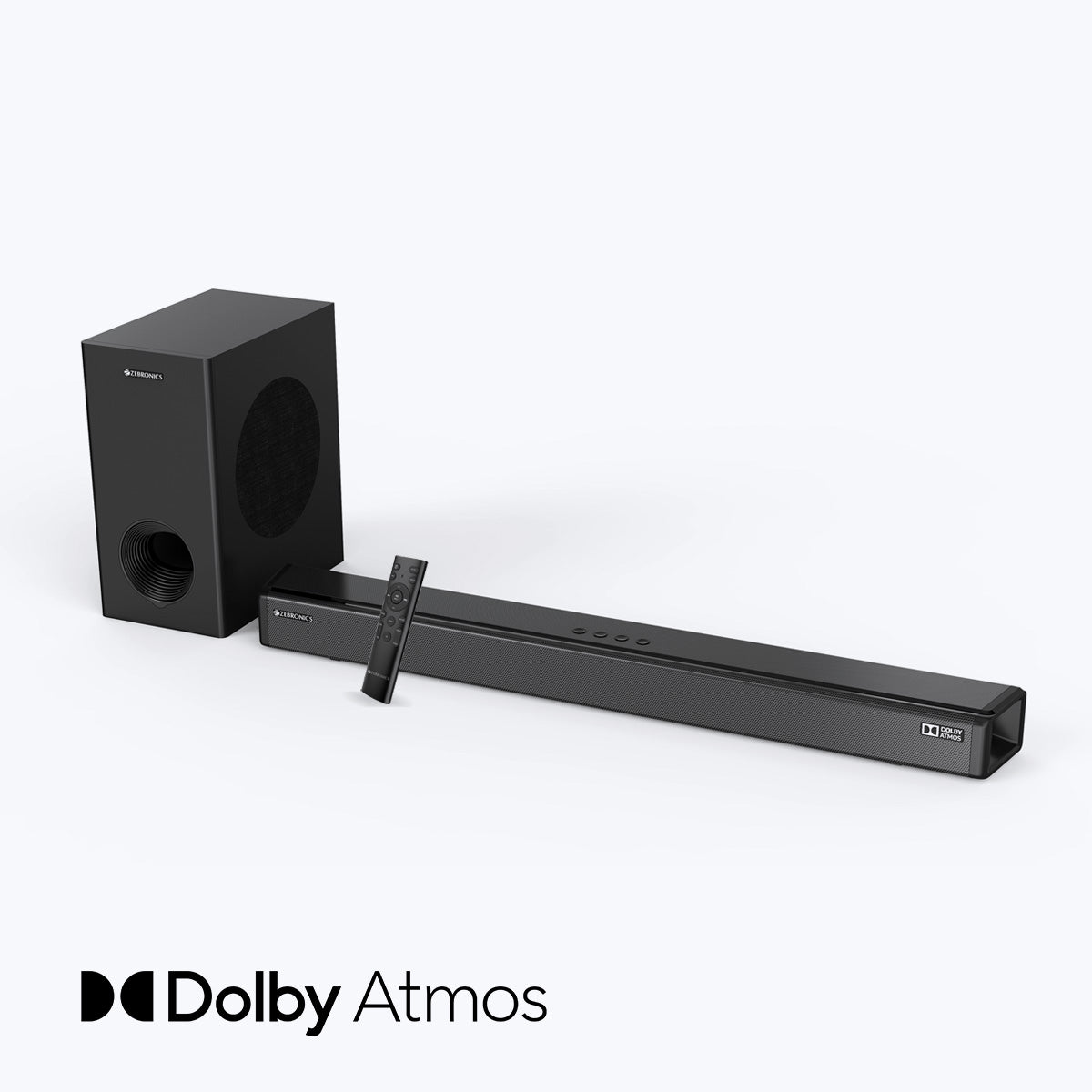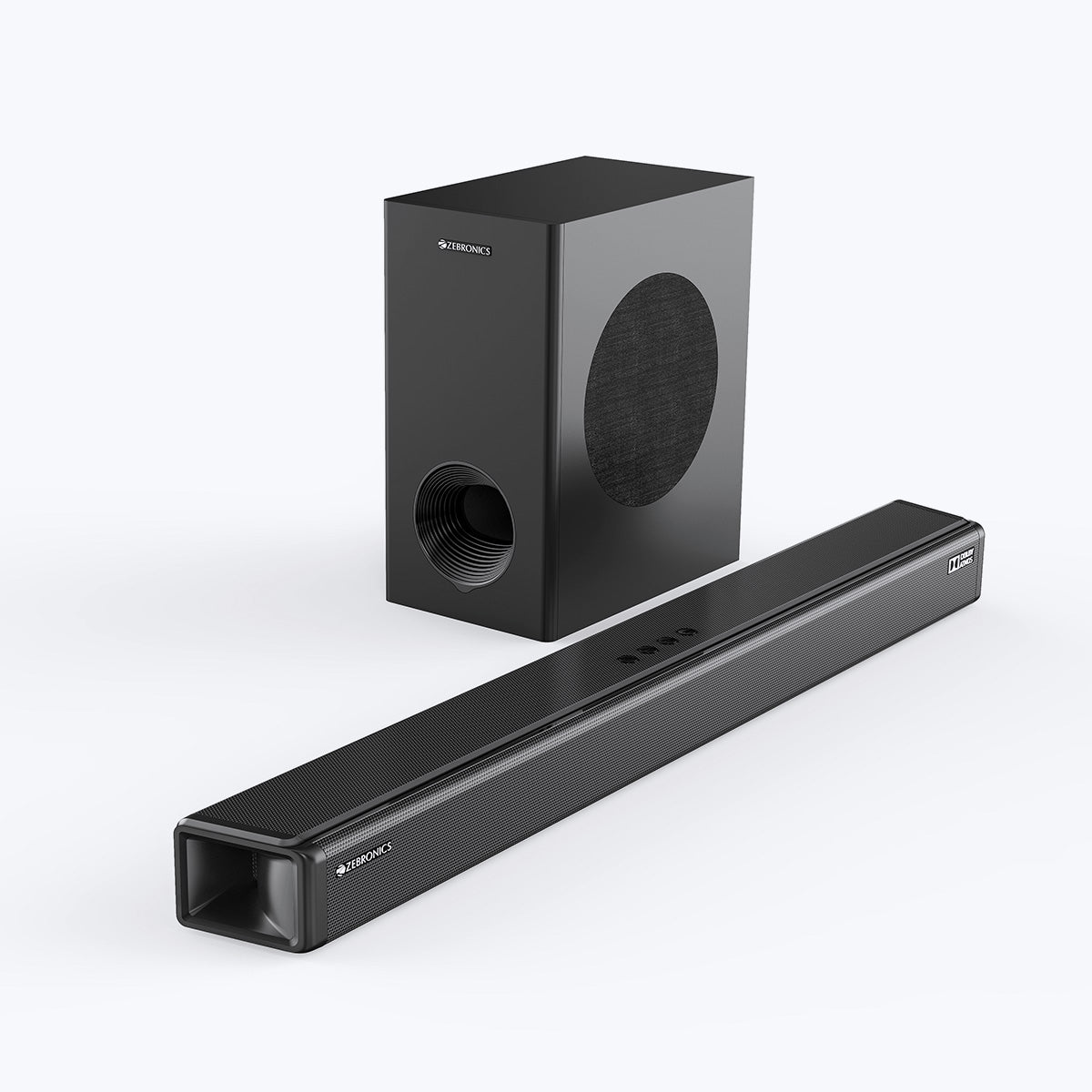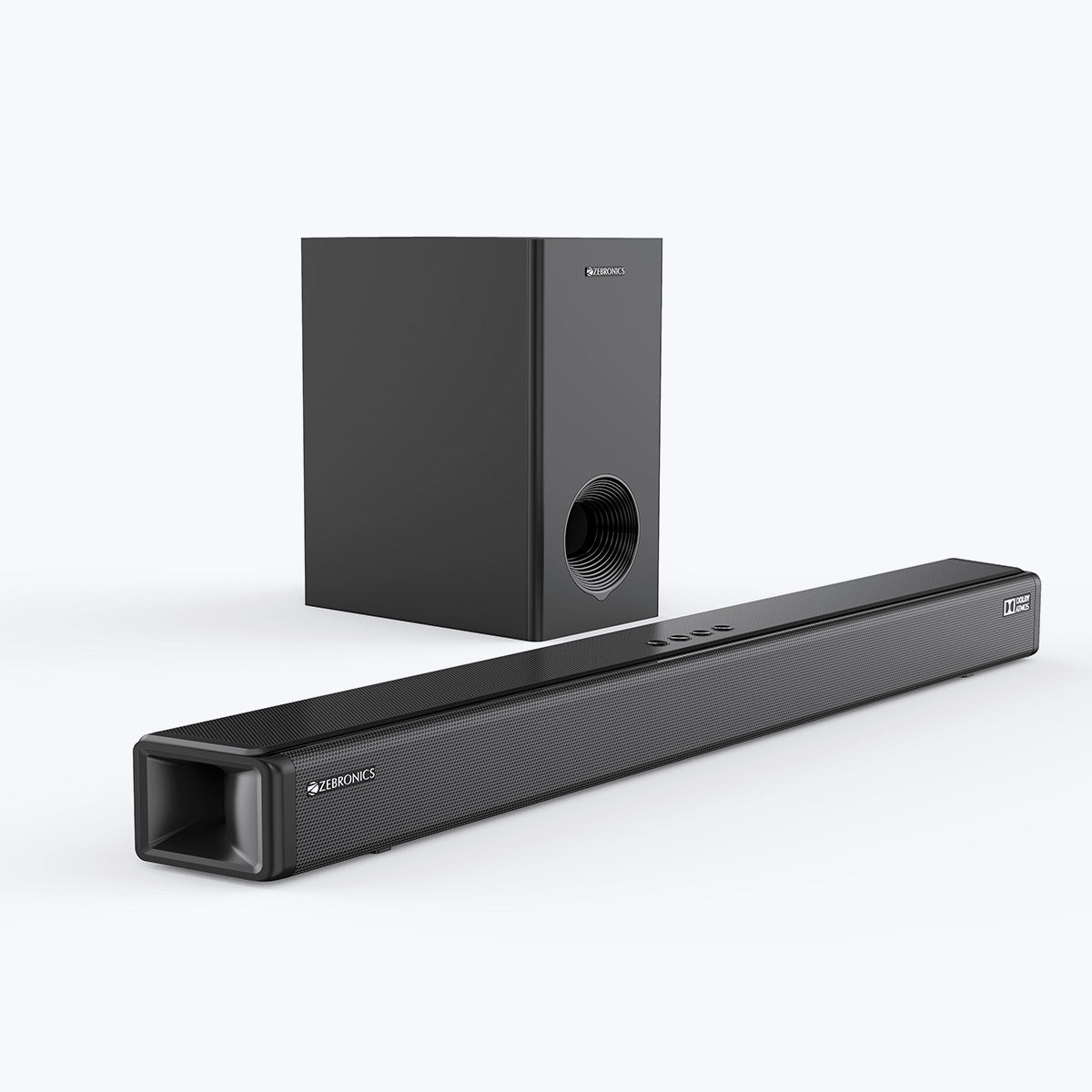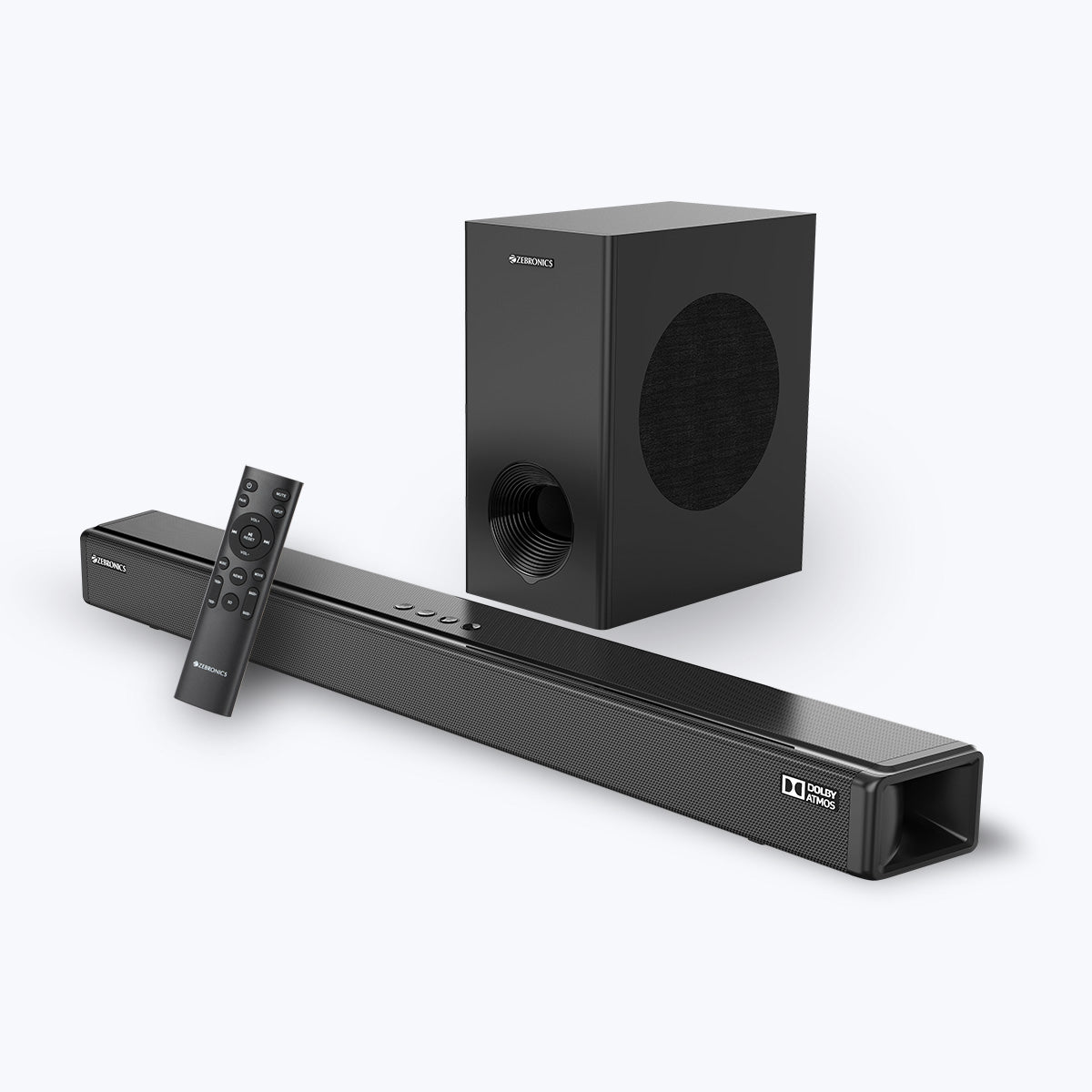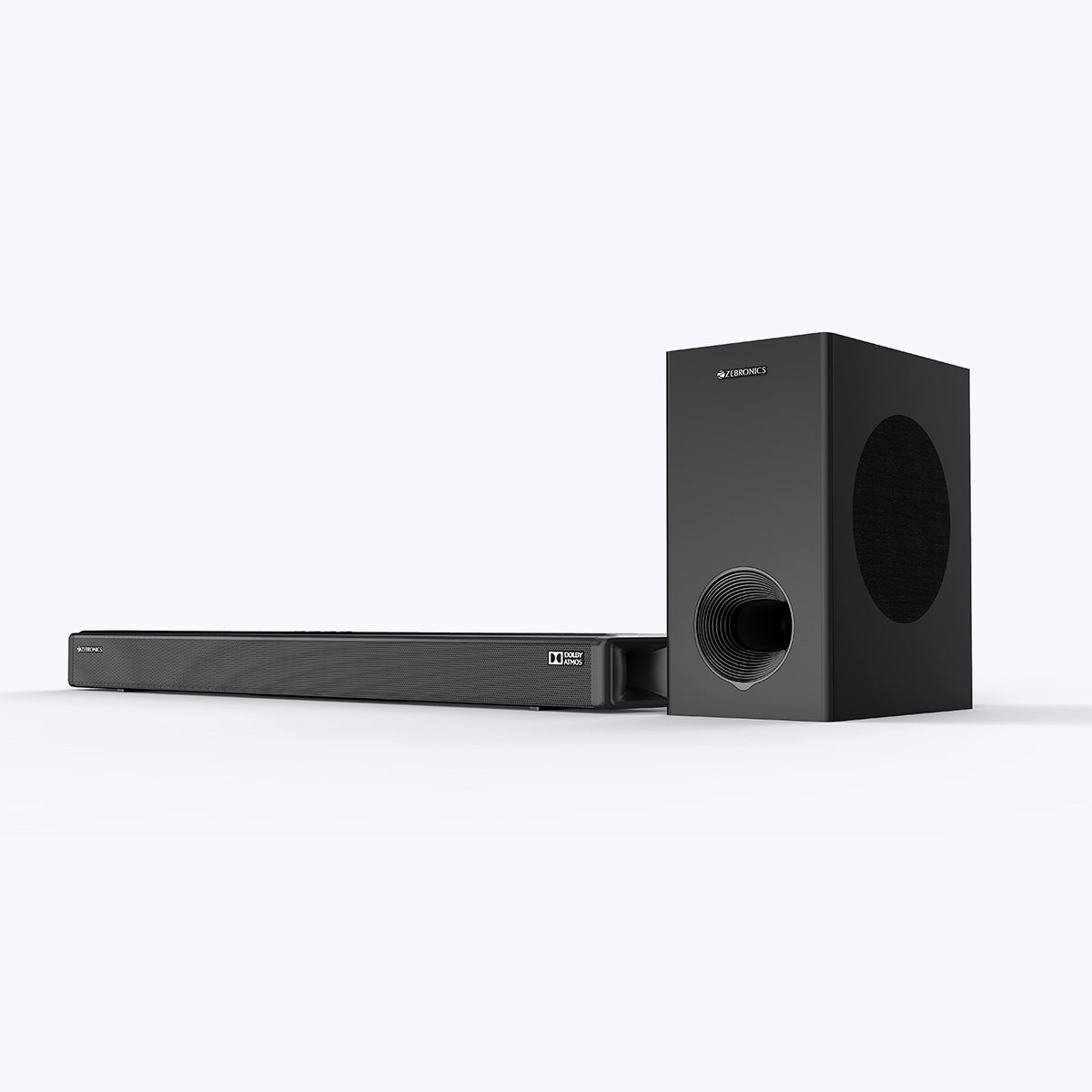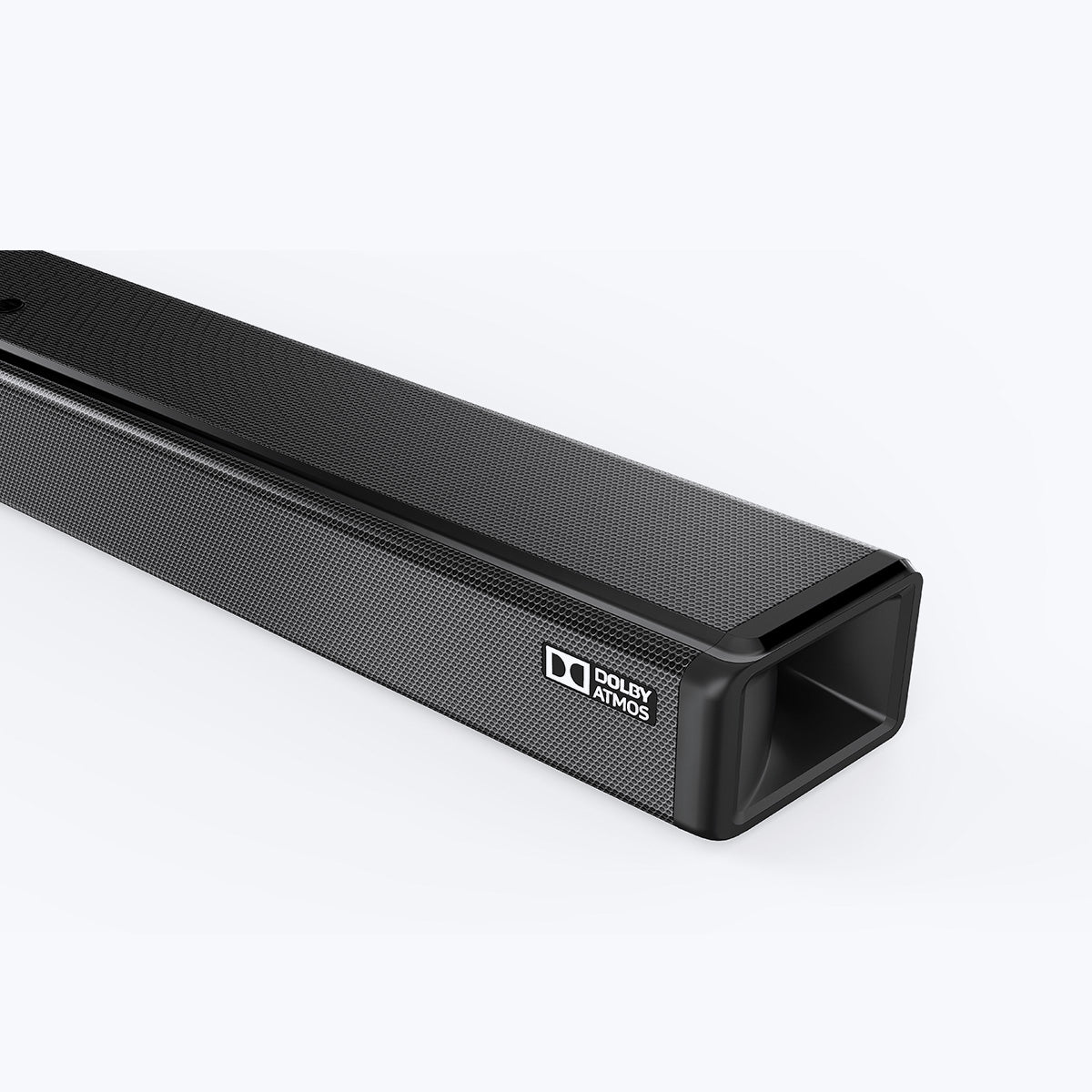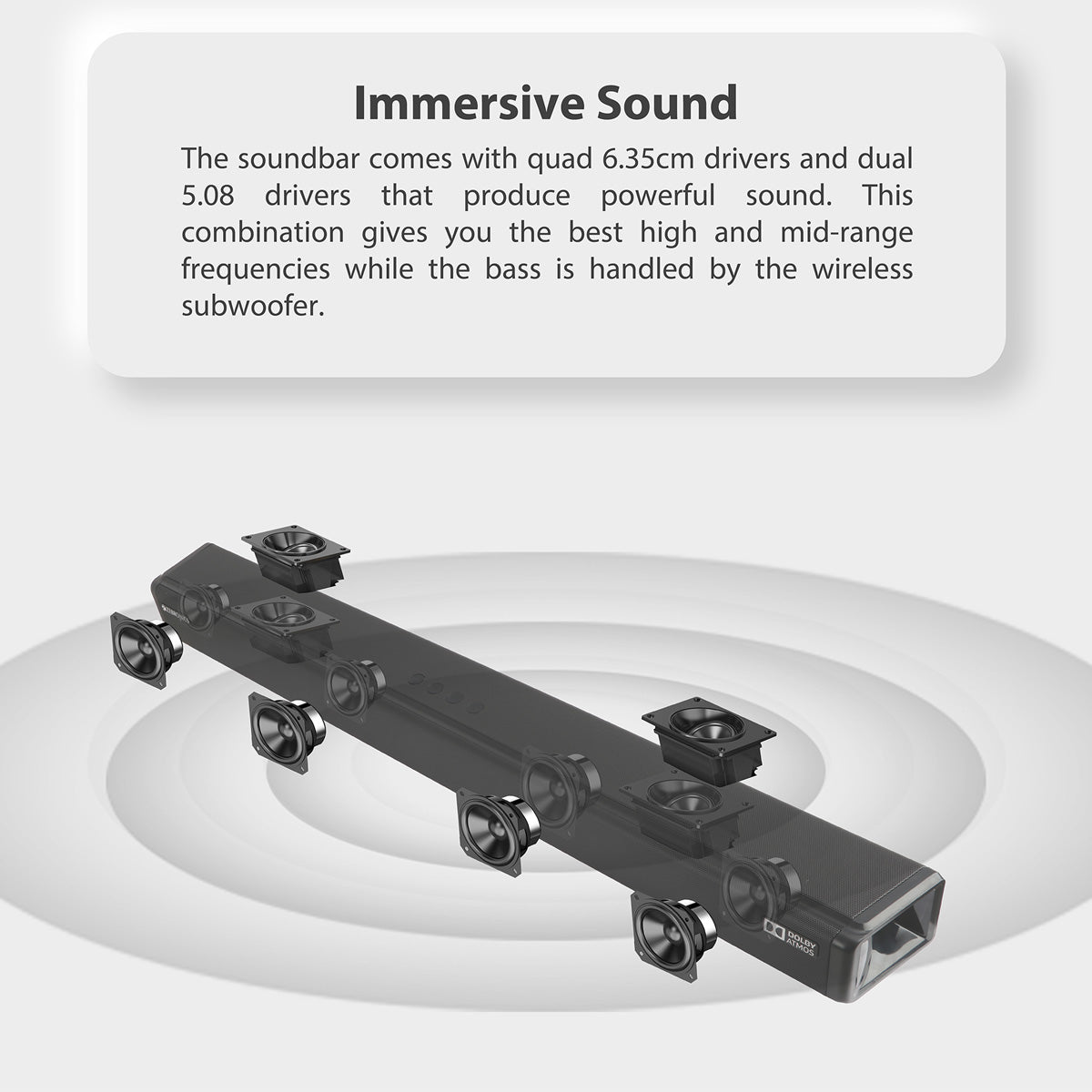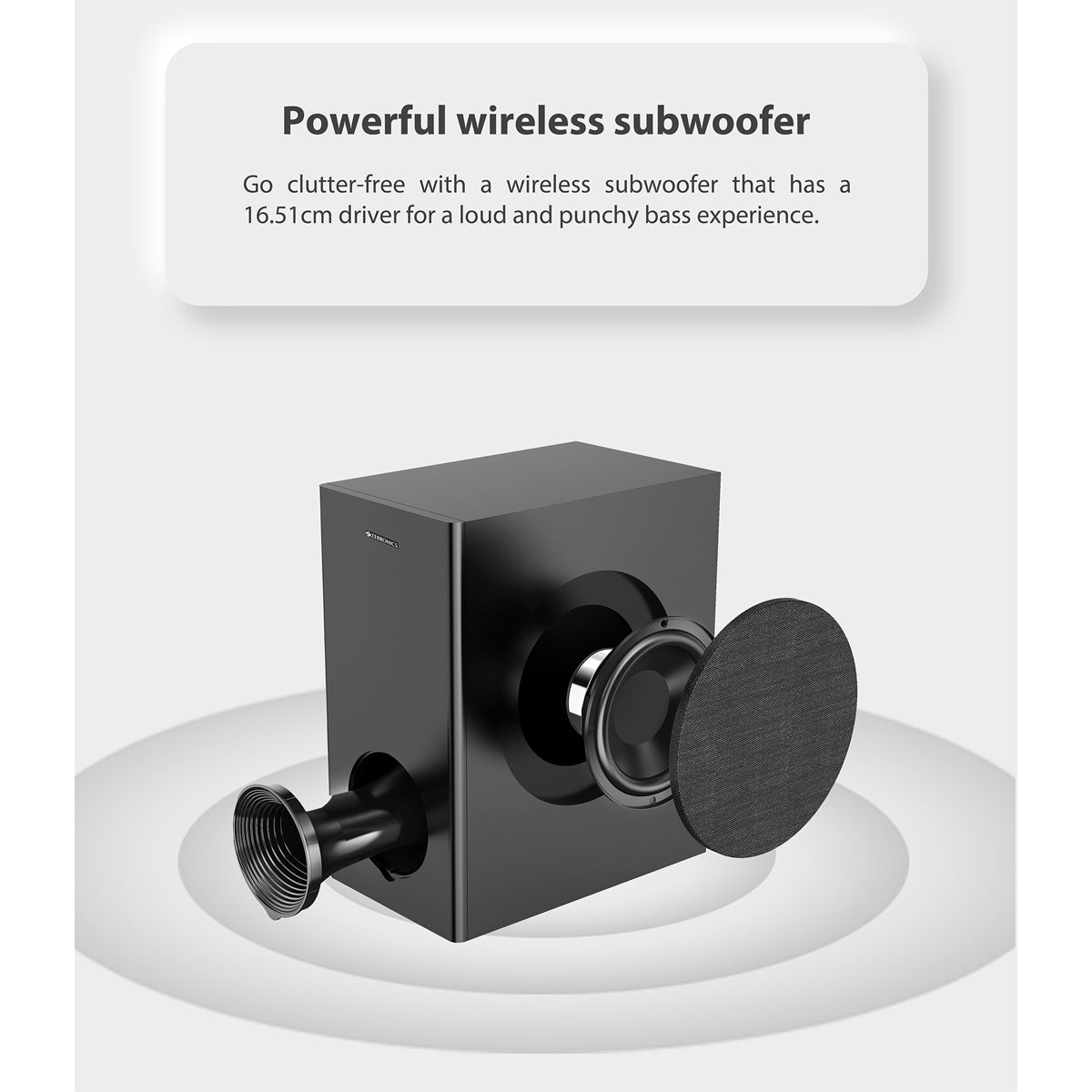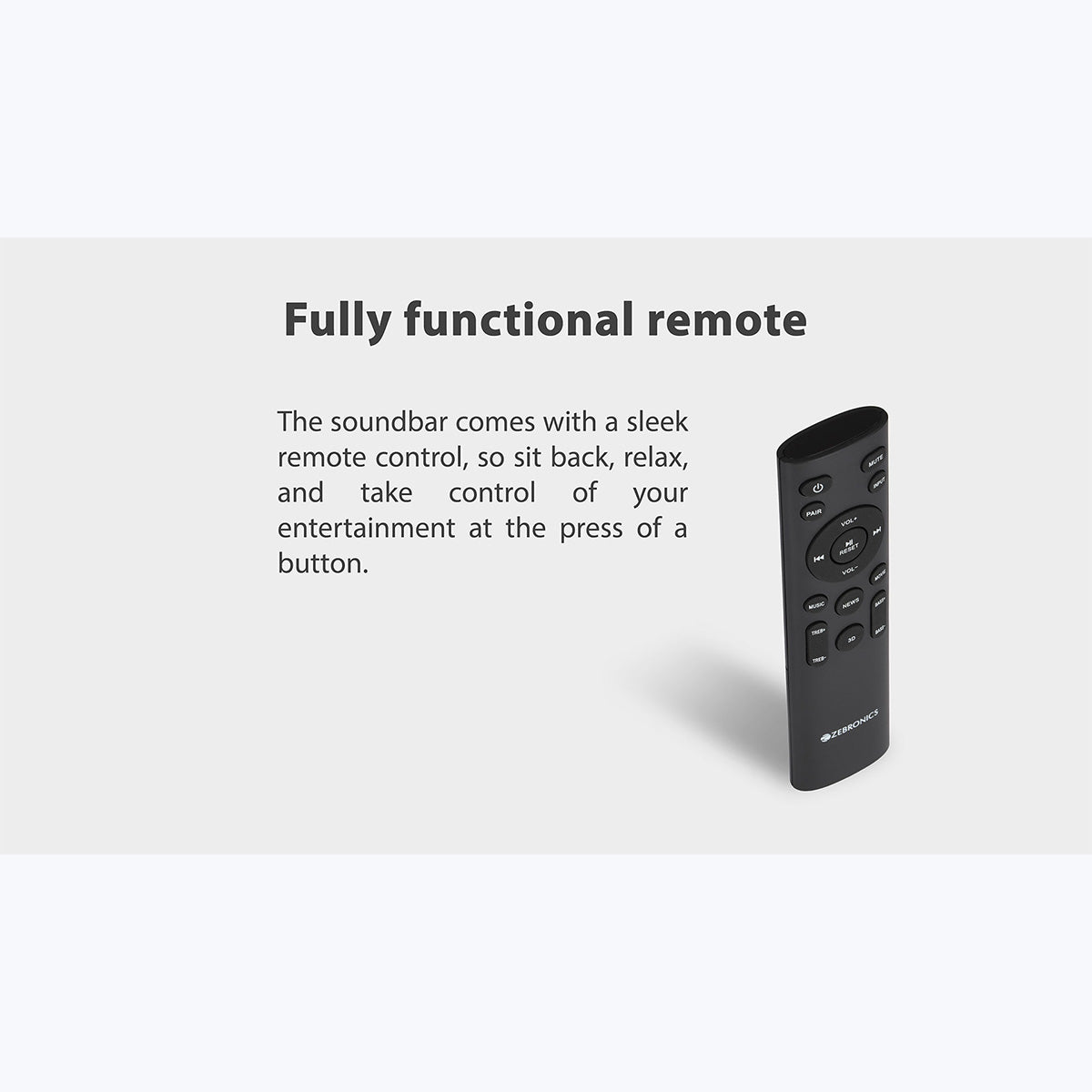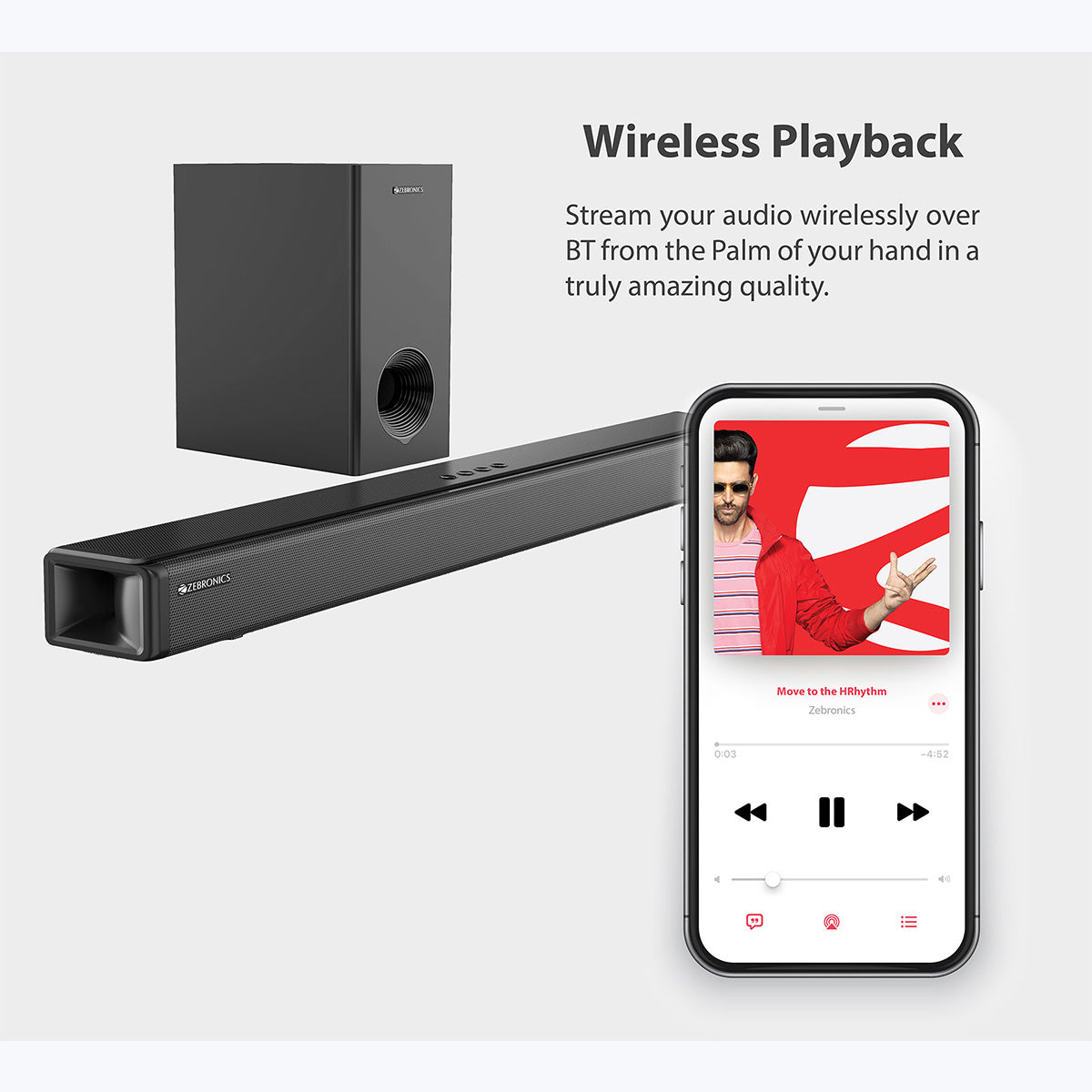 Zeb-Juke Bar 9800DWS Pro Dolby Atmos
---
1st Indian Brand Soundbar with Dolby Atmos
Wireless Subwoofer
450W Output for Immersive Sound Experience (Subwoofer: 120W, Soundbar: 330W)
2.1.2 Channel Setup
4 Front Firing, 2 Top Firing Drivers
Supports Dolby Atmos, Dolby True HD, Dolby Digital Plus, Dolby Surround
Wall Mountable
Triple HDMI: 1 x HDMI (ARC), 2 x HDMI In
Supports Wireless BT, USB, AUX, Optical Input, HDMI
LED Display & Remote Control
Product Type: Soundbar
Cinematic Audio AT HOME
"We are thrilled to have partnered with Zebronics to bring their first Dolby Atmos enabled soundbar to Indian consumers. Zebronics customers can now enjoy a breathtaking Dolby Atmos experience, with a large and constantly growing library of titles available in English and in Hindi." – Mr. Pankaj Kedia, Managing Director, Emerging Markets, Dolby Laboratories.
Get Surrounded In Sound
Watch and enjoy your favorite shows and movies in simulated surround sound with a multi-driver soundbar and wireless subwoofer. The multi-driver setup ensures sound flowing all around, giving you an immersive audio experience.
Immersive Sound
The soundbar comes with quad 6.35cm drivers and dual 5.08 drivers that produce powerful sound. This combination gives you the best high and mid-range frequencies while the bass is handled by the wireless subwoofer.
Powerful wireless subwoofer
Go clutter-free with a wireless subwoofer that has a 16.51cm driver for a loud and punchy bass experience.
Multi-Connectivity
Enjoy wireless streaming via the BT mode or choose other modes like USB, AUX, HDMI(ARC)/ 2xHDMI IN, and Optical IN.
Realistic Gameplay
Experience multi-dimensional audio with Dolby Atmos while you game. The multi-driver soundbar gives you positional accuracy for that superior gameplay experience.
Decor Friendly
ZEB-JUKE BAR 9800 DWS PRO DOLBY ATMOS comes with a decor-friendly sleek and stylish design. Its minimalistic and adaptive form matches the ambiance of any room.
Features
| | |
| --- | --- |
|   | Wireless BT/USB/AUX/Optical IN |
| | Triple HDMI - 1 HDMI (ARC) / 2 HDMI IN |
| | Digital Wireless subwoofer |
| | 16.51cm Subwoofer |
| | Remote control |
| | Wall Mountable |
| | LED Display |
| | Dolby ATMOS / Dolby TrueHD / Dolby Digital Plus / Dolby Surround |
| | Volume/Media Control |
Specifications
| | | |
| --- | --- | --- |
| | Output Power | |
|    | Subwoofer | 120 watts |
| | Soundbar | 330 watts |
| | Total | 450 watts |
| | Driver size | |
| | Subwoofer | 16.51cm x 1 |
| | Soundbar | 6.35cm x 4 + 5.08cm x 2 |
| | Impedance | |
| | Subwoofer | 3Ω |
| | Soundbar | 3Ω x 4 + 8Ω x 2 |
| | Frequency response | 45Hz-20kHz |
| | S/N Ratio |  ≥72dB |
| | Separation | ≥42dB |
| | File format support (USB) |  MP3 |
| | Line input | 3.5mm, Optical IN, HDMI (ARC) & 2 HDMI IN |
| | BT name | ZEB-JUKE BAR 9800 DWS PRO DOLBY ATMOS |
| | BT version | 5.0 |
| | Product Dimension (W x D x H) | |
| | Subwoofer | 190 x 306 x 370 mm |
| |  Sound bar | 960 x 109 x 81 mm |
| | Package Dimension (W x D x H) | 1016 x 250 x 456 mm |
| | Net.Weight | |
| | Subwoofer | 4.2 kg |
| |  Sound bar | 3.4 kg |
| | Total | 7.6 kg |
| | Country of Origin | China |
| | Package Contents | |
| | Sound Bar | 1 Unit |
| | Subwoofer | 1 Unit |
| | Power Cord | 1 Unit |
| | Remote Control | 1 Unit |
| | Input cable | 1 Unit |
| | Optical cable | 1 Unit |
| | HDMI cable | 1 Unit |
| | User Manual | 1 Unit |
| | Wall mount bracket with fasteners  |  1 Pair |