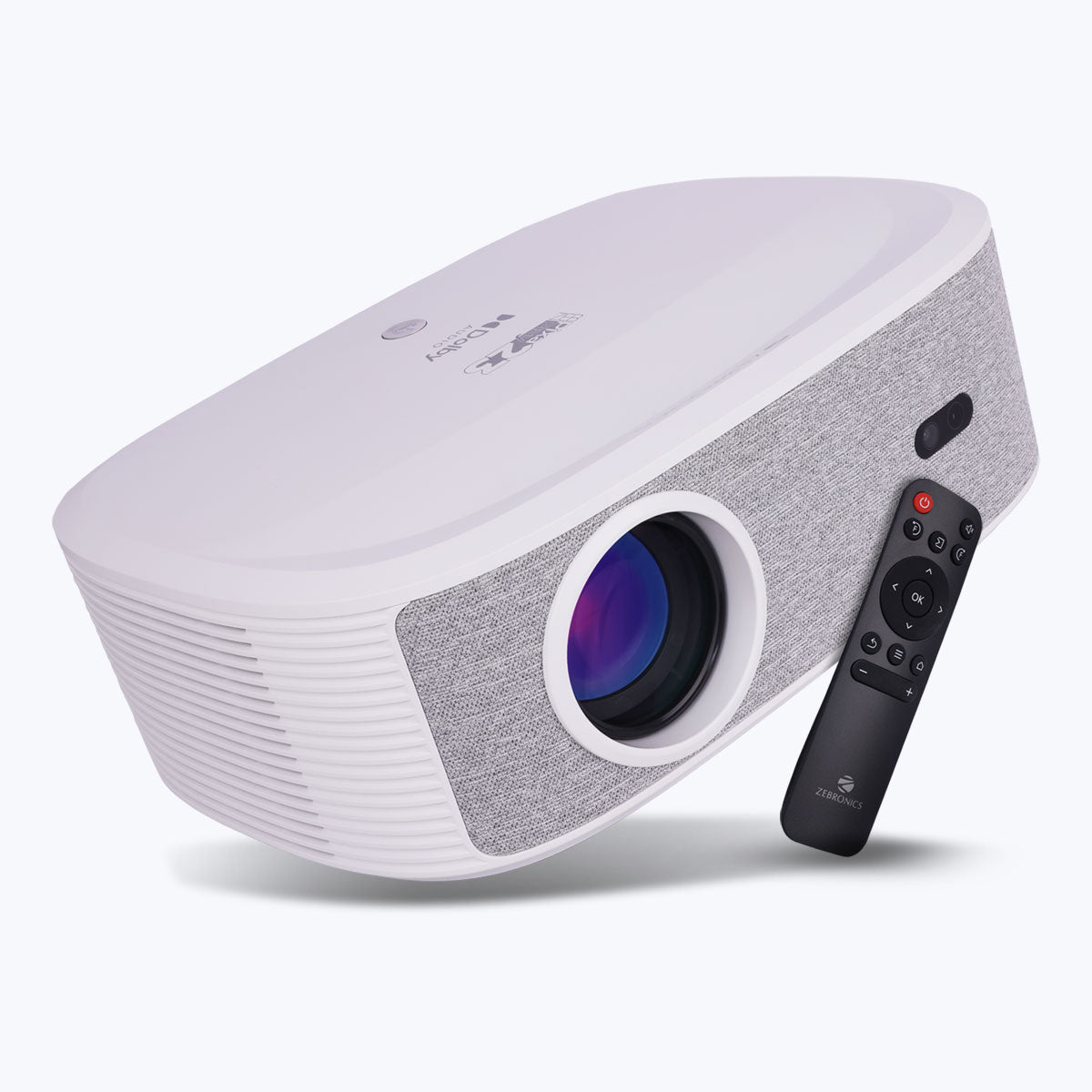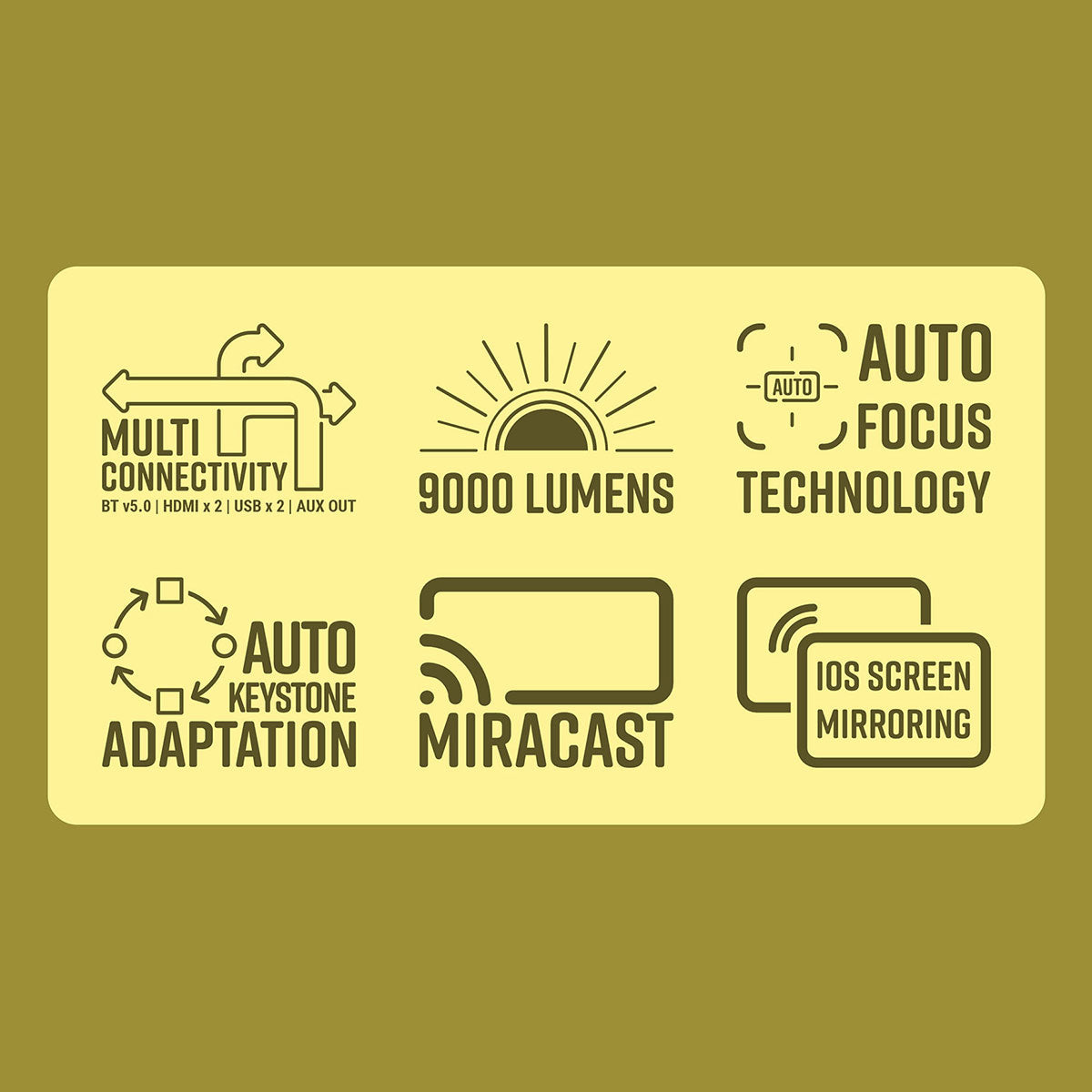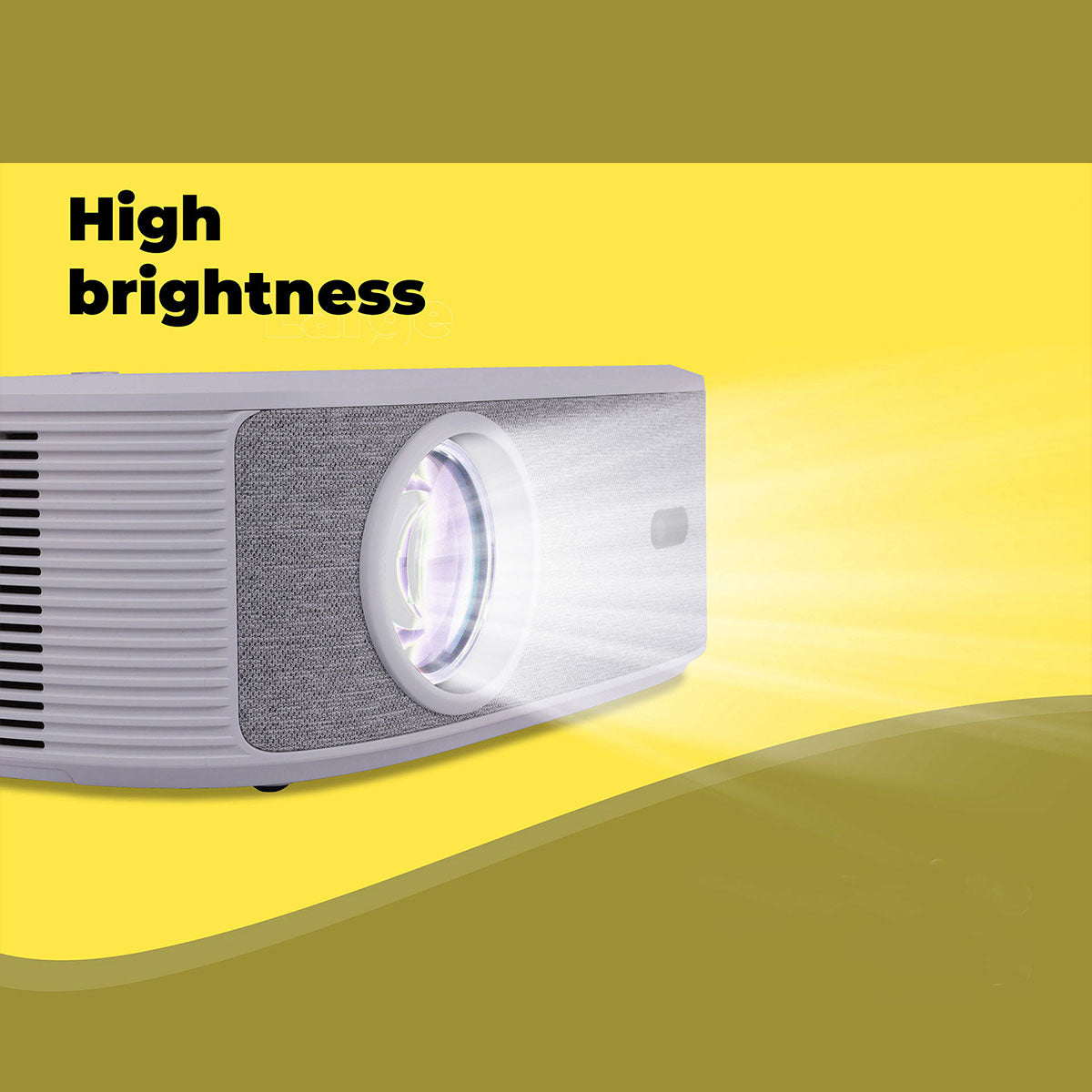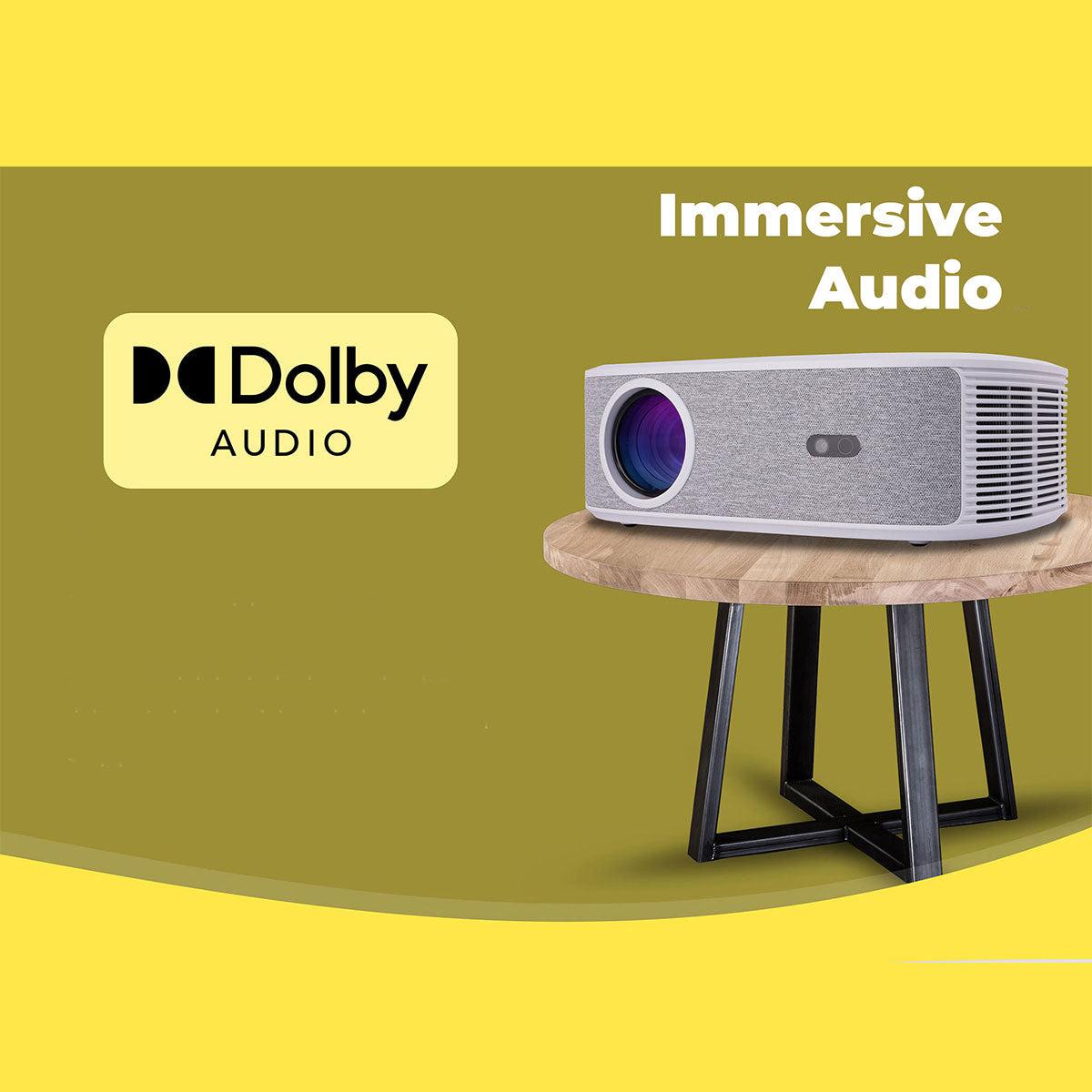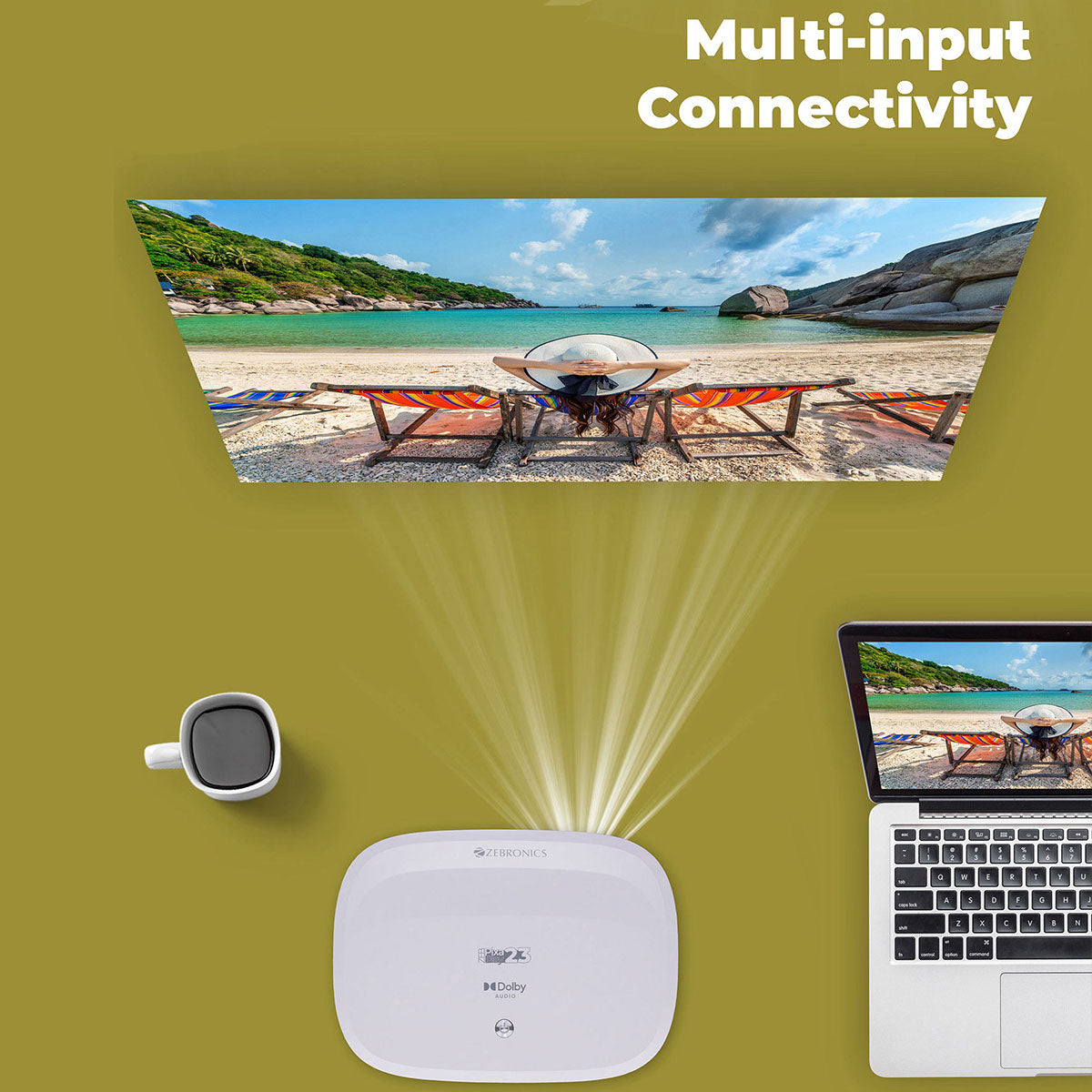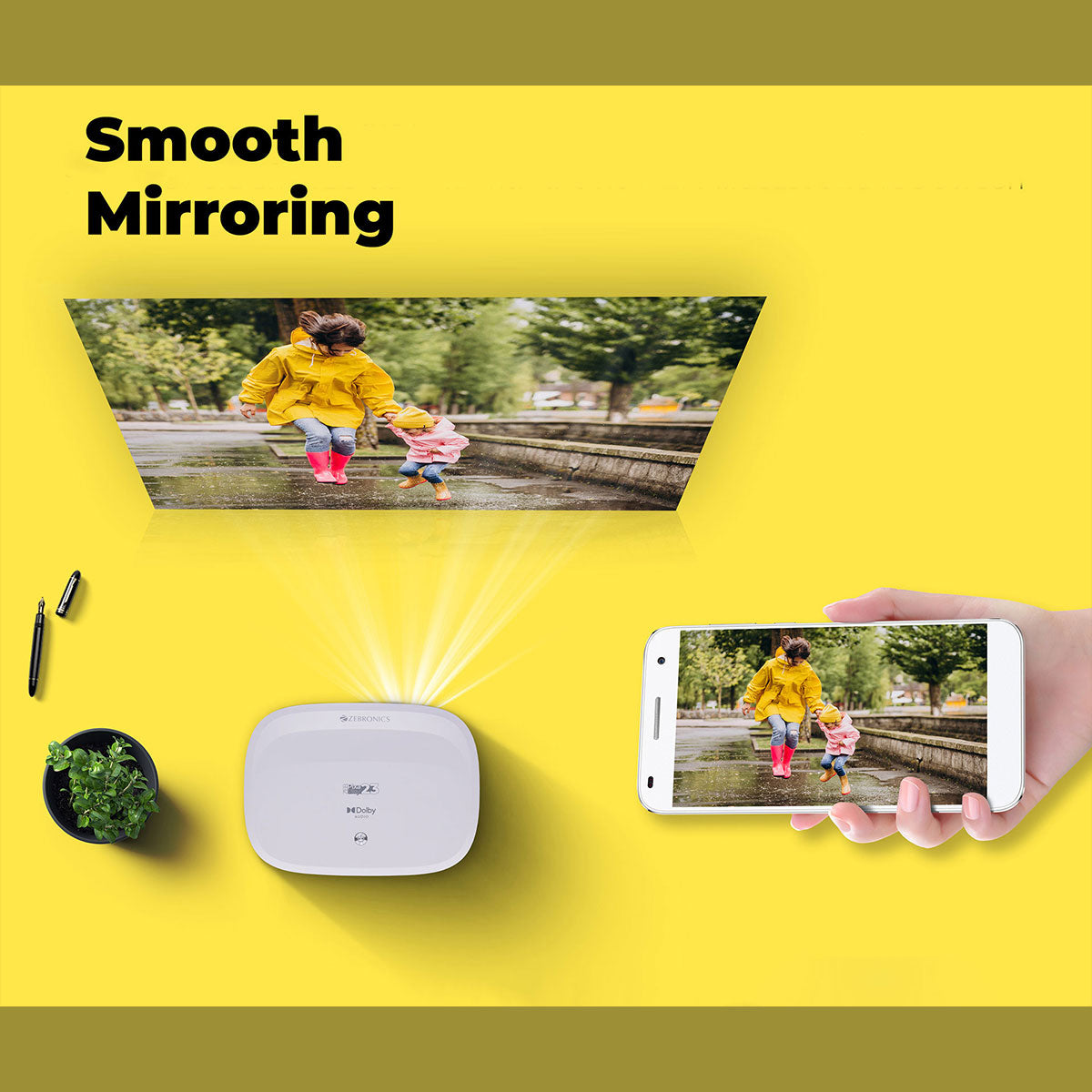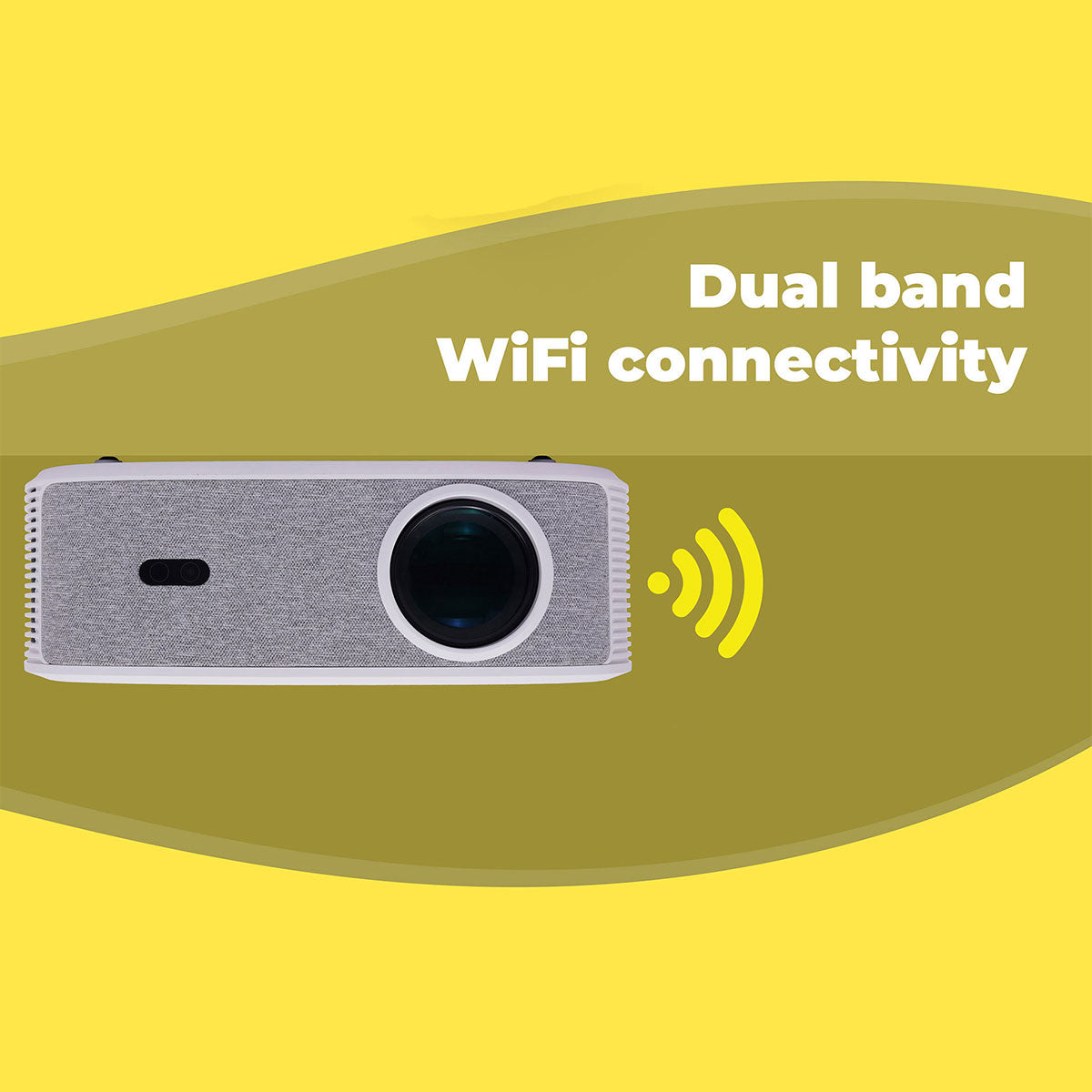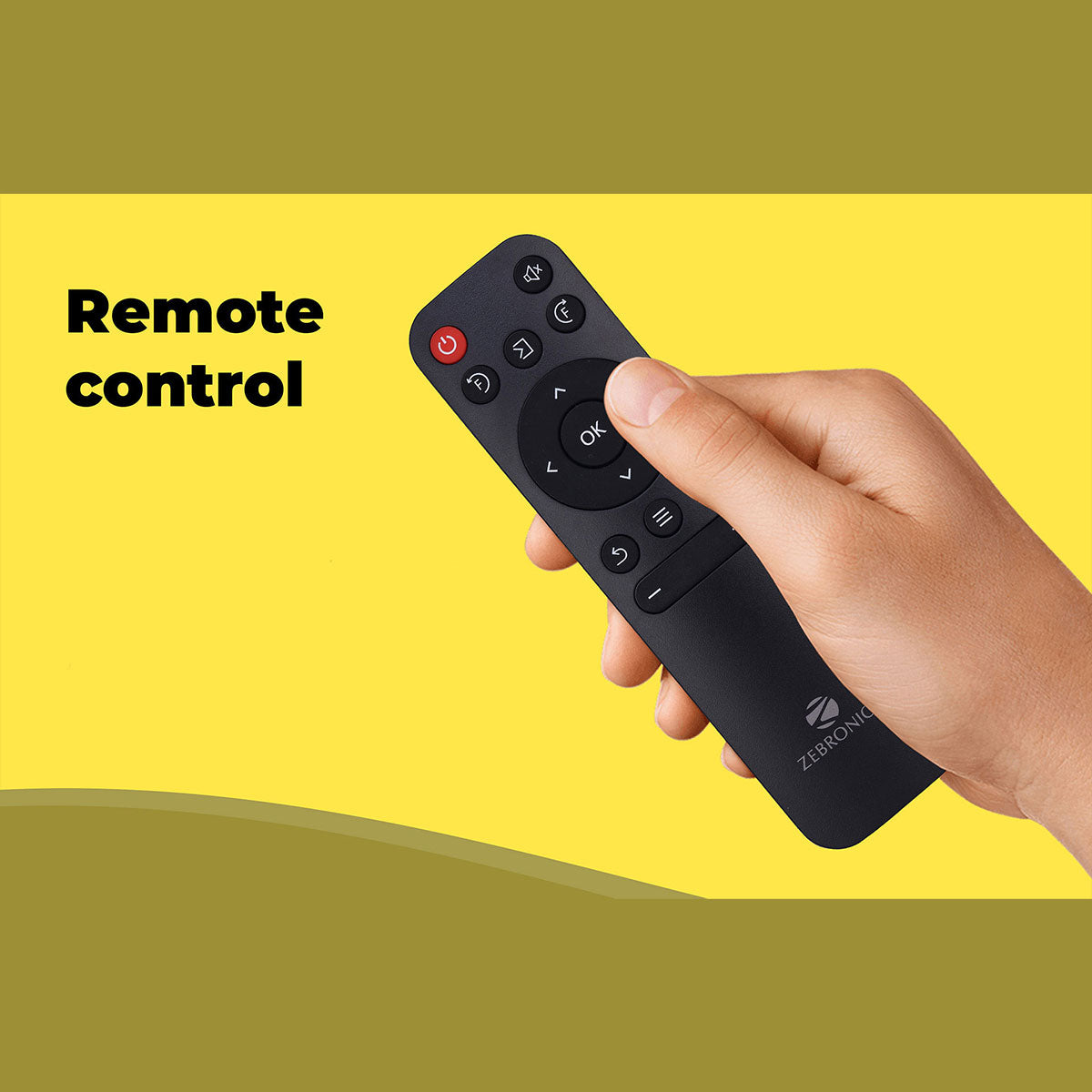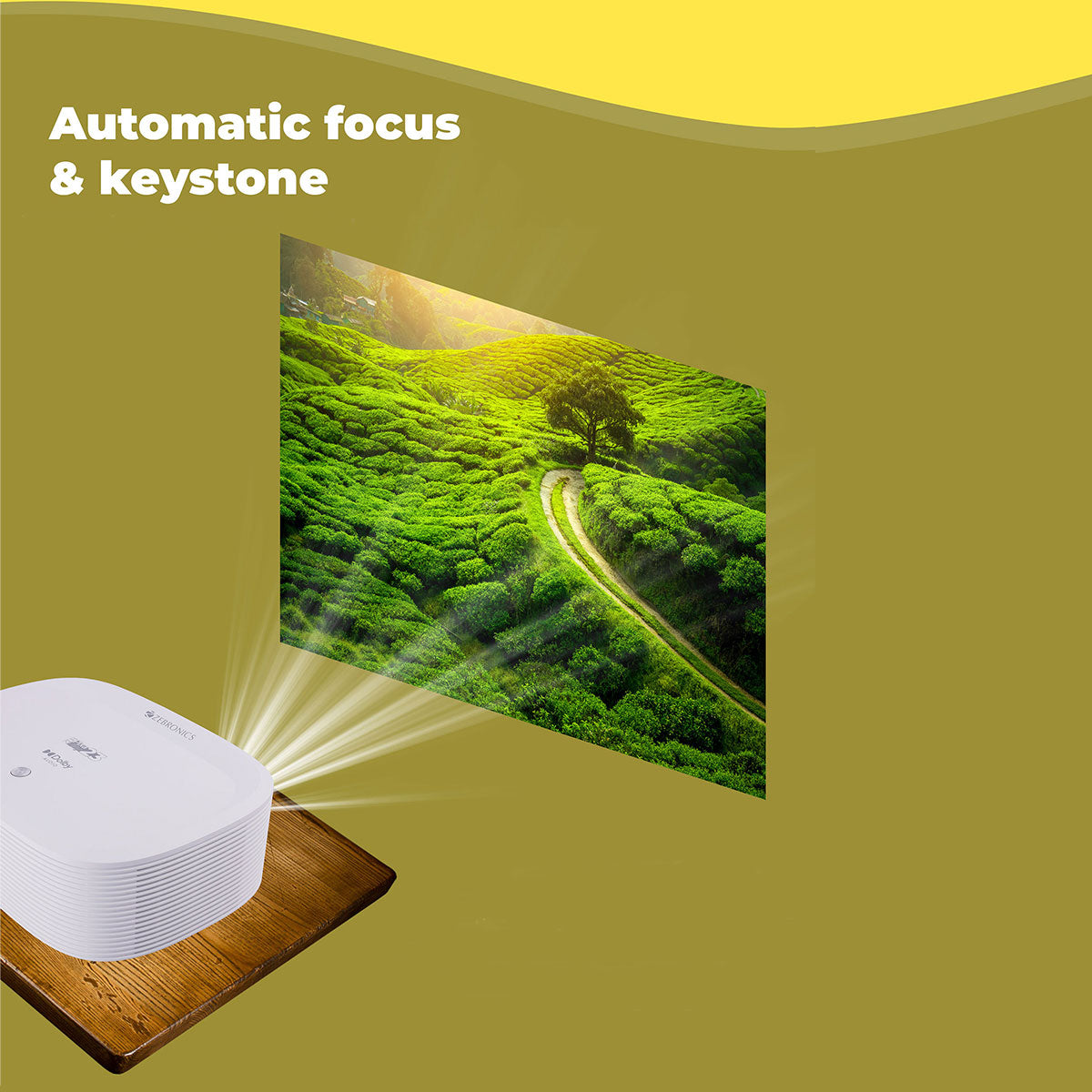 Zeb-PixaPlay 23
---
Multi Connectivity (BT v5.0 | HDMI x 2 | USB x 2 | AUX OUT)
Home Theater Projectors for Movies, TV & Gaming etc..
Powerful Speaker
Wide Compatibility
Ceiling Mountable
Remote Control
Electronics Focus (via remote)
Auto Focus Technology
Quad Core Processor
Auto Keystone Adaptation
Miracast
Dual band Connectivity (2.4GHz & 5GHz)
FHD 1080p (Native)
30,000h lifelong LED lamp
Product Type: LED Projector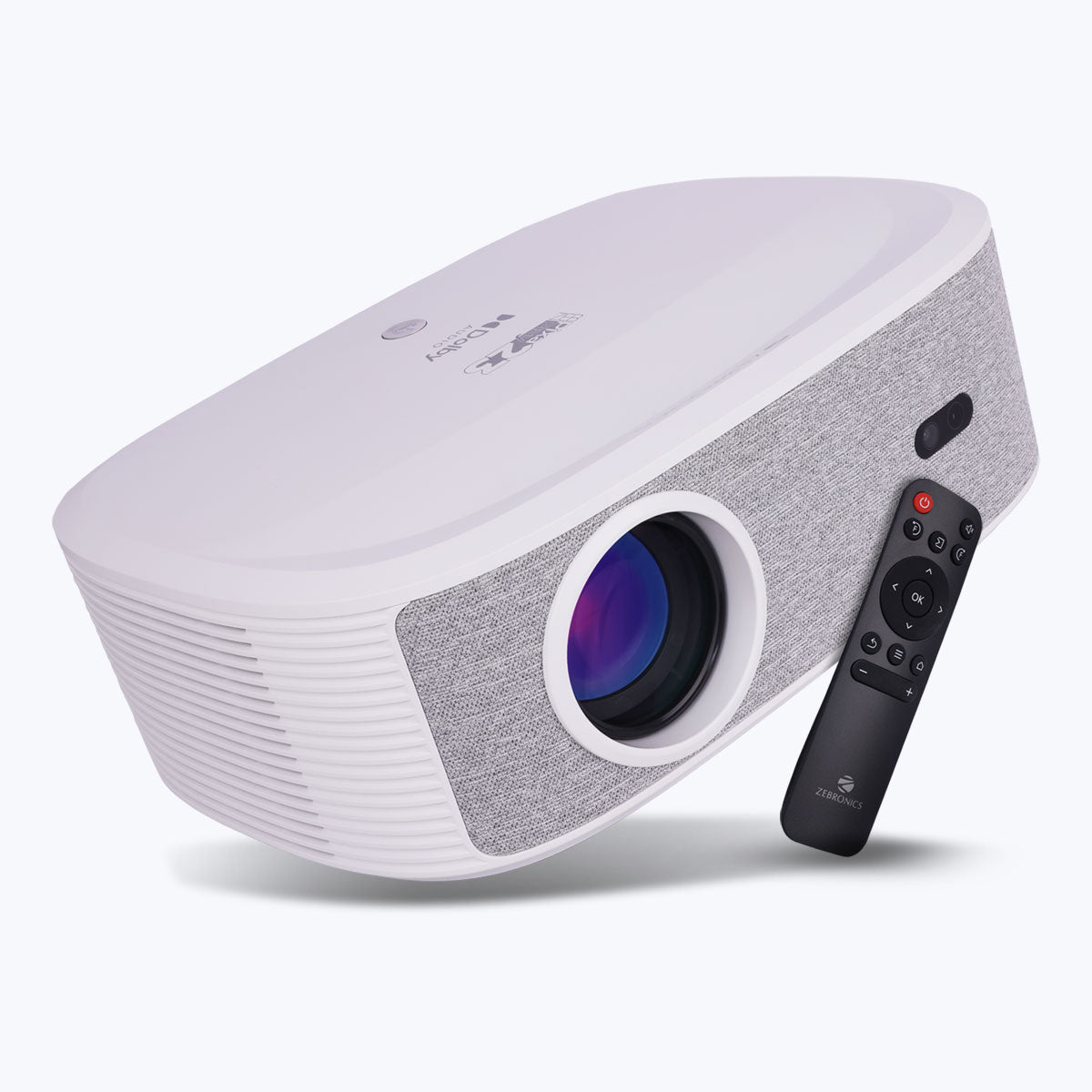 Grab the ZEB-Pixaplay 23 best projector in town with fascinating features that can take your entertainment to the next level, right at your home. In order to bring in a realistic theatre experience right at your home, this projector comes with incredible features such as full-HD resolution, Dolby Audio support, multi-connectivity, and efficient design.
The ZEB-Pixaplay 23 is here to bring out a fantastic home theatre experience at your home with its intelligent LED Projection up to a screen size as large as 508cm. You can now play your games/ watch your favorite movie/series on a big screen and enjoy!
The projector is designed with a high brightness LED lamp, which can go as high as 9000 lumens. The projector's high brightness can allow the beam to travel a longer distance.  The contents can be played at the finest picture resolution of 1080p FHD with ease even on a largely sized screen.

Use the ZEB-Pixaplay 23, which includes a built-in, powerful speaker to deliver a fantastic audio experience, to put on a non-stop movie marathon. The projector also comes with support for Dolby Audio.
Without a doubt, thanks to the ZEB-Pixaplay 23's 30,000 hours lamp life,, the never-ending projection is now a reality in your own house.

This projector has multiple options for connection, including two USB ports for pendrive, AUX OUT, dual HDMI ports, and BTv5.0 for wireless connectivity.

For a smooth mirroring experience of your favorite movies/videos from your Android and IOS devices with the help of Miracast and IOS screen mirroring.

This ceiling mountable projector can support dual WiFi frequency bands - 2.4GHz and 5GHz offering a smooth visualizing experience just as you like.

This high-end projector comes with a remote control with an electronic focus button that can enable exact focus for the image.
The projector comes with autofocus and auto keystone adaption technology. With the auto keystone technology, the projector will automatically detect and correct the image alignment.
Features
| | |
| --- | --- |
| | Multi Connectivity (BT v5.0 | HDMI x 2 | USB x 2 | AUX OUT) |
| | Home Theater Projectors for Movies, TV & Gaming etc.. |
| | Powerful Speaker |
| | Wide Compatibility |
| | Ceiling Mountable |
| | Remote Control |
| | Electronics Focus (via remote) |
| | Auto Focus Technology |
| | Quad Core Processor |
| | Auto Keystone Adaptation |
| | Miracast |
| | Dual band Connectivity (2.4GHz & 5GHz) |
| | FHD 1080p (Native) |
| | 30,000h lifelong LED lamp |

Specifications


Screen size
114 - 508cm


Native Resolution

1920 x 1080 FHD


Max. Supported
Resolution

1080p (max)


RAM

1 GB


Core Processor

Quad Core Processor


Storage (ROM)

8 GB


WI-Fi Connectivity

Dual band Connectivity (2.4GHz & 5GHz)


Bluetooth Version

v5.0


Display Technology

LCD


Lifespan

30,000h


Brightness

9000 lumens


Contrast ratio

5000:1


Projection Distance

1.3m - 5.3m


Port Interface

AUX OUT, USB x 2, HDMI x 2


Video file format

MP4, M4V, MPEG2, MKV, AVI, FLV, MOV


Input Voltage

AC 100-240V, 50/60Hz


Product Dimension (W x D x H)
33 x 24 x 11 cm


Package Dimension (W x D x H)    
45.5 x 28.6 x 16 cm



Net. weight

2.8Kg


Country of Origin

People's Republic of China


Package Contents




Projector

1 U


Remote Control

1 U


Power Cord

1 U


Cotton Swab Pack

1 U


HDMI Cable

1 U


QR Code Guide

1 U